Skills matrices are great for keeping track of your staff's core competences, skills, qualifications, and certification across your entire organization. But what is a skills matrix exactly and how do they work in practice? More importantly, how could you be benefiting from their use?
We'll be answering all these questions in this article. What's more, we'll be demonstrating how skills matrices have changed over the years and giving you a few useful tips about how to get started with your own skills matrices.
What is a skills matrix?
Whenever you're defining operating processes or putting together project teams, it's always useful to know exactly which skills, competences, expertise, qualifications, and certification all your organization's staff possess.
Skills matrices are great for displaying and keeping track of all this information in a clear and organized fashion.
As the name suggests, they're a record of each employee's skills and qualifications in a matrix layout. The skills matrix provides you with the overview of the capabilities of your team as well as any potential skill gap.
They're principally used by HR and operations managers, team leaders, and project leaders. Matrices are virtually indispensable for companies that have embraced skill pool management philosophies. Using skills matrices, you'll be able to instantaneously spot any weak links or vulnerabilities in terms of skills, as well as who has which qualifications and/or certification to carry out any particular task.
But how do skills matrices work in practice?
Depending on the complexity of the skills present or required, skills matrices can take one of several forms. Each matrix is split into columns and rows. Most often, you'll find all employees listed down the left-hand column, and along the top row all the skills required to carry out a certain task.
But you could equally flip this around and list all your skills down the left-hand column, and all your employees along the top row. This is a matter of personal preference or for a particular purpose. Either way, each employee's proficiency or certification in any particular field of work is recorded as a Y/N, percentage, level, etc. For example, a level could relate to a particular grade. You could express a level as a score or number, or alternatively as a pie chart with four quadrants.
Below, you can see an example of a skills matrix that uses levels. We developed this example using Microsoft Excel. Download this particular template for free as an Excel, Word and PDF file! 
What are the advantages?
But why are skills matrices so useful, if not essential? Allow us to answer this question by highlighting a few of their foremost benefits.
1. Identifying critical tasks and requirements
Skills matrices allow you to identify critical tasks and current requirements quickly and easily, because they depict the skills and certification existing within your company so clearly and concisely.
Here's an example. Chances are there are certain tasks within your company that very few people are qualified to carry out. If so, you can create a plan to get more employees trained and qualified to carry out these critical tasks.
Example
It's very easy to visualize 'requirements' in a skills matrix. Suppose you want to safeguard continuity by ensuring that you always have at least three people on your team, in your department, or across your organization who are qualified to perform a certain task. You can see this situation in our Excel template below: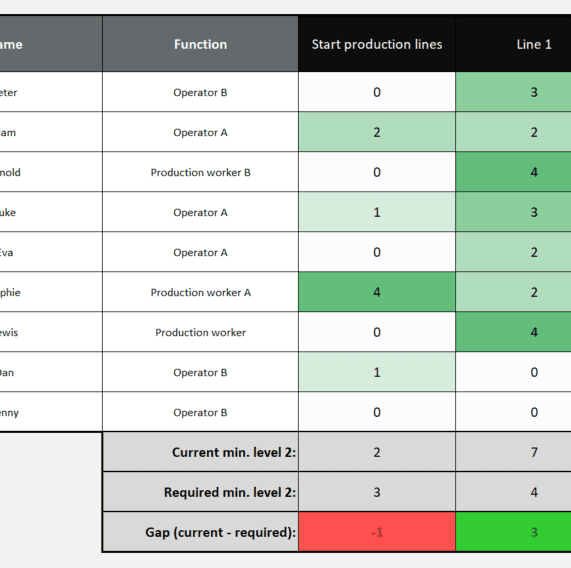 Explanation: You've determined that at least three people on your team must be qualified to at least Level 2 ('Without supervision') for 'Start production lines'. Currently, only two people appear to have this minimum proficiency level. In other words, a shortfall of one. This is immediately apparent because it's colored red. Pretty straightforward, right?
At least four people on your team must be qualified to at least Level 2 for production 'Line 1' operation. And there are seven. No shortfall here! In fact, you're three above par and everything's colored green! 🙂
Skills matrices also serve as a great springboard for your company's training and/or recruitment policies. A complete skills matrix pinpoints immediately where there are 'shortfalls' in your staff's skills and proficiencies. Armed with these insights, you're far better equipped to decide about the best way to improve this situation – train up existing staff and/or recruit new staff to fill the 'skills gap'.

2. Finding replacements and responding to peaks in demand
Every organization has to deal with employees off sick or periods of peak demand at some time or another. In such an event, it's important you respond effectively in order to safeguard productivity and continuity. It goes without saying that this is a lot easier with an up-to-date overview at your fingertips of who can do what and who can't.
Skills matrices are great for finding a suitable replacement with the right expertise and experience when your go-to employee is off sick. They're also ideal for dealing with peaks in demand within a given department, as they allow you to pinpoint qualified staff in other departments who can be reassigned temporarily to help out. What's more, this saves you having to call in external temping staff. In a nutshell, skills matrices help you safeguard your staffing levels regardless of who's on vacation, ill, or away on leave for whatever reason.
3. Monitoring progress
A well-maintained skills matrix also provides a clear picture of both individual and team progress. Professional development, productivity, and skill set growth are all clearly visible.
Having used skills matrices to assist with your training policies (Benefit 1), they're then extremely useful for monitoring the effectiveness of your training programs and of course pinpointing any residual shortfalls and minimum requirements not being met.
4. Offering versatility and agility
Skills matrices are extremely versatile and agile tools that can be used for very specific purposes by teams, departments, sites, and managers alike. They also offer the flexibility to create custom solutions because you're free to implement your skills matrices as you see fit.
5. Keeping track of key players
Skills matrices are clearly laid out making it possible to pinpoint the highly versatile star players on your team. These staff members are valuable to the organization as a whole, and it's good to be aware of exactly who they are.

Creating your own skills matrix
But how do you actually go about creating skills matrices and putting them into practice? Below, you'll find our own four-step plan.
Step #1 – Ask the right initial questions
Before you get started on the layout of your matrix, it's important to answer five crucial questions:
What qualifications, skills, and certification do my staff need?
What qualifications, skills, and certification do my staff already have?
Is there a skills gap between what they need and what they already have?
If so, how are we going to fill this gap? By training existing staff or recruiting new staff?
How and where can we formally demonstrate the qualifications and skills we've acquired?
Step #2 – Create an overview
This step involves identifying each aspect of a particular role or position and creating an overview. What do staff need to have mastered in order to perform a certain role or job? It also highlights which staff members are highly versatile (generalists) or have very specific skill sets (specialists).
Step #3 – Sort into specific skills
This phase translates a more generalized overview into the specific skill sets required within a given department or part of the organization.
Step #4 – Consolidate information
Gather the information from the previous steps and place them in a matrix. Determine each staff member's proficiency level for each of the skills listed for the team, department, or organization.
Skills matrices in 2023
Although the examples above clearly illustrate the benefits and potential of skills matrices, they also represent a fairly outdated approach. Luckily, we now have user-friendlier, digital options available to us.
In 2023, skills matrices have become an even more crucial tool for organizations to manage their workforce effectively. With rapid pace of technological change, the skills required for jobs are constantly evolving, and it's essential for companies to have a clear understanding of their employees' skills and competencies to stay competitive. As organizations seek to ensure that their employees have the skills and competencies needed to meet regulatory requirements and industry standards, skills matrices are playing a key role in demonstrating compliance.
Creating skills matrices in spreadsheets
Spreadsheets such as MS Excel are certainly an option for creating your skills matrices. Although this may seem a daunting and complex task, there are countless templates available online for creating your own professional skills matrix.

It is, however, important to follow the template's layout carefully. It's also quick and easy to alter data and other details in the document.
The advantages of spreadsheets
Creating and maintaining skills matrices in a spreadsheet has numerous advantages over a paper-based system:
First up, it's a low-cost solution. You save on printing costs, and licensing costs are minimal. MS Excel, for example, is part of the Microsoft Office suite of applications that virtually every company has in its IT toolbox.
Excel allows you to create as many digital matrices as you want.
You can also edit, alter, and update them whenever you want. It's a piece of cake to add new skills or adjust a staff member's proficiency level.

The disadvantages of spreadsheets
Alas, it's not always a bed of roses in spreadsheet land. There are plenty of pitfalls lurking that can undermine your attempts to manage your skills matrices properly. We've listed a few of the foremost disadvantages below:
Updating skills matrices in spreadsheets is often viewed as a tedious and mundane chore. This means that team leaders procrastinate when it comes to updating them and they're never actually totally up to date (human nature).
Spreadsheets are also incredibly prone to errors. An inadvertent change to just one cell's formula and the entire worksheet is 'broken' (human error).
Version management for spreadsheets can also be a nightmare. If something goes wrong when saving the spreadsheet or staff send each other different, conflicting versions, then this can quickly lead to confusion about who actually has the latest, correct version.
Where one individual is responsible for creating and maintaining matrices, and he or she is off sick or leaves the company, no one is left knowing how to determine the organization's qualification and certification status.
Creating a skills matrix in a spreadsheet means dealing with multiple tabs and countless formulas. What data ranges should you use for the x- and y-axes? How should you group your data – by staff member, team, or production line? What do you want to display – certification attained or corresponding tasks? How are you planning to connect all the data with formulas?
The more complex the skills matrices become, the more you need an Excel guru with programming skills to manage them!

Five practical tips for creating skills matrices
There are several essential issues to address in order to achieve optimal results, regardless of the solution you've chosen – paper, spreadsheet, or software. Bear the following tips in mind when creating your skills matrix:
Human beings all have their own limitations and differences. Not everyone can take on the same number of tasks or master the same number of skills.
Skills matrices offer virtually limitless possibilities. It's up to you how simple or complex you want to make them. But don't make them more complex than they need to be and limit them solely to the principal skills, competences, tasks, qualifications, and certification relevant to each role. Place too much emphasis on matters of secondary importance and before you know it, you'll no longer be able to see the forest for the trees.
Creating, populating, and maintaining skills matrices requires preparation and discipline. Make sure you've discussed and communicated this adequately with your staff.
Try to create separate matrices for hard skills and soft skills. This helps keep things better organized. Again, you'll lose sight of the bigger picture if you try and throw everything into a single skills matrix.
Bear in mind any sector- or industry-specific factors (qualifications, certification, etc.) that may affect your skills management policy and your skills matrices.
Skills management software
Instead of relying on spreadsheets such as Excel, you could also opt for special-purpose skills management software. These applications automate a lot of the tasks you carry out manually in Excel.
AG5's software always provides an up-to-date snapshot of all your staff's skills, qualifications, and certification. How have we achieved this? With AG5's software:
Team leaders can enter updates and training results from the shop floor, quickly and easily. Consequently, skills matrices always reflect the current status.
Team leaders can link specific team members to the expertise and experience required to get the job done. So they can put together their dream team for every project.
Another problem with spreadsheets is they don't alert you to qualifications or certification about to lapse. AG5 software has a feature to set alerts for individual employees (or groups of employees) or for each certification. With the click of a button, a list appears of every certification or qualification that's about to expire. What's more, both the employee in question and the HR department automatically receive the alert in time to take appropriate action.
Enter the name of the employee who called in sick and a list appears of all suitable replacements with the right skills and qualifications.
Suppose a production line needs retooling. Enter 'production line retooling' into AG5 and a list appears of all fully qualified personnel. Once again, ensuring that the right person is in the right place at the right time – all the time.
Simply use the drag-and-drop menu to replicate any organizational structure and create all the links you need between employees and qualifications, etc. And literally a few clicks later, you'll have all your skills matrices in place.
So, you can already see that AG5 software has a number of benefits. It's also incredibly easy to use and migrating to this system can – if need be – take less than a day! This video explains exactly what AG5 could do for your organization in terms of skills management.
Nowadays, skills matrices are virtually indispensable. They're a snapshot of your organization's skills and expertise at any given moment. Fortunately, digital solutions provide a whole array of options to create and maintain your skills matrices – quickly and easily, but above all accurately. Spreadsheets are certainly an option, but special-purpose software applications make this process even more efficient and effective.
If you're curious about software-based solutions, drop us a line or read this – we're here to help!
Ready to master skills management?
---
---