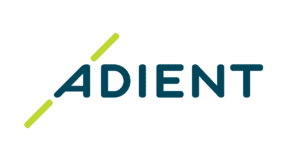 Adient
Tim Clansey from Adient wanted to implement a skills management system that alleviated audit stress and achieved a paper-free environment.
So, what did you achieve?
No more audit stress, with always-correct skills documentation
800 paper documents eliminated – meaning Adient is 97% paper-free
An annual $20,000 savings on paper
1 FTE of training capacity saved per year
Automatic notifications when employees need training
We now use 97% less paper thanks to the elimination of 800 paper documents
How did you approach skills management before AG5?
We used to manage skills training in the factory through Excel. This meant a lot of administrative work, as we had a huge number of spreadsheets, using approximately 800 documents in two shifts – so, naturally, we made mistakes.
Additionally, when auditors wanted to see certain documentation, parts of it were often lost, as sometimes teams needed them and forgot to put them back.
Why did you decide to start using skills management software?
When a new process was introduced, so much administrative work had to be done that not all the employees were properly trained. This meant they would fall behind on training sessions. We either had to add more trainers or face the problem and start working more efficiently.
We have 288 factories worldwide, and when I went to see what other factories were doing, I was shocked. Everyone seemed to be dealing with the same problems. I was relieved to see that in the Liverpool factory, we were not doing anything wrong, we were just doing the same as everyone else. But I realized we could do better.
How did you select a new system ?
Nobody likes change, much less big changes. Initially, it was quite disheartening for staff when I told them we were getting rid of Excel. They were like, "But what will we use instead?"
We then shortlisted three software packages for skills management. Of those three, AG5 clearly met everything in the PUE analysis: the cost, use of the system, the simplicity, what it delivered, the reporting, and the ability to share information via any platform across all departments in the factory, without any data being contaminated or lost.
What are the savings?
At Adient, we are hugely committed to sustainability. As you can imagine, 800 documents in the workplace requires a lot of paper. Digitally signing in to the app eliminates 97% of paper used at our factory, which saves us approximately $20,000 per year. Employees now just walk around with a tablet or mobile phone. This also saves them 3.5 hours a day. We have three trainers, so that's a saving of 1 FTE.
 Can you give an example of improvements?
Technicians on the quality team are tested annually for colorblindness, which they would previously track in Excel and on paper. When I learned that, I took 15 seconds to put the qualification into the system, assign it to all the people involved, and set up the workflow.
I then asked them to give me everything they usually use to track on paper and uploaded it to AG5. I then told them that in 11 months, they would automatically receive notification that all these people are up for that specific training, meaning they no longer need paper at all! They just sat there, dumbfounded – but very happy!
What does a typical day of using AG5 look like for your organization?
We have an overview of training on a large 70-inch screen hanging in our factory. There, I can see exactly which employees or teams need a particular training session.
I work with AG5 every morning to give approvals for certain training sessions that are being held. I also keep an eye on people who are returning from long-term absences, as they need to be trained or retrained in certain fundamental skills, as well as brought up to speed with changes that have occurred within factories. This way, they can return to their respective machine lines fully up to date.
Ready to master skills management?
Get a personalized walkthrough of AG5 from one of our product experts in just 15 minutes.
ISO27001 certified Free trial available