Your organization's success largely depends on your workforce's skills, competences, and talents! Do you know everything you should about their abilities? Skills management software helps you discover them and map them. Doing so makes it so much easier to assign the right staff to the right job at the right time.
But what is skills management?
Skills management simply involves mapping your staff's expertise and experience as fully as possible. This process means getting to know and understand more about their skills and competences, and how you can then assign them to jobs not only to optimize your operational processes, but also to boost their job satisfaction levels. After all, we all prefer doing work we enjoy and are good at!
In skills management, you create profiles made up of an employee's full range of skills, knowledge, qualifications, and experience. These profiles then determine whether someone is expert or qualified enough to perform a certain task or fulfill a given role. It also paints a clearer picture of your staff's proficiency levels both individually and collectively.
Sound skills management also helps staff make the most of their talents and abilities. It not only showcases their abilities, but also pinpoints any areas to focus on in their professional development. By entering into a constructive dialog, you then no longer decide for your staff, but with them. Another aspect of skills management is providing your staff with the training and learning opportunities they need to make the next step in their careers.
Skills management also has a positive effect on your HR and recruitment & selection policies. Suppose you're forced to find new staff because key players have left, or are about to leave, your organization. With skills management systems in place, you'll know exactly what skills gaps they'll be leaving behind them. This makes it so much easier to focus on finding the right successor(s).
How can skills management benefit you?
Skills management provides numerous benefits to any organization, but here are the most important ones:
1. Finding the right person for the right job
One of the foremost goals of personnel and project management is finding the right person for the right job. Skills management makes this so much easier because you already know who can do what and who can't, and who's suitable for a given role and who's not.
2. Skills management helps you identifying skills gaps
Suppose you're putting together a project team and you're missing key skills within your organization. Or you're thinking about rolling out new products or services in the near future. Chances are you'll stumble upon a few skills gaps here and there. This means you don't have the skills and knowledge in-house that you'll ideally need for your new team, product, or service. Skills management allows you to spot and then close these skills gaps quickly and easily.
3. Providing targeted training
Skills management allows you to guide staff more effectively in their professional development. Looking at the skills, competences, and qualifications your organization needs, it then becomes much easier to set both personal and organizational goals. With well-defined training and learning programs in place, you provide your staff with clear-cut personal development paths, tailored to both their individual and your organizational needs. This will also cut your training costs because you'll be much more focused in your training and learning efforts.
4. Boosting satisfaction levels
Studies have revealed that happy, satisfied employees are 13% more productive. What's more, they're far more likely to remain loyal to your organization. We're all more motivated and productive when we're doing something we like and are good at. Creating a good match between skills and work is an important ingredient for job satisfaction. And this effect is heightened still further if your staff get the option to manage their own profiles and validate their own skills, competences, and talents.
5. Creating a more versatile workforce
Your staff are far more than just a facsimile of their resume and qualifications. They often have hidden qualities, traits, or talents, especially soft skills, that you'll not see listed on their resumes. Once you start documenting their skills and competences in a clear and consistent fashion, you'll soon discover that certain employees have more in their stride than you first thought. Armed with this information, you can identify which employees are more versatile, which can save you time and money when recruiting new staff.
Read our article, 'The benefits of workforce versatility', for more information.
6. Demonstrating competence
Having a clear picture of your workforce's capabilities is vital from a quality and regulatory perspective, especially in the healthcare and welfare sectors where professional/quality-related issues, risks, treatments, and professional development play a major role. This also applies to operating machinery and production lines in a manufacturing environment where certain qualifications and/or licenses are required. Skills management uses hard data to paint a clear picture about who has which qualifications and who's allowed to do what or not.
7. Finding replacements quickly and easily
Suppose a member of staff is temporarily off sick or out of action for a longer period. Sickness, parental leave, or a new career step are all reasons this might happen. Having mapped all your staff's skills and knowledge, it's so much easier to work out a profile for the ideal replacement and safeguard your operational continuity.
8. Passing audits with flying colors
Audits are an important part of determining how well, effectively, and/or safely a company is operating. They spotlight various issues about your organization's workforce and operational processes, which can sometimes be quite stressful and nerve-wracking for those involved, especially when it's an external audit. By embedding skills management into your organization's processes and procedures, you'll always be able to demonstrate that your staff have the relevant and current skills, qualifications, and authorizations to do their job.
Read our article, '6 tips for wowing your auditors', for more information.

How to implement skills management
But how should you implement skills management in practice? Follow the four steps below to lay a solid foundation:
Step #1 – make an inventory
The process starts by preparing yourself properly. Make an inventory of what your organization needs in the way of core skills and then determine whether these already exist or not.
Which skills, competences, and qualifications do your employees have already and/or need in the future?
Are there already skills gaps existing or any emerging? If so, how can you close them as quickly and efficiently as possible?
How can you paint a clear picture of their skills and competences for both internal and external use?
Step #2 – create a clear overview
Once you've made an inventory, you'll have all the basic information you'll need about your organization's skills and competences. Next, it's time to create a clear, concise overview of this information. But what's the best way to do this? Group the skills, competences, and qualifications required for each of your job titles or roles. By doing so, you'll see at a glance who has what in their stride and is capable of performing a given task or fulfilling a certain role. You'll also be able to spot those employees who are more versatile and flexible than their co-workers, or have highly specialized skill sets.
Step #3 – generate a skills matrix
Next, it's important to transfer all the information you gathered in Steps 1 & 2 into a convenient format for daily use. Skills matrices are the perfect tool for doing just this. They're visual representations of your staff's skills, competences, knowledge, and qualifications displayed in matrix form. List your employees down the left-hand column and relevant skills and competences along the top row (or vice versa). Next, enter a proficiency level (score, percentage, rating …) for each employee for each skill.
Download our skills matrix template for Excel to see what they look like.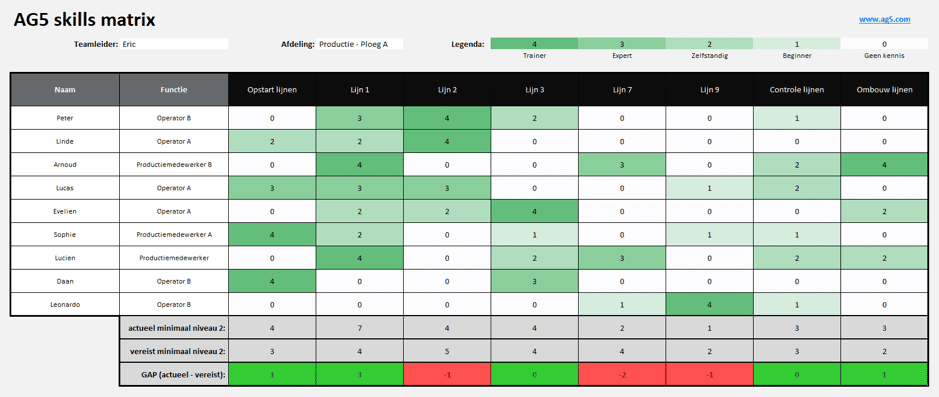 Read our article, 'Everything you need to know about skills matrices', for more information.
Step #4 – update and evaluate
In theory, a proficiency level never remains static. As human beings, we continue to learn new things throughout our careers and lives, especially with the right training and guidance. Skills management is, therefore, a continuous, never-ending process. So, make sure to keep your matrices up to date and review them regularly.
Tip – use skills management software!
Chances are, however, that after a while you'll want to take your skills management system to the next level and start using special-purpose software, such as AG5's. Our software is plug-and-play, meaning you can extract all the information from your old Excel spreadsheets and move it to a centralized location in the cloud – in just one day! And what's even better, you don't need to be a programming whiz kid to do this!
Using AG5's software, you benefit from a whole range of features and functions that make skills management even easier and more efficient:
Enter updates and training results from the shop floor in real time
Put together your ideal team for a new project in no time – shortlisting potential team members by current expertise, proficiency level, experience …
Configure notifications for individuals, groups, or qualifications
Find qualified replacements quickly and easily to retool production lines
Find the best replacements for employees off sick or on vacation in a single search
Map which skills and expertise are available at other sites to save time, money, and effort emailing backward and forward as part of long-winded recruitment & selection procedures
Replicate organizational structures and link employees to skills and qualifications using our easy-to-use drag 'n' drop functionality
Unlock your team's potential with skills management software
In short, skills management allows you to map what your staff have in their stride and where you may need to take action, for example to close any existing or emerging skills gaps. But, perhaps most importantly of all, it allows your employees to make the most of their abilities and talents, and to find an optimal balance – satisfaction in their work while achieving your organizational objectives.
Ready to master skills management?
---
---