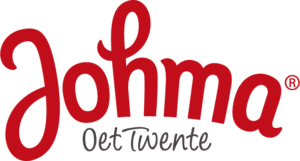 Johma
We spoke to Daniël van der Woude, Johma's innovation manager, about why he was looking for a better certification management solution and about his experience with AG5.
So, what did you achieve?
time savings – at least 8 hours a week
audit proofing – who has taken which training program and when
higher safety standards – linking training results to machinery operation overrides
integrations with aNewSpring and DPS
What's most important to you in your role?
In the food industry, we're used to it taking a matter of minutes to dish up all and any information you could imagine – say, for today's batch of 20,000 salads – and being able to tell you exactly when each was produced and where they're all destined for.
But we simply weren't in a position to demonstrate that the personnel producing those salads had received the proper training. We didn't have the right systems in place, until we started using AG5, of course!
We've also had a few sticky situations with Health & Safety inspectors in the past. Nothing was actually amiss, but each time it used to take us two to three hours before we could produce the information they were asking for.
What problems were you looking to solve?
Our biggest challenge was entering and maintaining all our standard operating procedures in Excel spreadsheets. It used to take at least an hour a day. And if no one was available to do this, it went undone. You guessed it! Our skills matrices were never up to date.
Worse still was that someone had to run an export from our old e‑learning system every week to update those infernal spreadsheets. This was prone to errors because it was all manual data-entry work.
Was there anything that you were uncertain about before you started using AG5?
My initial fears centered on entering into a business relationship with a new software developer, only to discover their system wouldn't fully meet our needs, and we'd be wasting even more time and money. I'm so relieved this wasn't the case.AG5 does exactly what we agreed.
Take our temping staff, for example. They're not granted access to the factory until they've completed onboarding.
And have things gotten better since you started using AG5?
Nowadays, we've got a direct link between our e‑learning system and AG5. Take our temping staff, for example. They're not granted access to the factory until they've completed onboarding. It takes five minutes right there and then, and only then does their entry pass grant them access.
We're extrapolating this approach to operating our machinery, too. For example, our cutting machines. Soon it'll be impossible to turn on a dangerous piece of machinery if an operator hasn't received the right training according to our AG5 system.
What's more, we can assess proficiency levels on the job – more quickly and more easily than ever before. Our trainers can do this using the app on their smartphones or tablets. You wouldn't believe how many work hours this is saving us. I'd guess around eight hours a week.
I no longer have discussions where I'm asking myself or others who's trained for what and when? We used to waste hours working this out whenever a member of the management team asked us for this information.
What effect has AG5 had on audits?
In the event of an accident, the HSE inspector immediately requests all documentation demonstrating whether the person in question had received proper training and when. Using Excel spreadsheets, it was possible to show whether someone had received training, but they were rarely kept up to date. Either the dates and times were wrong or signatures were missing, etc.
Nowadays, I can see if anyone's made a mistake in a single mouse click. You can see where someone is assigned, all the operating and training standards, who's been audited, who passed, who didn't, etc. This all takes a few seconds and is highly trustworthy and reassuring.
Drop us a line to get to grips with your skills management challenges – once and for all!
Let's talk!
Ready to master skills management?