Biotechnology skills matrix template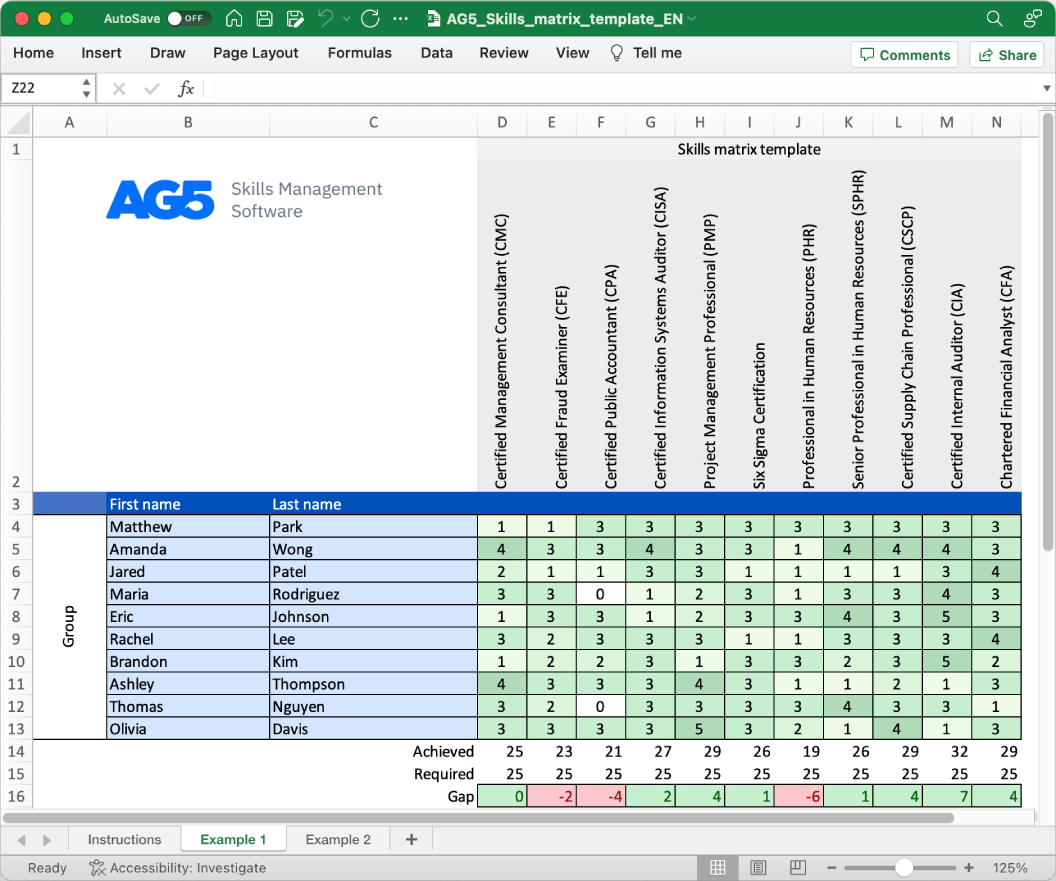 Download your free template here
Overview
With our free biotechnology skills matrix template, you will receive a clear overview of the skills that are present in your organization, as well as those that are missing. Using this information, you can develop and implement a plan to ensure that your employees' skills are up to date, comprehensive, compliant, and ready for the future.
Certified Biomedical Auditor (CBA)
Certified Clinical Research Associate (CCRA)
Certified Biotechnology Professional (CBP)
Certified Clinical Project Manager (CCPM)
Certified Regulatory Affairs Professional (RAC)
Certified Quality Auditor (CQA)
Certified Clinical Data Manager (CCDM)
Certified Validation Professional (CVP)
Certified Quality Engineer (CQE)
Certified Quality Manager (CQM)
Certified Pharmaceutical GMP Professional (CPGP)
Certified Clinical Research Coordinator (CCRC)
Certified Quality Improvement Associate (CQIA)
Certified Biotech Patent Agent (CBPA)
Certified in the Governance of Enterprise IT (CGEIT)
Certified Ethical Hacker (CEH)
Certified Professional in Healthcare Information and Management Systems (CPHIMS)
Certified Medical Device Reprocessing Technician (CMDRT)
Certified Medical Laboratory Technologist (CMLT)
Certified Medical Imaging Professional (CMIP)
Related skills
Molecular biology: Involves working with biological molecules such as DNA and proteins. Certifications that prove molecular biology skills include the American Society for Biochemistry and Molecular Biology (ASBMB) Certified Biochemistry and Molecular Biology (CBM) exam.
Cell culture: Involves growing and maintaining cells in a laboratory setting. Certifications that prove cell culture skills include the American Society for Cell Biology (ASCB) Certified Cell Culture Specialist (CCS) and the Certified Biological Laboratory Technician (CBLT) from the National Credentialing Agency for Laboratory Personnel (NCA).
Bioinformatics: Involves analyzing and interpreting biological data using computational methods. Certifications that prove bioinformatics skills include the International Society for Computational Biology (ISCB) Certified Bioinformatics Professional (CBIP) and the Certified Health Informatics Systems Professional (CHISP) from the American Society of Health Informatics Managers (ASHIM).
Quality control: Involves ensuring that products and processes meet quality standards. Certifications that prove quality control skills include the American Society for Quality (ASQ) Certified Quality Technician (CQT) and the Certified Quality Auditor (CQA).
Biomanufacturing: Involves manufacturing biological products such as drugs and vaccines. Certifications that prove biomanufacturing skills include the National Institute for Bioprocessing Research and Training (NIBRT) Certified Bioprocessing Professional (CBP) and the Society for Biological Engineering (SBE) Certified Biomanufacturing Professional (CBP).
Benefits
Skills management software can help biotech professionals track and manage their and their teams' certifications, ensuring they have the necessary skills and knowledge to work with advanced biotech tools and techniques.
Use AG5 to identify skill gaps
Say goodbye to Excel matrices. Start using AG5's plug and play skill matrix software.
ISO27001 certified Free trial available