Good laboratory practices (GLP) skills matrix template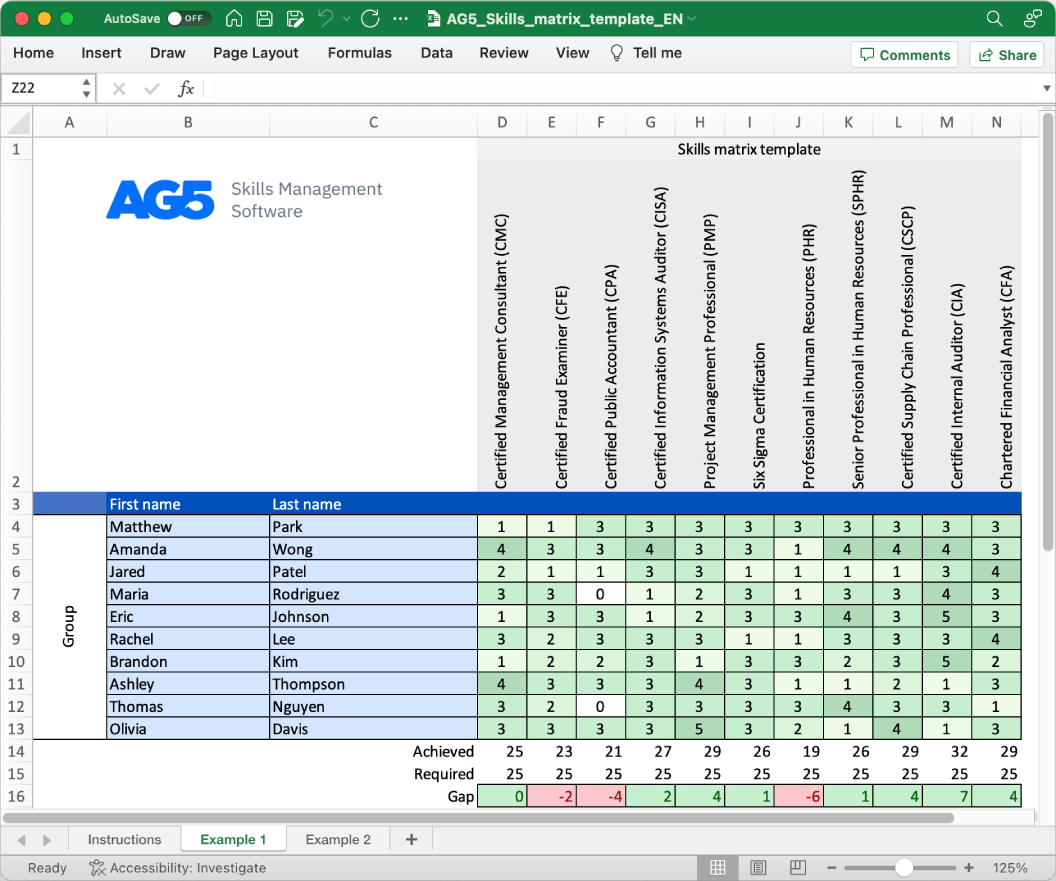 Download your free template here
Overview
With our free GLP skills matrix template, you will receive a clear overview of the skills that are present in your organization, as well as those that are missing. Using this information, you can develop and implement a plan to ensure that your employees' skills are up to date, comprehensive, compliant, and ready for the future.
Certified Good Laboratory Practices Professional (CGLPP)
Certified GLP Compliance Professional (GLPCP)
Certified GLP Professional (GLPP)
Certified GLP Auditor
Certified GLP Quality Assurance Specialist
Certified GLP Study Director
Certified GLP Analyst
Certified GLP Documentation Specialist
Certified GLP Trainer
Certified GLP Regulatory Affairs Professional
Certified GLP Study Coordinator
Certified GLP Data Integrity Specialist
Certified GLP Facility Manager
Certified GLP Quality Control Analyst
Certified GLP Biostatistician
Certified GLP Analytical Chemist
Certified GLP Toxicologist
Certified GLP Pathologist
Certified GLP Quality Management Representative
Certified GLP Compliance Officer
Related skills
GLP Regulations and Compliance: Understanding and adhering to regulatory requirements and guidelines specific to laboratory practices. Certifications such as the Certified Good Laboratory Practice Professional (CGLPP) or the Certified GLP Compliance Professional (CGCP) validate expertise in GLP regulations and compliance.
Test Method Validation: Performing validation and verification of test methods used in laboratory testing. Certifications such as the Certified Validation Professional (CVP) or the Certified Quality Technician (CQT) demonstrate proficiency in test method validation.
Quality Control and Assurance: Implementing quality control measures to ensure accurate and reliable laboratory testing results. Certifications such as the Certified Quality Auditor (CQA) or the Certified Quality Improvement Associate (CQIA) validate skills in quality control and assurance.
Equipment and Instrumentation: Maintaining and calibrating laboratory equipment and instrumentation to ensure accuracy and reliability. Certifications such as the Certified Calibration Technician (CCT) or the Certified Metrology Technician (CMT) demonstrate proficiency in equipment and instrumentation management.
Documentation and Record-Keeping: Ensuring accurate and comprehensive documentation of laboratory processes, procedures, and records. Certifications such as the Certified Documentation Improvement Practitioner (CDIP) or the Certified Records Manager (CRM) validate skills in documentation and record-keeping.
Benefits
Skills management software assists in GLP compliance by tracking and managing employee skills and certifications related to laboratory practices. It ensures that laboratory personnel possess the required competencies to conduct accurate and reliable laboratory testing, maintain data integrity, and comply with GLP guidelines.