Computer systems validation (CSV) skills matrix template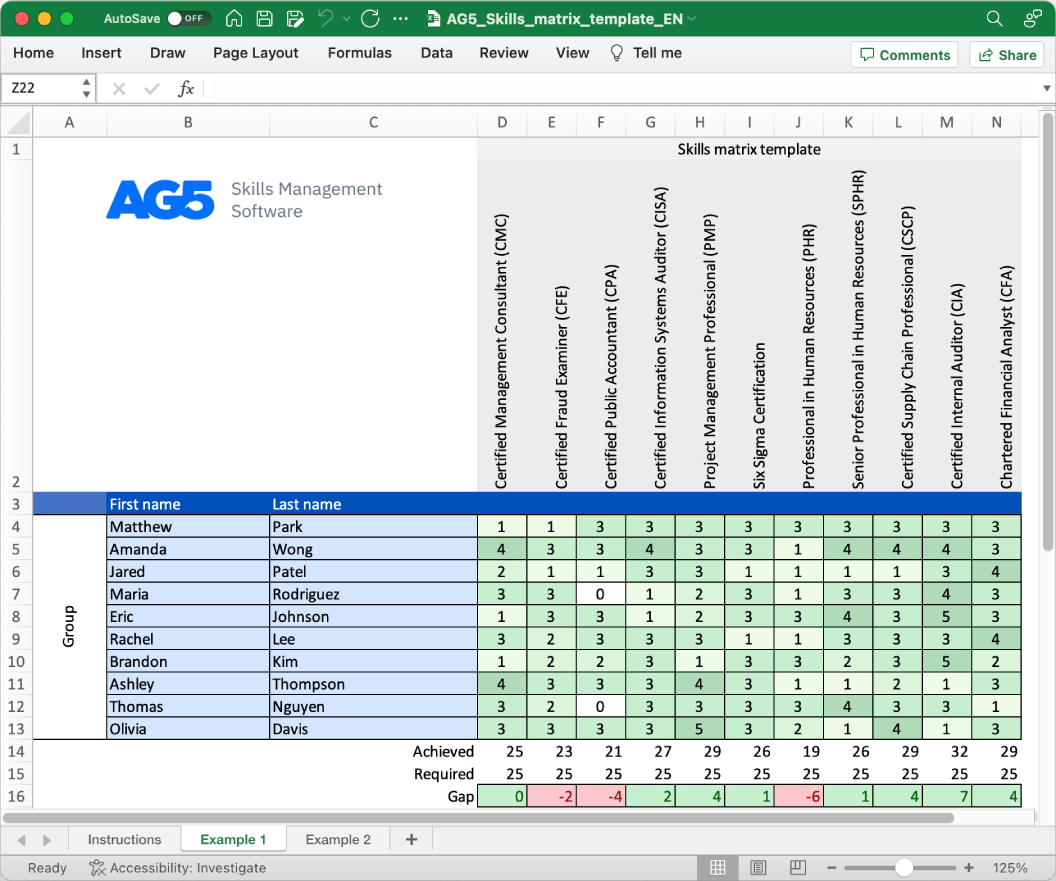 Download your free template here
Overview
With our free CSV skills matrix template, you will receive a clear overview of the skills that are present in your organization, as well as those that are missing. Using this information, you can develop and implement a plan to ensure that your employees' skills are up to date, comprehensive, compliant, and ready for the future.
Certified Computer System Validation Professional (CCSVP)
Certified CSV Specialist (CCSVS)
Certified CSV Engineer (CCSVE)
Certified CSV Auditor (CCSVA)
Certified CSV Consultant (CCSVC)
Certified CSV Trainer (CCSVT)
Certified CSV Expert (CCSVE)
Certified CSV Process Engineer (CCSPE)
Certified CSV Project Manager (CCSPM)
Certified CSV Team Leader (CCSTL)
Certified CSV Implementation Specialist (CCSIS)
Certified CSV Risk Analyst (CCSRA)
Certified CSV Documentation Specialist (CCSDS)
Certified CSV Product Development Professional (CCSDP)
Certified CSV Regulatory Affairs Specialist (CCSRAS)
Certified CSV Performance Metrics Analyst (CCSPMA)
Certified CSV Quality Assurance Manager (CCSQAM)
Certified CSV Change Control Specialist (CCSCCS)
Certified CSV System Administrator (CCSSA)
Certified CSV Data Integrity Specialist (CCSDIS)
Related skills
CSV Planning and Execution: The skill of planning and executing computer system validation activities. Certifications such as the Certified Computer Validation Professional (CCVP) offered by the International Society for Pharmaceutical Engineering (ISPE) validate expertise in CSV principles, regulations, and validation methodologies.
Risk-Based Validation: The skill of applying risk-based approaches to prioritize and validate critical system functionalities. Certifications like the Certified Validation Professional (CVP) offered by ISPE demonstrate proficiency in risk assessment, risk mitigation, and risk-based validation strategies.
Change Control and Configuration Management: The skill of managing changes to computer systems in a controlled and compliant manner. Certifications like the Certified Change Control Professional (CCCP) offered by ISPE validate expertise in change control processes, configuration management, and maintaining system compliance.
Validation Documentation and SOPs: The skill of developing and maintaining validation documentation and standard operating procedures (SOPs) for computer systems. Certifications such as the Certified Validation Specialist (CVS) offered by ISPE demonstrate proficiency in developing validation protocols, test scripts, and SOPs.
Compliance and Audit Readiness: The skill of ensuring computer systems remain compliant with regulatory requirements and are audit-ready. Certifications like the Certified Professional in Compliance and Ethics (CCEP) offered by the Society of Corporate Compliance and Ethics (SCCE) validate expertise in compliance management, auditing practices, and regulatory adherence.
Benefits
Skills management software is important in CSV as it enables organizations to assess and manage the skills of personnel responsible for validating computer systems, ensuring they possess the necessary technical knowledge and expertise to ensure the integrity and compliance of computerized systems.
Ready to master skills management?
Get a personalized walkthrough of AG5 from one of our product experts in just 15 minutes.
ISO27001 certified Free trial available