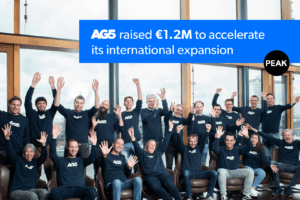 Amsterdam, 12 May 2022.
We are thrilled to announce that our team has raised €1.2 million from tech investor Peak in our latest investment round. We will use the funds to develop our skills management software further and market the platform globally. Today, international organisations such as Jacobs Douwe Egberts, KLM, and Toyota Boshoku use our software to map employees' skills to schedule them correctly, train them in time and ensure international regulatory compliance.
Organisations from all over the world in search of help with similar challenges find their way to AG5. Those organisations, referred at times by consultancy agencies such as Accenture, all struggle with creating an overview of the competencies of their employees and mapping the subsequent skills gap. Furthermore, the pace at which new technologies are introduced demands continuous employee training and, in addition, regulation compliance is executed through strict audits.
'We see that organisations struggle to create transparent and measurable insight into which employees can operate certain machinery or work on a given production line,' says Rick van Echtelt, Founder at AG5. 'Technological developments widen the skills gap and make qualifications more complex. This trend is confirmed by the €85 billion that the European Union invested in developing digital competencies on the work floor in the form of the European Skills Agenda.'
Tackle the skills gap globally
We have offices in Amsterdam and Berlin, and we've been focusing on skills management since 2019. Our company's skills management platform is available in 15 languages and was built by our solid 21-person team. Our platform offers technical integration with dozens of parties in the fields of HRM, e-learning, planning systems, and training management systems, such as SAP (as a certified partner), Moodle, and Cornerstone. In addition, AG5's client list includes international organisations such as Jacobs Douwe Egberts, KLM, Tata Steel, and Toyota Boshoku.
Peak's €1.2 million investment enables us to accelerate our international expansion and offer intercontinental support to our multinational clients. Over the next two years, we aspire to double the size of our team and triple the number of clients we serve. To realise the envisioned growth, we recruit new staff for key positions, such as Head of Sales.
Peak co-founder Johan van Mil says: 'The skills gap is widening worldwide as more and more organisations have to meet stricter certification, compliance, and sustainability (ESG) requirements. AG5 offers a scalable SaaS solution that provides insight into the skills gap per team, location, or region. Thanks to AG5, employees can be scheduled based on their qualifications and receive the right training in time, enabling organisations to comply with international regulations for their relevant sector. We look forward to supporting the AG5 team in their ambitious growth path.'
Our founder Rick van Echtelt says: 'We have found our growth partner in Peak. Their deep market analysis showed us that the need for our platform worldwide is even greater than we had anticipated. The knowledge and expertise of growing SaaS platforms internationally, together with the people and company culture, is the perfect match for us to go and meet that need.'
Read more about Peak on https: //peak.capital.
---
---