GxP training skills matrix template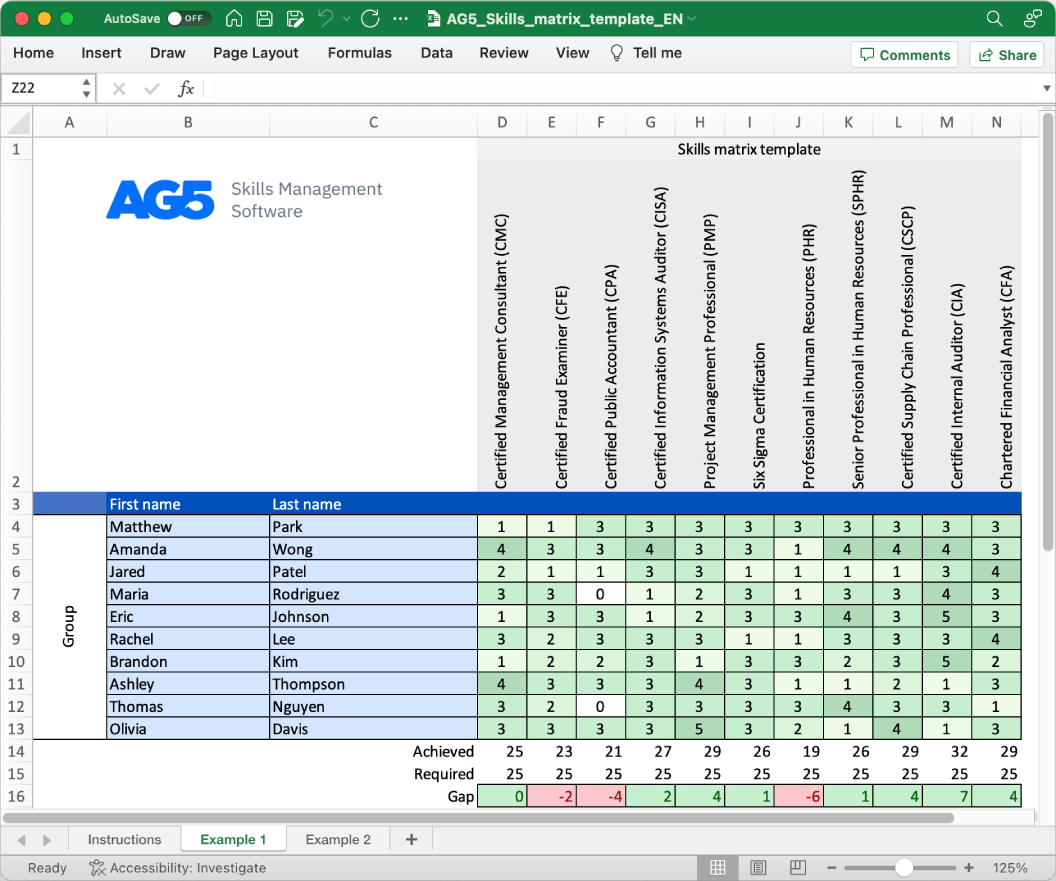 Download your free template here
Overview
With our free GxP skills matrix template, you will receive a clear overview of the skills that are present in your organization, as well as those that are missing. Using this information, you can develop and implement a plan to ensure that your employees' skills are up to date, comprehensive, compliant, and ready for the future.
GxP Compliance Specialist (GxPCS)
GxP Quality Assurance Professional (GxPQA)
GxP Validation Professional (GxPVP)
GxP Clinical Research Professional (GxPCR)
GxP Regulatory Affairs Professional (GxPRA)
GxP Good Manufacturing Practice (GxPGMP)
GxP Good Clinical Practice (GxPGCP)
GxP Good Laboratory Practice (GxPGLP)
GxP Good Distribution Practice (GxPGDP)
GxP Good Pharmacovigilance Practice (GxPGVP)
GxP Data Integrity Professional (GxPDI)
GxP Quality Control Professional (GxPQC)
GxP Risk Management Professional (GxPRMP)
GxP Auditing Professional (GxPAP)
GxP Compliance Auditor (GxPCA)
GxP Training Coordinator (GxPTC)
GxP Documentation Specialist (GxPDS)
GxP Process Improvement Professional (GxPPIP)
GxP Change Control Specialist (GxPCCS)
GxP Investigation and CAPA Specialist (GxPIC)
Related skills
GxP Regulations and Guidelines: Knowledge of the regulations and guidelines governing good practices (GxP) in regulated industries such as pharmaceuticals, medical devices, and biotechnology. While there is no specific certification solely focused on GxP training, certifications such as the Certified Professional in FDA Regulatory Affairs (RAC) offered by RAPS demonstrate understanding of regulatory frameworks, compliance requirements, and GxP principles.
GxP Training Program Development: Skill in designing and developing GxP training programs that align with regulatory requirements and industry best practices. Certifications such as the Certified GxP Professional (CGP) offered by the Institute of Certified GxP Professionals (ICGP) validate expertise in GxP training program development, instructional design, and compliance management.
GxP Training Delivery Methods: Proficiency in delivering GxP training using various methods such as instructor-led training, e-learning, and blended learning approaches. Certifications such as the Certified Online Learning Facilitator (COLF) offered by the International Association for Distance Learning (IADL) demonstrate competence in online training delivery, learner engagement, and GxP content delivery.
GxP Training Documentation and Records: Skill in developing and maintaining GxP training documentation and records to demonstrate compliance and adherence to regulatory requirements. Certifications such as the Certified Quality Auditor (CQA) offered by ASQ validate expertise in auditing GxP training processes, documentation review, and compliance assessment.
GxP Training Compliance Audits: Competency in conducting audits to assess the effectiveness and compliance of GxP training programs. While there is no specific certification solely dedicated to GxP training compliance audits, certifications such as the Certified Internal Auditor (CIA) offered by The Institute of Internal Auditors (IIA) demonstrate proficiency in audit techniques, regulatory compliance assessment, and internal control evaluation.
Benefits
Skills management software is important in GxP training as it enables organizations to track and manage the skills and qualifications of personnel involved in GxP-regulated activities, ensuring they receive the necessary training to comply with Good Practice (GxP) guidelines and maintain product quality and safety.