Regulatory agency interaction skills matrix template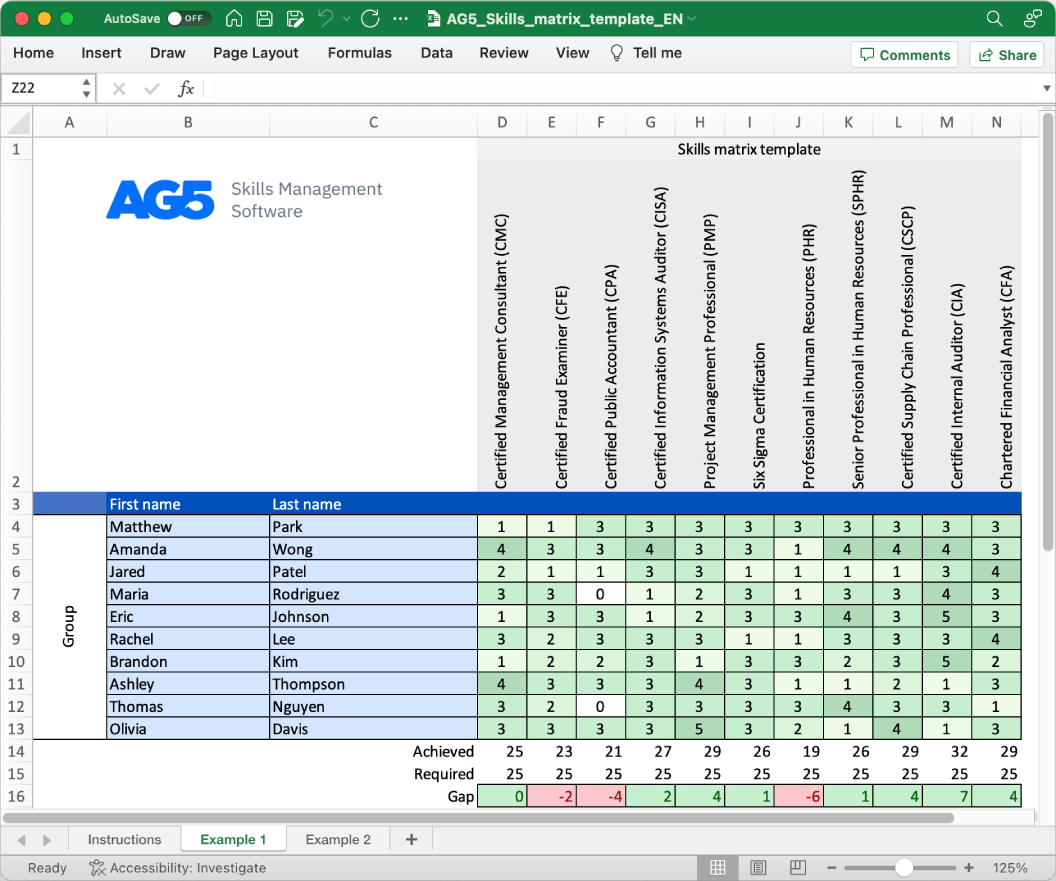 Download your free template here
Overview
With our free regulatory agency interaction skills matrix template, you will receive a clear overview of the skills that are present in your organization, as well as those that are missing. Using this information, you can develop and implement a plan to ensure that your employees' skills are up to date, comprehensive, compliant, and ready for the future.
Certified Regulatory Affairs Professional (RAC)
Regulatory Affairs Certification (RAC)
Certified Compliance and Ethics Professional (CCEP)
Certified Regulatory Compliance Manager (CRCM)
Certified Quality Auditor (CQA)
Certified Regulatory Specialist (CRS)
Certified Regulatory Professional (CRP)
Certified Pharmaceutical GMP Professional (CPGP)
Certified Clinical Research Professional (CCRP)
Certified Medical Affairs Specialist (CMAS)
Certified Regulatory Compliance Specialist (CRCS)
Certified Healthcare Compliance Professional (CHC)
Certified Environmental Compliance Professional (CECP)
Certified Food Safety Manager (CFSM)
Certified Hazardous Materials Manager (CHMM)
Certified Energy Manager (CEM)
Certified Government Affairs Professional (CGAP)
Certified Trade Compliance Specialist (CTCS)
Certified Import/Export Specialist (CIES)
Certified International Trade Professional (CITP)
Related skills
Regulatory Compliance Expertise: Demonstrating a deep understanding of regulatory requirements and compliance standards, a proficiency verified by the Certified Regulatory Compliance Professional (CRCP) certification.
Effective Communication: Excelling in clear and concise communication with regulatory agencies, a skill honed through training and the Certified Regulatory Communication Specialist (CRCS) certification.
Documentation and Reporting: Skillfully preparing and submitting accurate documentation and reports to regulatory authorities, a competency highlighted by the Certified Regulatory Documentation Specialist (CRDS) certification.
Audit and Inspection Readiness: Ensuring readiness for regulatory audits and inspections through meticulous preparation and adherence to protocols, validated by the Certified Audit and Inspection Readiness Professional (CAIRP) certification.
Regulatory Affairs Strategy: Developing strategic approaches for interactions with regulatory agencies, reflecting expertise confirmed by the Certified Regulatory Strategy Planner (CRSP) certification.
Benefits
Skills management software facilitates regulatory knowledge and effective communication, ensuring compliance and streamlined interactions with regulatory authorities.