Change control board management skills matrix template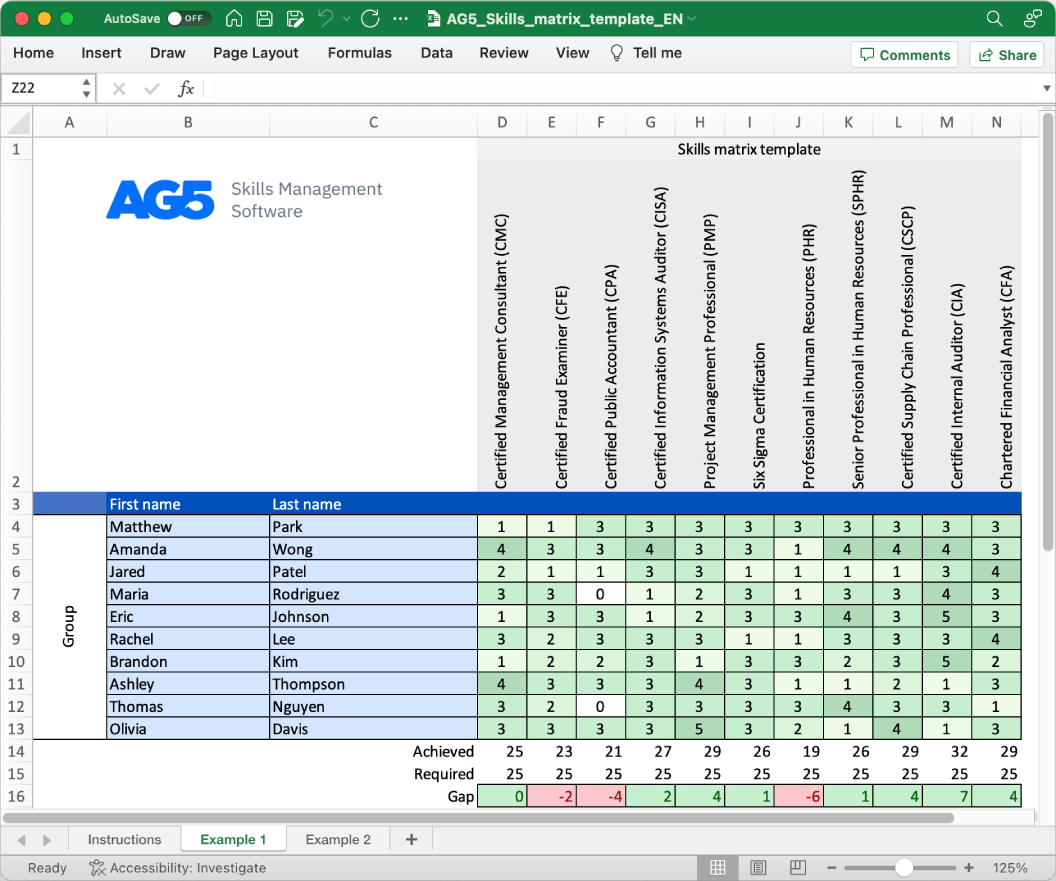 Download your free template here
Overview
With our free change control board management skills matrix template, you will receive a clear overview of the skills that are present in your organization, as well as those that are missing. Using this information, you can develop and implement a plan to ensure that your employees' skills are up to date, comprehensive, compliant, and ready for the future.
Certified Change Management Professional (CCMP)
Certified Change Management Specialist (CCMS)
Certified Change Management Practitioner (CCMP)
Certified Change Management Expert (CCME)
Certified Configuration Manager (CCM)
ITIL® Intermediate - Release, Control and Validation (RCV)
Project Management Professional (PMP®)
Certified ScrumMaster (CSM®)
Certified Lean Six Sigma Green Belt (CLSSGB)
Certified Regulatory Affairs Professional (RAPS)
Related skills
Decision-Making: CCB managers need strong decision-making skills to evaluate proposed changes, assess their impact on the project or organization, and make informed choices on whether to approve, reject, or defer changes. They must consider factors like risks, benefits, timelines, and resources before reaching decisions.
Communication: Effective communication is essential for CCB managers to convey change requests, decisions, and rationale to stakeholders, project teams, and other relevant parties. They need to articulate complex technical information clearly and tailor their communication style to different audiences.
Technical Expertise: CCB managers should possess a solid understanding of the project or organization's domain, as well as the technical aspects of the changes being proposed. This expertise helps them assess the feasibility, compatibility, and potential impact of changes on existing systems and processes.
Negotiation and Conflict Resolution: CCB managers often encounter differing opinions and conflicts regarding proposed changes. Skillful negotiation and conflict resolution are necessary to address disagreements, find common ground, and facilitate consensus among stakeholders with competing interests.
Risk Management: Change Control Board management involves evaluating and managing risks associated with implementing changes. CCB managers need to assess potential risks, devise mitigation strategies, and ensure that changes are implemented in a controlled manner to minimize negative impacts on project timelines, budgets, and quality.
Benefits
Skills management software is vital for assembling adept teams, ensuring swift change evaluations, and informed decision-making, bolstering seamless change control implementation.
Ready to master skills management?
Get a personalized walkthrough of AG5 from one of our product experts in just 15 minutes.
ISO27001 certified Free trial available