Good manufacturing practices (GMP) skills matrix template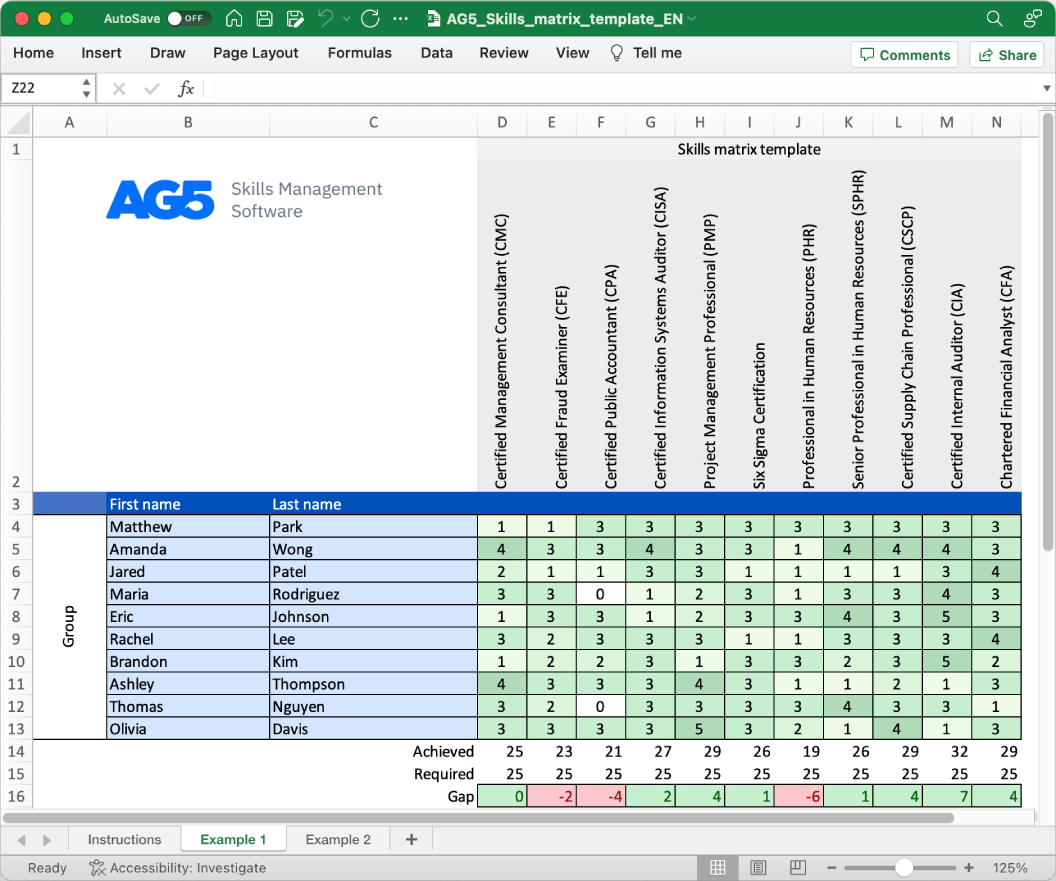 Download your free template here
Overview
With our free GMP skills matrix template, you will receive a clear overview of the skills that are present in your organization, as well as those that are missing. Using this information, you can develop and implement a plan to ensure that your employees' skills are up to date, comprehensive, compliant, and ready for the future.
Certified Pharmaceutical GMP Professional (CPGP)
Good Manufacturing Practices Professional (GMP Pro)
Good Manufacturing Practices Certified (GMPC)
Certified GMP Professional
Certified GMP Auditor
Certified GMP Trainer
Certified GMP Consultant
Certified GMP Inspector
Certified GMP Compliance Specialist
Certified GMP Documentation Specialist
Certified GMP Quality Control Specialist
Certified GMP Manufacturing Specialist
Certified GMP Validation Specialist
Certified GMP Quality Assurance Specialist
Certified GMP Regulatory Affairs Professional
Certified GMP Supplier Auditor
Certified GMP Sterile Products Specialist
Certified GMP Pharmaceutical Packaging Specialist
Certified GMP Herbal Products Specialist
Certified GMP Dietary Supplements Specialist
Related skills
GMP Regulations and Compliance: Understanding and adhering to regulatory requirements and guidelines specific to manufacturing processes. Certifications such as the Certified Pharmaceutical GMP Professional (CPGP) or the Certified GMP Professional (CGP) validate expertise in GMP regulations and compliance.
Quality Management Systems: Implementing and maintaining quality management systems in accordance with GMP standards. Certifications such as the Certified Manager of Quality/Organizational Excellence (CMQ/OE) or the ISO 13485 Lead Auditor demonstrate proficiency in quality management systems for medical devices.
Documentation and Record-Keeping: Ensuring accurate and comprehensive documentation of manufacturing processes, procedures, and records. Certifications such as the Certified Documentation Improvement Practitioner (CDIP) or the Certified Records Manager (CRM) validate skills in documentation and record-keeping.
Equipment Validation and Calibration: Performing equipment validation and calibration activities to ensure accuracy, reliability, and compliance with GMP requirements. Certifications such as the Certified Validation Professional (CVP) or the Certified Calibration Technician (CCT) demonstrate proficiency in equipment validation and calibration.
Change Control: Managing and controlling changes to manufacturing processes, materials, or equipment to maintain GMP compliance. Certifications such as the Certified Change Management Professional (CCMP) or the Project Management Professional (PMP) validate skills in change control.
Benefits
Skills management software is crucial for GMP compliance as it helps track and manage the skills and qualifications required to maintain GMP standards. It ensures that employees have the necessary expertise and training to follow GMP guidelines, perform quality checks, and maintain product integrity.