Audit skills matrix template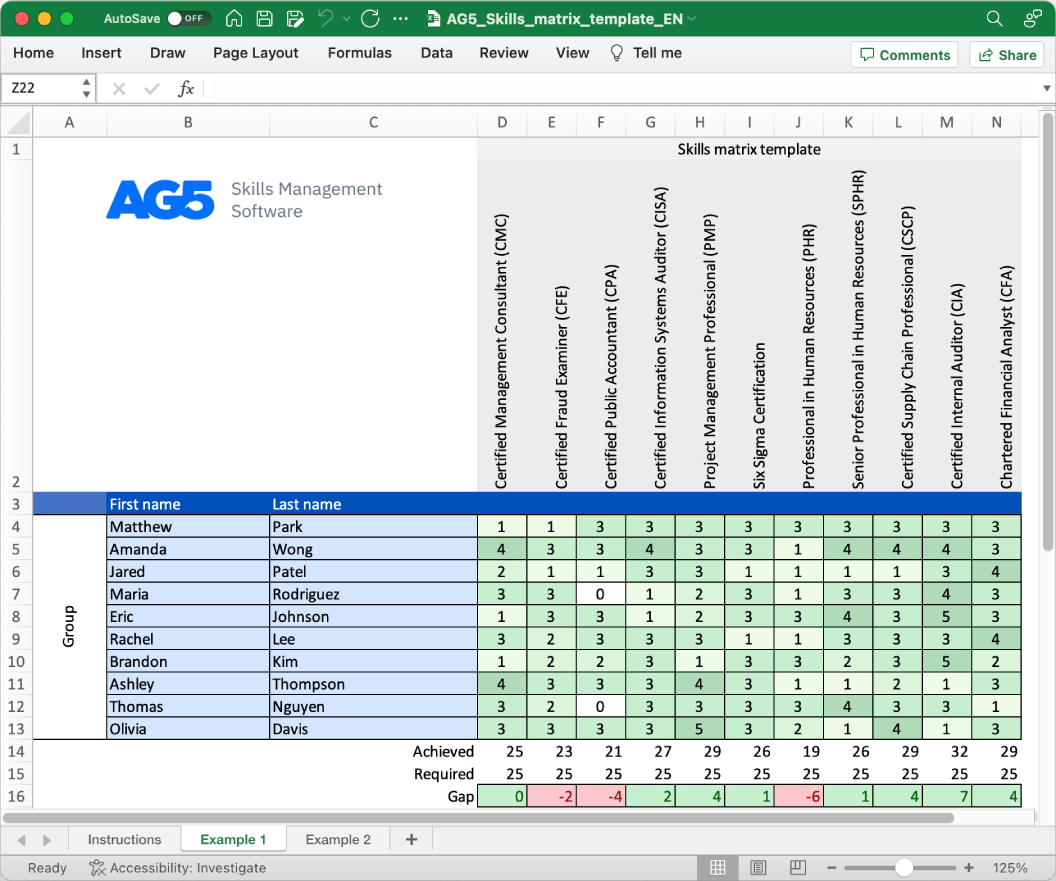 Download your free template here
Overview
With our free audit skills matrix template, you will receive a clear overview of the skills that are present in your organization, as well as those that are missing. Using this information, you can develop and implement a plan to ensure that your employees' skills are up to date, comprehensive, compliant, and ready for the future.
Certified Audit Professional (CAP)
Certified Internal Auditor (CIA)
Certified Lead Auditor (CLA)
Certified Quality Auditor (CQA)
Certified Compliance Auditor (CCA)
Certified GMP Auditor (CGMPA)
Certified ISO Auditor
Certified Regulatory Auditor (CRA)
Certified Supplier Audit Professional (CSAP)
Certified Process Auditor (CPA)
Certified Data Integrity Auditor (CDIAu)
Certified Batch Record Audit Specialist (CBRAS)
Certified Audit Team Leader (CATL)
Certified Audit Consultant (CAC)
Certified Audit Trainer (CAT)
Certified Audit Coordinator (CAC)
Certified Audit Documentation Specialist (CADS)
Certified Audit Risk Analyst (CARA)
Certified Audit Quality Assurance Manager (CAQAM)
Certified Audit Performance Metrics Analyst (CAPMA)
Related skills
Audit Planning and Execution: Planning and executing audits to assess compliance, identify risks, and evaluate processes. Certifications such as the Certified Internal Auditor (CIA) offered by the Institute of Internal Auditors (IIA) validate proficiency in audit planning, execution, and reporting.
Risk-Based Auditing: Applying risk-based approaches to prioritize audit activities based on the level of risk and significance. Certifications like the Certified Risk-Based Auditor (CRBA) offered by the IIA demonstrate expertise in risk assessment methodologies, risk mitigation strategies, and auditing techniques.
Compliance Assessment: Assessing the adherence to regulatory requirements, industry standards, and internal policies during audits. Certifications such as the Certified Compliance and Ethics Professional (CCEP) offered by the Society of Corporate Compliance and Ethics (SCCE) validate expertise in compliance management, auditing practices, and regulatory adherence.
Audit Reporting and Communication: Effectively communicating audit findings, recommendations, and action plans to stakeholders. Certifications such as the Certified Information Systems Auditor (CISA) offered by ISACA validate proficiency in audit reporting, communication, and information systems auditing.
Continuous Improvement: Integrating audit findings and recommendations into continuous improvement initiatives to enhance organizational processes and controls. Certifications like the Certified Process Improvement Professional (CPIP) offered by ASQ demonstrate proficiency in process improvement methodologies and their application in audit processes.
Benefits
Skills management software is important in audits as it enables organizations to assess and manage the skills of auditors, ensuring they possess the necessary expertise to conduct thorough and effective audits, evaluating compliance with regulatory requirements, quality standards, and internal processes.