Recall management skills matrix template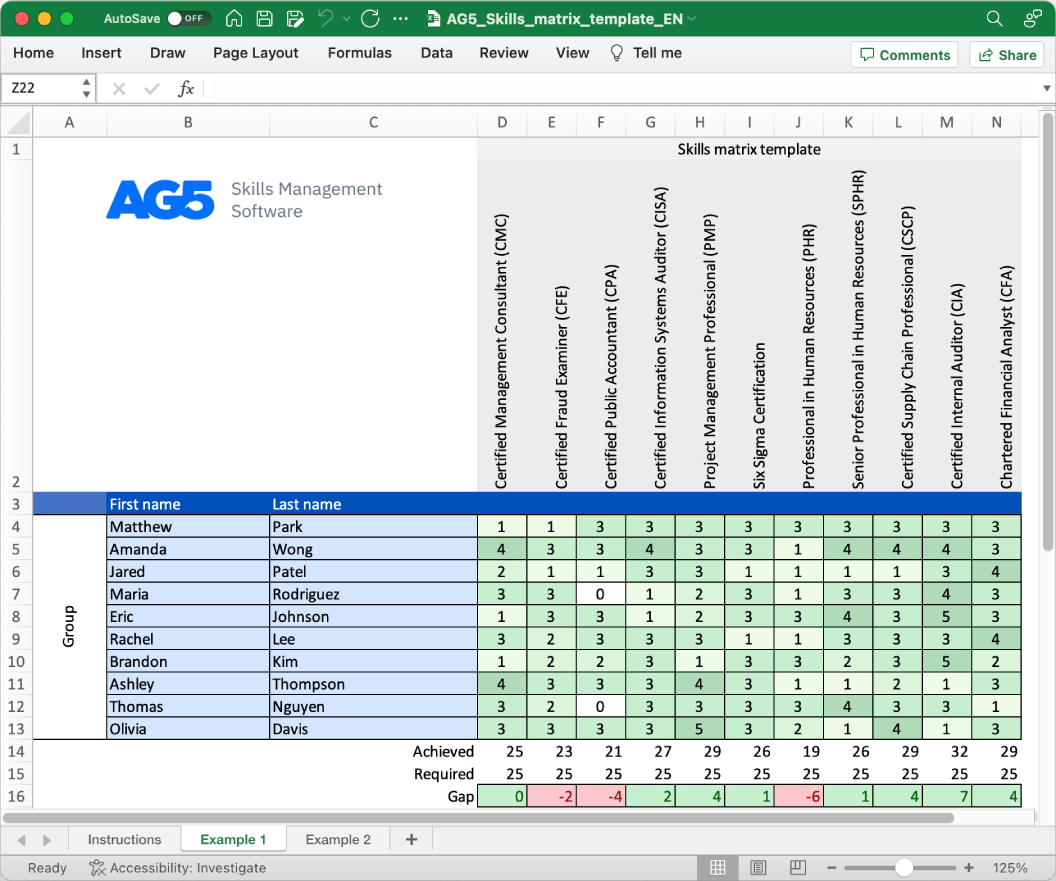 Download your free template here
Overview
With our free recall management skills matrix template, you will receive a clear overview of the skills that are present in your organization, as well as those that are missing. Using this information, you can develop and implement a plan to ensure that your employees' skills are up to date, comprehensive, compliant, and ready for the future.
Certified Product Recall Specialist (CPRS)
Certified Recall Coordinator (CRC)
Certified Recall Management Professional (CRMP)
Certified Recall Analyst (CRA)
Certified Recall Strategy Planner (CRSP)
Certified Recall Communication Specialist (CRCS)
Certified Recall Project Manager (CRPM)
Certified Recall Training Instructor (CRTI)
Certified Recall Process Auditor (CRPA)
Certified Recall Documentation Specialist (CRDS)
Certified Recall Compliance Officer (CRCO)
Certified Recall System Administrator (CRSA)
Certified Recall Logistics Coordinator (CRLC)
Certified Recall Investigation Specialist (CRIS)
Certified Recall Planning Consultant (CRPC)
Certified Recall Risk Assessor (CRRA)
Certified Recall Reporting Analyst (CRRA)
Certified Recall Evaluation Expert (CREE)
Certified Recall Team Leader (CRTL)
Certified Recall Strategy Consultant (CRSC)
Related skills
Communication: Demonstrating strong communication skills in recall management can be reinforced by certifications such as the International Association of Business Communicators (IABC) certification or the Certified Public Relations Professional (CPRP) designation.
Crisis Management: Professionals skilled in crisis management can bolster their credentials with certifications like the Certified Crisis Management Professional (CCMP) offered by the Institute for Crisis Management or the Certified Business Continuity Professional (CBCP) provided by the Disaster Recovery Institute International (DRI).
Project Management: For individuals seeking to enhance their project management skills, certifications such as the Project Management Professional (PMP) offered by the Project Management Institute (PMI) or the Certified Associate in Project Management (CAPM) can attest to their expertise.
Analytical Thinking: Validating proficiency in analytical thinking can be accomplished through certifications like the Certified Analytics Professional (CAP) offered by the Institute for Operations Research and the Management Sciences (INFORMS) or the Microsoft Certified: Data Analyst Associate.
Regulatory Knowledge: Demonstrating a solid understanding of regulations and compliance can be reinforced by certifications such as the Certified Regulatory Compliance Manager (CRCM) provided by the American Bankers Association (ABA) or the Certified in Healthcare Compliance (CHC) offered by the Health Care Compliance Association (HCCA).
Benefits
Skills management software is important in recall management as it enables tracking and managing the skills and qualifications of personnel involved in executing product recalls, ensuring timely and effective recall coordination, communication, and compliance with regulatory requirements.
Ready to master skills management?
Get a personalized walkthrough of AG5 from one of our product experts in just 15 minutes.
ISO27001 certified Free trial available