Get an up-to-date picture of your employees' current and missing skills
Our partnership and integration with Cornerstone OnDemand brings a skills management solution for the frontline worker to Cornerstone users.
Using Cornerstone and AG5 together, operational leaders in manufacturing and production locations can proactively manage compliance by ensuring the skills, certifications, and qualifications of their frontline workers are up to date. Additionally, bridging skill or certification gaps for operating assets required for running operations can be automated.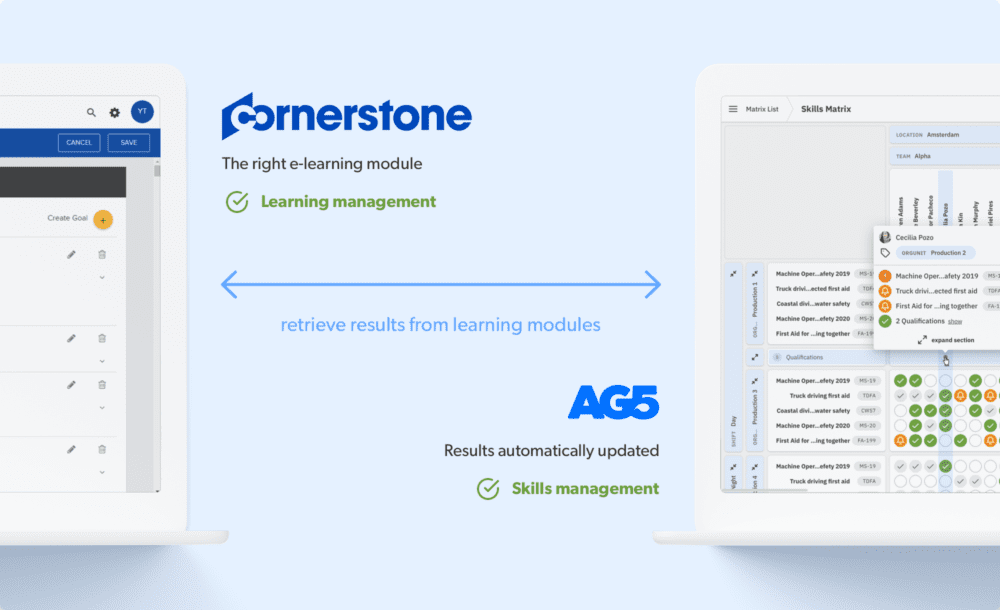 Cornerstone OnDemand's LMS
Connect the AG5 system to Cornerstone OnDemand's LMS environment to match skills, certifications, or competencies in AG5 to online learning content in Cornerstone. When an employee's certification is set to expire (e.g., in a month's time), you can automatically enroll him or her in a follow-up learning course in Cornerstone.
Furthermore, you can use your course library in Cornerstone as a set of skills or competencies, and map them to a specific operating asset or production line in AG5.
Cornerstone's Core HR platform
In addition to the LMS integration, you can integrate with Cornerstone's Core HR platform to leverage employee data that you have available there, making it easy to get started and avoiding manual data entry.
How does the AG5-Cornerstone integration work?
Use this integration to automatically store Cornerstone e-learning modules to the AG5 qualification library.
Link the relevant e-learning modules to each role.
Any time an employee completes an e-learning module in Cornerstone, this automatically updates their personal AG5 portfolio –  giving team leaders a clear overview of their teams and competencies.
What are the benefits of Cornerstone and AG5?
An all-in-one employee portfolio (inc. all e-learning modules and on-the-job training information), providing a clear overview of certifications and authorized tasks on site.
Automate talent development of your frontline workforce by enrolling employees in courses according to their skill gaps
No need to update results in two separate systems
Use AG5 to identify skill gaps
Say goodbye to Excel matrices. Start using AG5's plug and play skill matrix software.

ISO27001 certified

Free trial available
---
---