Recall coordination skills matrix template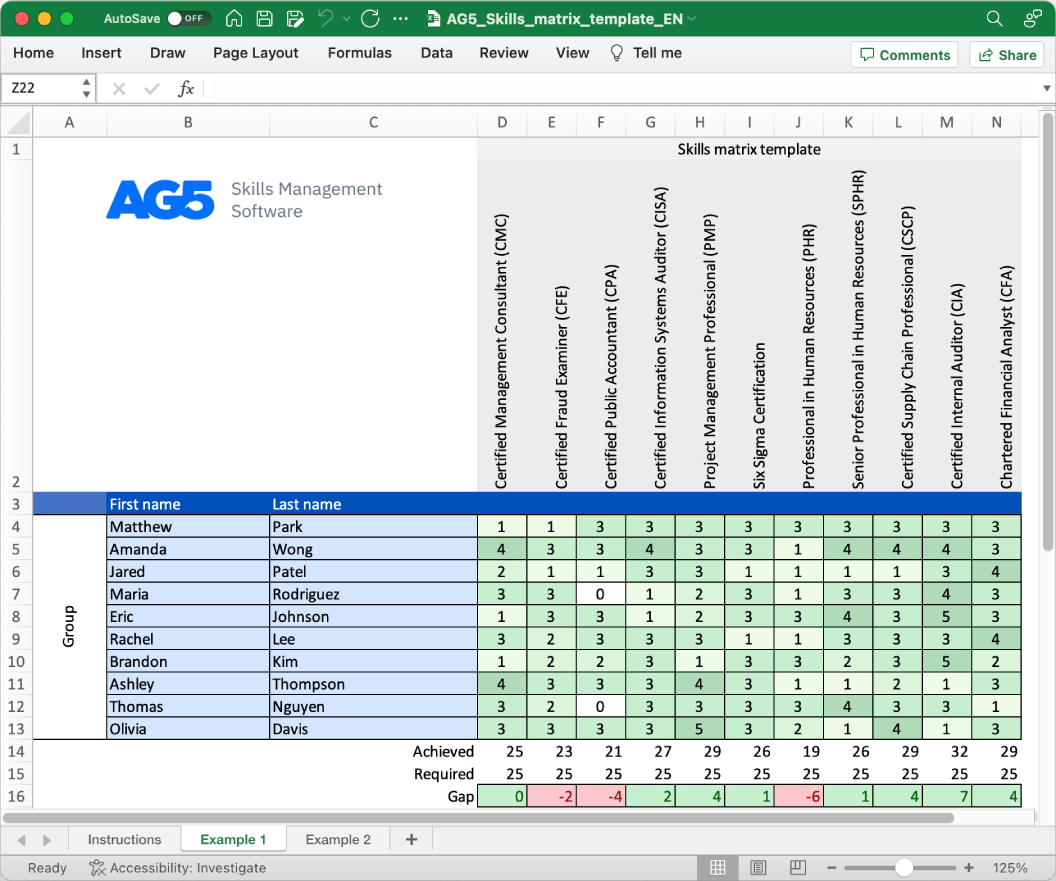 Download your free template here
Overview
With our free recall coordination skills matrix template, you will receive a clear overview of the skills that are present in your organization, as well as those that are missing. Using this information, you can develop and implement a plan to ensure that your employees' skills are up to date, comprehensive, compliant, and ready for the future.
Certified Product Recall Professional
Certified Crisis Management Specialist
Certified Recall Coordinator
Certified Supply Chain Risk Manager
Certified Incident Response Manager
Certified Business Continuity Professional
Certified Emergency Management Specialist
Certified Risk Management Professional
Certified Disaster Recovery Planner
Certified Crisis Communication Specialist
Certified Incident Commander
Certified Supply Chain Resilience Professional
Certified Supply Chain Professional
Certified Logistics Professional
Certified Crisis and Emergency Response Team Leader
Certified Product Safety Specialist
Certified Business Continuity Lead Auditor
Certified Product Recall Coordinator
Certified Crisis Management Facilitator
Certified Incident Response Team Leader
Related skills
Crisis Management: Exhibiting adept crisis management skills to swiftly and effectively orchestrate recall procedures, a competency affirmed by the Certified Crisis Management Professional (CCMP) certification.
Cross-Functional Collaboration: Skillfully collaborating with various departments, stakeholders, and external partners to ensure a cohesive and efficient recall process, an ability underscored by the Certified Cross-Functional Collaboration Specialist (CCFCS) certification.
Communication Strategy: Implementing a strategic and clear communication plan for all stakeholders during a recall, an expertise demonstrated through training and the Certified Recall Communication Strategist (CRCS) certification.
Logistical Coordination: Coordinating intricate logistical details involved in product recalls, showcasing organizational prowess aligned with the Certified Logistical Coordination Specialist (CLCS) certification.
Post-Recall Analysis: Conducting thorough post-recall analysis to identify lessons learned and areas for improvement, an essential practice substantiated by the Certified Post-Recall Analyst (CPRA) certification.
Benefits
Skills management software streamlines recall coordination teams' cross-functional communication, planning, and execution, expediting response times and ensuring effective management of product recalls.