FDA regulations skills matrix template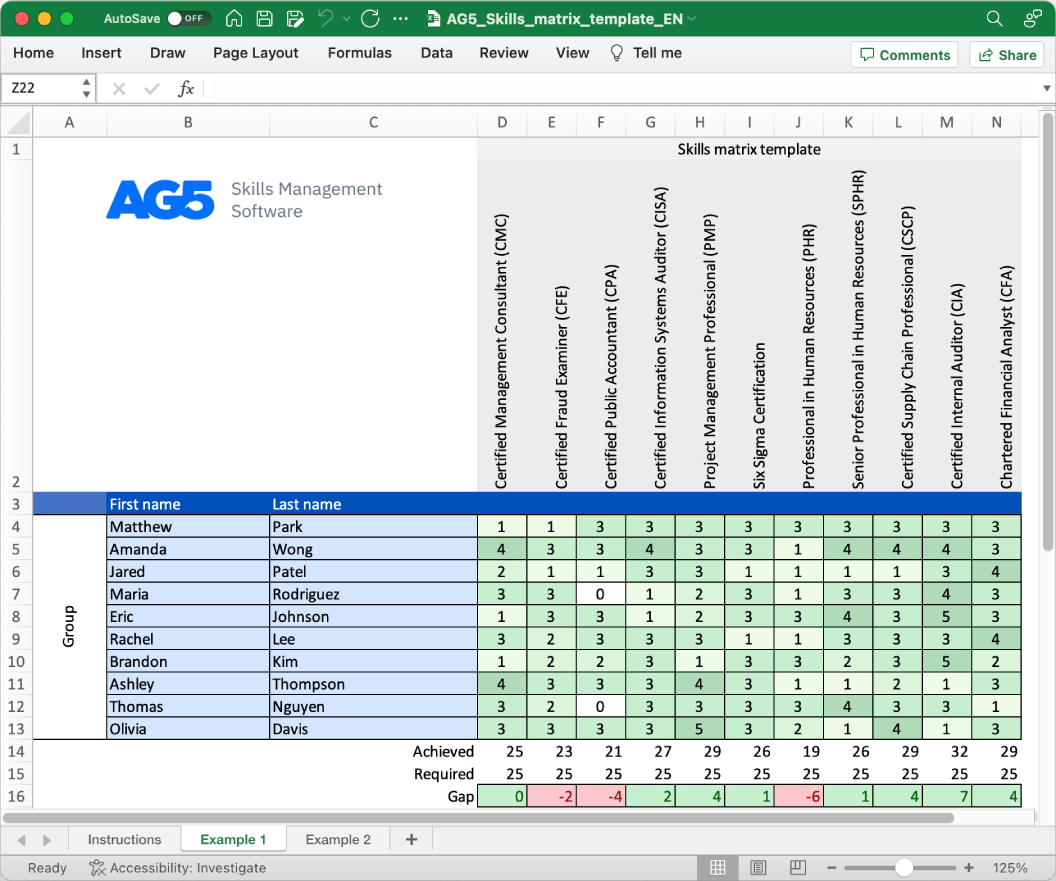 Download your free template here
Overview
With our free FDA regulations skills matrix template, you will receive a clear overview of the skills that are present in your organization, as well as those that are missing. Using this information, you can develop and implement a plan to ensure that your employees' skills are up to date, comprehensive, compliant, and ready for the future.
Certified FDA Compliance Specialist
Certified FDA Quality Systems Auditor
Certified FDA Regulatory Affairs Professional
Certified FDA GMP (Good Manufacturing Practices) Expert
Certified FDA Quality Control Inspector
Certified FDA Validation Specialist
Certified FDA Clinical Research Coordinator
Certified FDA Medical Device Auditor
Certified FDA Drug Approval Specialist
Certified FDA Regulatory Compliance Manager
Certified FDA Quality Assurance Manager
Certified FDA Documentation Control Specialist
Certified FDA Labeling Specialist
Certified FDA Adverse Event Reporting Specialist
Certified FDA Corrective and Preventive Actions (CAPA) Coordinator
Certified FDA Quality Risk Management Expert
Certified FDA Inspection Readiness Professional
Certified FDA Supplier Qualification Specialist
Certified FDA Clinical Trial Investigator
Certified FDA Combination Product Expert
Related skills
Regulatory Compliance: Knowledge and understanding of the FDA regulations applicable to various industries, such as pharmaceuticals, medical devices, food and beverages, cosmetics, and dietary supplements. This includes regulations related to product safety, labeling, manufacturing processes, quality control, and post-market surveillance. Certifications like the Regulatory Affairs Certification (RAC) or the Certified Quality Auditor (CQA) validate expertise in FDA regulatory compliance.
Good Manufacturing Practices (GMP): Proficiency in implementing and maintaining GMP standards to ensure the quality, safety, and consistency of regulated products. This includes adherence to guidelines for facility design, equipment qualification, process validation, documentation practices, and quality systems. Certifications such as the ASQ Certified Pharmaceutical GMP Professional (CPGP) or the ISPE GMP Professional Certification demonstrate knowledge of GMP regulations.
Quality Management Systems: Skills in developing and managing quality management systems (QMS) compliant with FDA regulations, including the design and implementation of quality processes, procedures, and controls. This involves establishing a robust document control system, conducting internal audits, and managing corrective and preventive actions (CAPA). Certifications like the ASQ Certified Manager of Quality/Organizational Excellence (CMQ/OE) or the ISO 9001 Lead Auditor validate proficiency in QMS for FDA-regulated industries.
Adverse Event Reporting: Competence in the reporting and management of adverse events, including adverse drug reactions, product complaints, and safety incidents. This involves understanding the requirements for timely and accurate reporting, documentation, and communication with regulatory authorities. Certifications such as the Regulatory Affairs Certification (RAC) or the Certified Quality Auditor (CQA) demonstrate knowledge of adverse event reporting in compliance with FDA regulations.
Regulatory Inspections and Audits: Familiarity with the FDA inspection process and the ability to prepare for and facilitate regulatory audits. This includes understanding inspection protocols, responding to observations and findings, and implementing corrective actions. Certifications like the Regulatory Affairs Certification (RAC) or the Certified Quality Auditor (CQA) validate skills in managing regulatory inspections and audits.
Benefits
Skills management software is vital for organizations operating under FDA, EPA, and OSHA regulations. It assists in identifying personnel trained in regulatory compliance, safety protocols, incident investigation, and risk management. It helps track certifications like Certified Safety Professionals (CSP) or Certified Environmental Specialists (CES) and ensures that employees with the necessary regulatory knowledge and compliance expertise are assigned to roles involving FDA, EPA, or OSHA compliance.
Ready to master skills management?
Get a personalized walkthrough of AG5 from one of our product experts in just 15 minutes.
ISO27001 certified Free trial available