Skills matrices are a great way to map your employees' skills and competences – clearly and concisely. Many leading organizations are already using them. They display your staff's skills, competences, expertise, certificates, and qualifications for you to take on board at a glance.
A while back, we published 5 free general skills matrix templates. Here we'll be sharing four free skills matrix templates for your IT department.
AG5's IT skills matrix
Template #1: AG5's IT skills matrix
Download our own free IT skills matrix in Excel.
Down the left-hand column, it lists the most common skills, programming languages, and tools used by current-day IT professionals. Just add any others in the space provided if there are any you're missing.
List your employees' names along the top row. Next, enter a proficiency level for each skill and each team member to provide a clear and concise overview of your organization's strengths and weaknesses – especially any skills gaps. The figure below shows an example of what this spreadsheet might look like.
Download our AG5 IT skills matrix! (Excel)

Free alternatives
Template #2: AIHR Analytics
This is a basic skills matrix for small IT teams. List the skills, programming languages, and tools your IT team uses down the left‑hand column and your team members' names along the top row. A nice touch is the Interest column that you can use to note how motivated your staff members are to acquire a particular skill.
Download MDE Enterprises' IT skills matrix! (Excel & PowerPoint)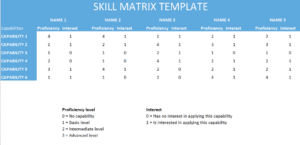 Template #3: BeingIT Skills matrix
BeingIT has created an extremely comprehensive skills matrix. It offers several suggestions for skills and categories that you can edit or expand yourself. Unfortunately, there's no option to enter individual employees' names, which restricts its use to a team snapshot.
Download BeingIT's IT skills matrix! (Excel)

Template #4: AG5's industry skills matrix templates
Download over 100+ of our brand-new library of free industry-specific skills matrix templates in Excel.
Whether you're looking to improve workforce planning, identify skills gaps, or track progress towards training goals, our free industry skills matrix Excel templates are the perfect tool to help you get started – and are tailored to specific industries, from manufacturing to healthcare.
These templates are easy to use and fully customizable to your organization's needs.
Check out AG5's free industry skills matrix Excel templates here

Skills management software
Regardless of its format – Excel, PowerPoint, Word, or PDF – a skills matrix displays your organization or department's key skills in a clear and concise fashion. At a glance, you'll be able to select the right staff members for a specific project – either generalists or specialists or both!
But beware! There are also pitfalls. Excel spreadsheets are extremely error-prone and don't provide a real-time snapshot. Spreadsheets are sent and shared at random, resulting in situations where no one knows who has the latest version or where.
To solve this problem, AG5 developed skills management software.
The matrices are stored centrally in the cloud and are accessible anytime, anywhere, anyplace. Curious about what AG5 could do for you? See how it works for yourself! Get in touch or schedule a live demo.
Ready to master skills management?
---
---