Which skills are missing in your organization? Who needs extra training? And who can replace an employee off sick? Skills mapping provides the answers in no time.
This article explains all you need to know about skills mapping, how it can benefit you, and how to implement it for best effect.
So, what's skills mapping?
Skills mapping is a visual representation of all your employees' skills. It involves analyzing which skills are required to fill a given role, perform a certain task, or put together a special-purpose project team. Next, you need to work out which of these skills already exist within your organization.
Skills mapping can be applied to an organization as a whole, but also departments, teams, or specific disciplines. Doing so allows you to see what each employee brings to the table and their strengths and weaknesses.
Skills mapping is sometimes referred to as competence mapping, even though the term 'competence' encompasses more than the term 'skills'.
Read more about the differences between skills and competences.
What are the benefits of skills mapping?
Mapping the skills your organization needs and presenting them visually helps create greater clarity and insight. This has several benefits:
Sometimes, only a select group of employees can perform a certain task to a required level. Skills mapping pinpoints exactly which tasks and requirements are crucial to your organization.
It highlights which employees could benefit from additional training.
You can identify who are your most valuable employees and who are your specialists and who are your generalists.
You can find suitable replacements for employees off sick, in a blink of an eye, or HR can create a candidate profile to replace an employee who suddenly leaves your company.
It allows you to track the progress for your departments, teams, and individuals.
Discover skills matrices
Skills mapping provides a whole host of benefits, but how does it work in practice? The best way to visualize proficiency levels is by using skills matrices.
A skills matrix is exactly what its name suggests – a snapshot of all your employees' skills laid out in matrix form.
Generally speaking, you create one skills matrix for each department or team. Then, you list all your employees' names, or their roles, down the left-hand column and all their skills across the top row (or vice versa). Next, you enter the proficiency levels for each employee for each skill until you've filled your matrix.
The figure below shows an example of what this might look like.
Download an Excel, Word, or PDF template to create your first skills matrix!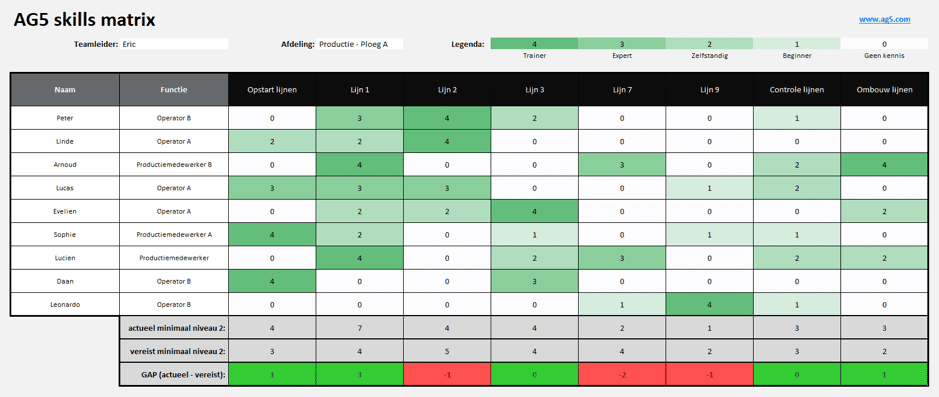 Read our article, Everything you need to know about skills matrices, to find out more!
Skills mapping tips
Follow the tips below to get the most out of skills mapping:
1. Start with a skills assessment
Before you can determine proficiency levels, you'll first have to define which skills you actually want to assess. So, the first step you'll need to take is to perform an assessment to map your employees' skills.
Read our article, 4 popular employee self-assessment tools, to find out more.
2. Don't add too many people to any one matrix
The biggest advantage of skills mapping is the clarity it provides. So, divide and conquer … or in other words, don't tackle all your staff and every possible skill in one go. Split your employees into teams or departments and select the skills relevant to each group. It's also advisable to create separate matrices for soft and hard skills.
3. Stick to the most important issues
The possible uses for skills matrices are virtually limitless but don't make them more complex than they need to be. So, stick to the most important skills, competences, tasks, and qualifications for each position to maintain clarity.
4. Use skills management software
Organizations' initial impulses are often to use spreadsheets to create their skills matrices, but this isn't always the best solution. Spreadsheets soon become overly complex and are extremely error-prone, not to mention the version management headaches they cause.
Fortunately, there are special-purpose solutions available such as AG5's skills management software.
What's more, information can be accessed and updated quickly, easily, and directly in real time from the work floor, because your skill matrices are stored centrally in the cloud.
Find out how AG5's skills management software works or schedule a personalized demo.
Ready to master skills management?
---
---