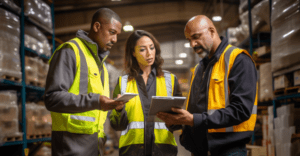 Whether you're introducing new machinery to your production floor, adapting to new technology in an IT environment, or optimizing workflows that result in process changes, an organization's ability to adapt quickly and flexibly is critical to staying both operational and competitive.
However, this means that, at times, employees may require immediate training that will help their organizations keep up. This is where skill-based training proves valuable. In this article, we'll take a look at skill-based training and its importance, how it differs from skill-based learning, and how skills management software fits into the picture.
What is skill-based training?
Skill-based training is a method of targeted professional training that focuses on the immediate needs of an organization. It's designed to provide employees with the expertise required to work with the latest technologies, tools, or machinery.
And considering McKinsey research finds that, by 2030,
up to 375 million people may need to switch occupational categories and learn new skills,
skill-based training is poised to become extremely valuable to organizations around the globe.
What's the difference between skill-based learning and skill-based training?
Skill-based learning and skill-based training are similar in that they work to upskill or reskill employees to help them become more effective at various tasks or job roles. However, there are several key differences between the two that make them better-suited to different purposes. Let's take a look.
Skill-based learning
Skill-based learning refers to the broader process of acquiring knowledge related to certain skills. It involves comprehensive education that includes:
Theoretical understanding
Practical applications
Conceptual mastery
Skills-based learning is especially beneficial for roles that demand creative problem-solving, critical thinking, and innovation. Therefore, it is more applicable to roles that require a deep understanding of the theoretical and practical aspects of a skill, such as:
Engineers
Designers
Researchers
Skill-based training
Skill-based training, on the other hand, emphasizes the acquisition of specific skills required for operational tasks within a job role or function. It is often designed to address the immediate needs of a business, department, or team, and involves:
Structured, targeted instruction
Hands-on experience
On-the-job training
Skill-based training can play a key role in quickly enhancing operational efficiency, maintaining quality standards, and ensuring output consistency. It is best-suited for roles that involve routine or specialized tasks, such as:
Assembly line workers
Machine operators
Technicians
Why is skill-based training important?
According to research from the World Economic Forum,
50% of all employees will need reskilling, upskilling, or retraining by 2025 to respond to "advances in technology."
Additionally, a Deloitte report reveals that 77% of executives believe "flexibly moving skills to work is critical to navigating future disruptions."
Because it enables an organization to target training according to operational needs, skill-based training can significantly:
Enhance workforce agility
Improve overall productivity
Lead to greater adaptability in dynamic market conditions
What industries best benefit from skill-based training?
Skill-based training is beneficial for essentially any organization or any industry, as it boosts agility, productivity, and flexibility. However, it is especially valuable in industries or organizations that often rely on employees with specific technical expertise and practical knowledge.
Here, we'll take a look at a few of the industries where skill-based training can be put to very effective use. We'll also provide a few certifications that employees may pursue in their skill-based training. These certifications are by no means exhaustive, instead serving only as examples of training programs that some organizations may find of value in their skill-based training strategies.
Construction and skilled trades
Skill-based training is a great fit for skilled trades, such as carpentry, plumbing, electrical work, and welding, which often require hands-on training to develop the necessary skills for construction projects.
In skill-based training for construction organizations, employees may look to earn the following certifications:
Certified Graduate Remodeler (CGR). Demonstrates expertise in residential remodeling and renovation, including carpentry and construction management.
International Association of Electrical Inspectors (IAEI) Certification. Provides training and certification for electrical inspectors, ensuring adherence to international electrical codes and safety standards.
International Welding Engineer (IWE). Validates expertise in various welding techniques and engineering principles, ensuring quality and efficiency in welding practices across international industrial standards and regulations.
Manufacturing
Industries involved in manufacturing depend heavily on workers' skills in operating complex machinery, understanding manufacturing processes, and adhering to safety regulations.
Employees in manufacturing organizations may find that skill-based training encourages them to achieve these certifications:
Certified Production Technician (CPT). Validates foundational knowledge and skills in manufacturing production processes and technologies.
Certified Logistics Technician (CLT). Demonstrates proficiency in supply chain logistics, including material handling, distribution, and inventory management within manufacturing operations.
Lean Six Sigma Yellow Belt Certification. Provides fundamental knowledge of the Lean Six Sigma methodology, essential for enhancing manufacturing processes and improving overall operational efficiency.
IT
Given the ever-evolving nature of technology, the IT industry greatly benefits from skill-based training programs that focus on programming languages, software development, cybersecurity, and other technical skills.
Examples of certifications that employees might pursue in their skill-based training include:
Certified Information Systems Security Professional (CISSP) by (ISC)². Demonstrates expertise in designing, implementing, and managing cybersecurity programs effectively.
Project Management Professional (PMP). Validates skills in leading and directing project teams and delivering project results within the constraints of schedule, budget, and resources.
AWS Certified Solutions Architect by Amazon Web Services. Demonstrates the ability to effectively design and deploy scalable systems on the AWS platform.
Healthcare

Medical technicians require continuous training to stay updated with the latest medical advancements, procedures, and technologies.
Skill-based training in the healthcare industry might help employees pursue these certifications:
Medical Laboratory Technician (MLT). Demonstrates competency in areas such as clinical chemistry, hematology, and microbiology in medical laboratory settings.
Registered Health Information Technician (RHIT). Validates the management and analysis of healthcare data, ensuring its accuracy, accessibility, and security.
Certified EKG Technician (CET). Demonstrates proficiency in performing electrocardiograms (EKGs) and other cardiovascular tests in healthcare settings.
How can skills management software help with skill-based training?
Effective skill-based training relies on an organization's ability to oversee and manage the skills of its workforce. Without such an overview, skill-based training is not possible.
Skills management software, however, provides organizations with all the information they need to develop and implement skill-based training for their employees.
With skills management software, business leaders and managers can:
Identify skills gaps – showing what employees can currently do and what the organization needs employees to do
Lay the foundation for targeted training – ensuring that skill-based training strategies are aligned with an organization's needs
Track progress and performance – providing insight into certification statues and overall organizational compliance
Allocate resources  – directing business leaders and managers to the areas that require the most attention and ensuring that training budgets are used optimally
Plan for succession – identifying critical skills in employees leaving or retiring, thus helping in recruitment or upskilling to fill these positions.
Use AG5 to manage your organizations learning and training needs
AG5 places skills management – and by proxy, skills-based training – at the heart of your organization, providing you with the real-time data and analytics you need to effectively and efficiently track skills, develop training plans, and manage certifications and qualifications that your employees need to stay productive and continuously improve.
Want to learn more? Schedule a free, live, 15-minute demo today to see how AG5's skills management software holds the potential to transform the way your business operates.
---
---
---