Vendor management skills matrix template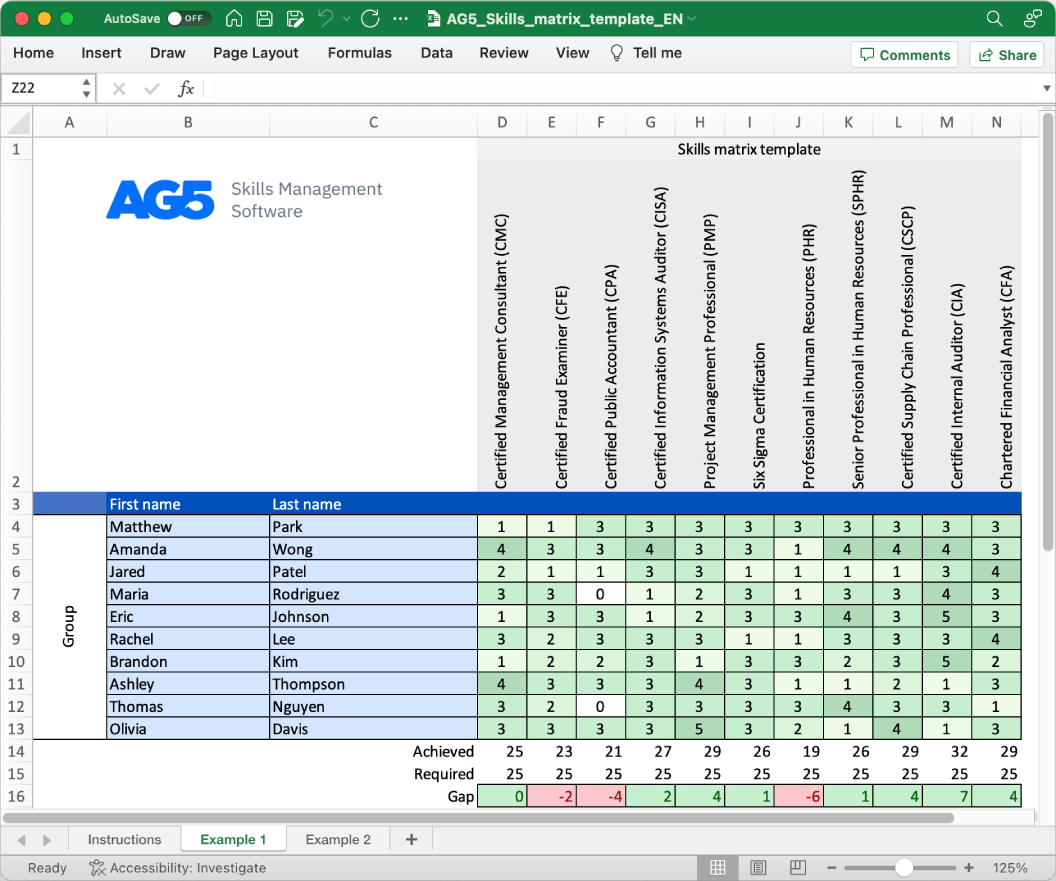 Download your free template here
Overview
With our free vendor management skills matrix template, you will receive a clear overview of the skills that are present in your organization, as well as those that are missing. Using this information, you can develop and implement a plan to ensure that your employees' skills are up to date, comprehensive, compliant, and ready for the future.
Certified Professional in Vendor Management (CPVM)
Certified Third-Party Risk Professional (CTPRP)
Certified Outsourcing Professional (COP)
Certified Vendor Risk Management Professional (CVRMP)
Certified Vendor Relationship Management Professional (CVRMP)
Certified Vendor Manager (CVM)
Certified Third-Party Risk Manager (CTPRM)
Certified Vendor Performance Manager (CVPM)
Certified Vendor Compliance Manager (CVCM)
Certified Vendor Governance Professional (CVGP)
Certified Vendor Contract Manager (CVCMP)
Certified Vendor Due Diligence Specialist (CVDSS)
Certified Vendor Assessment Professional (CVAP)
Certified Vendor Service Manager (CVSM)
Certified Vendor Risk Assessment Specialist (CVRAS)
Certified Vendor Service Excellence Professional (CVSEP)
Certified Vendor Data Protection Officer (CVDPO)
Certified Vendor Security Manager (CVSM)
Certified Vendor Audit Professional (CVAP)
Certified Vendor Quality Engineer (CVQE)
Related skills
Vendor Performance Evaluation: Assessing and measuring the performance of vendors to ensure they meet quality, delivery, and service requirements. The Certified Supplier Quality Professional (CSQP) certification offered by the American Society for Quality (ASQ) validates expertise in supplier quality management.
Vendor Relationship Building: Developing and maintaining strong relationships with vendors to foster collaboration and achieve mutual goals. The Certified Professional in Supplier Diversity (CPSD) certification, offered by ISM, covers supplier relationship management skills.
Contract Management: Effectively managing contracts with vendors, including negotiation, drafting, and monitoring compliance. The Certified Commercial Contracts Manager (CCCM) certification offered by the National Contract Management Association (NCMA) demonstrates proficiency in contract management.
Vendor Risk Management: Identifying and mitigating risks associated with vendors to ensure business continuity and minimize potential disruptions. The Certified Third Party Risk Professional (CTPRP) certification by the Shared Assessments Program focuses on vendor risk management best practices.
Vendor Compliance: Ensuring vendors adhere to relevant regulations, industry standards, and internal policies. While there isn't a specific certification solely focused on vendor compliance, professionals can demonstrate their expertise through relevant experience, knowledge of compliance frameworks (such as ISO 27001 for information security), and participation in industry-specific compliance programs.
Benefits
Skills management software is important in vendor management as it helps track and manage vendor qualifications, certifications, and performance data, enabling effective oversight, collaboration, and optimization of vendor relationships and ensuring compliance with contractual requirements.