Food & beverage skills matrix template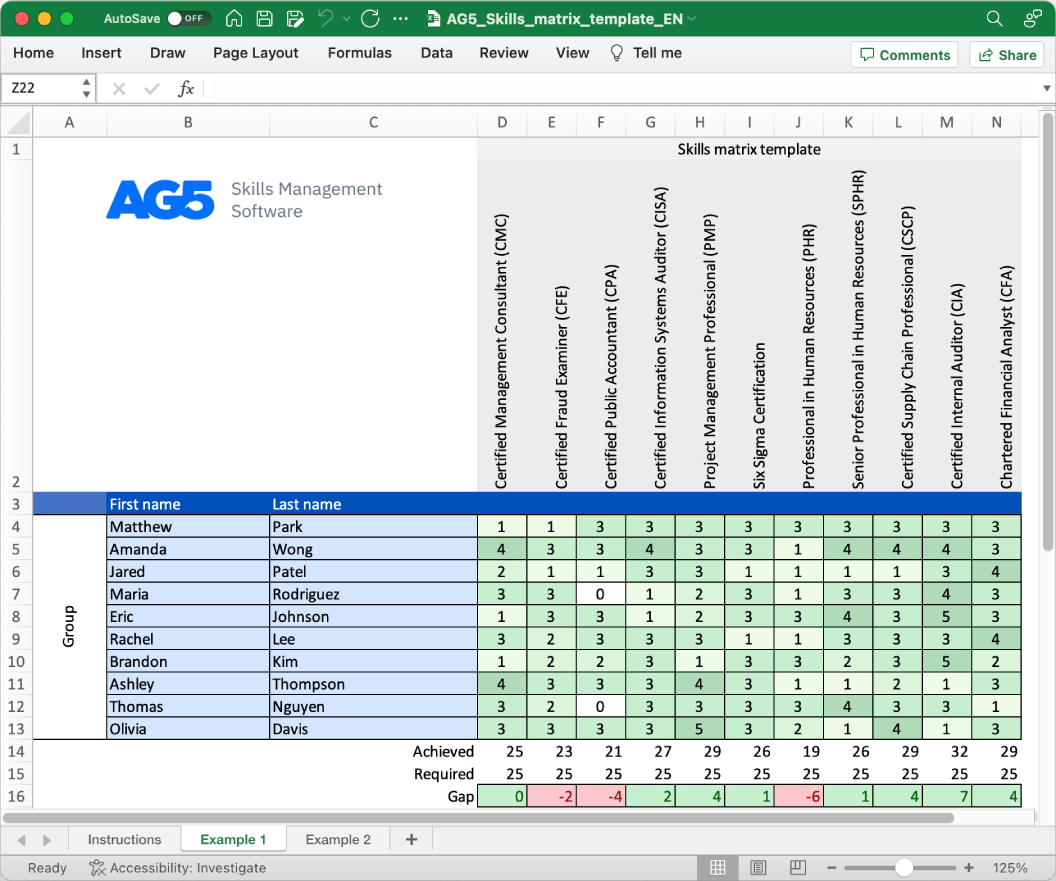 Download your free template here
Overview
With our free food & beverage skills matrix template, you will receive a clear overview of the skills that are present in your organization, as well as those that are missing. Using this information, you can develop and implement a plan to ensure that your employees' skills are up to date, comprehensive, compliant, and ready for the future.
Hazard Analysis and Critical Control Points (HACCP)
Food Safety System Certification (FSSC) 22000
Safe Quality Food (SQF)
ISO 22000
Global Organic Textile Standard (GOTS)
Good Manufacturing Practices (GMP)
Non-GMO Project Verified
BRC Global Standard for Food Safety (BRCGS)
Marine Stewardship Council (MSC)
Certified Humane
Related skills
Hazard analysis and risk assessment: Certifications such as the Hazard Analysis and Critical Control Points (HACCP) and Safe Quality Food (SQF) provide employees with knowledge of food safety principles, as well as the critical thinking and problem-solving skills necessary identify and analyze potential hazards in the food production process – and assess the level of risk associated with them.
Food safety certifications: Given the importance of food safety, certifications such as the HACCP, Food Safety System Certification (FSSC), and Global Food Safety Initiative (GFSI) are highly valued in the F&B manufacturing industry.
Quality control skills: F&B organizations require rigorous quality control processes. This means skills in areas such as statistical process control, sensory evaluation, and quality assurance are highly valued.
Regulatory compliance knowledge: F&B is a highly regulated industry. Knowledge of regulations and compliance is essential. Certifications such as SQF and Good Manufacturing Practices (GMP) are helpful in this regard.
Supply chain management: As with other manufacturing industries, understanding the supply chain and logistics is critical in F&B manufacturing, so skills in areas such as supply chain management, inventory control, and procurement are beneficial.
Benefits
In F&B organizations, skills management software helps managers identify skill gaps, create training plans, and track employee progress, leading to better performance, increased efficiency and workplace safety, and improved customer satisfaction.
Use AG5 to identify skill gaps
Say goodbye to Excel matrices. Start using AG5's plug and play skill matrix software.
ISO27001 certified Free trial available