Product labeling compliance skills matrix template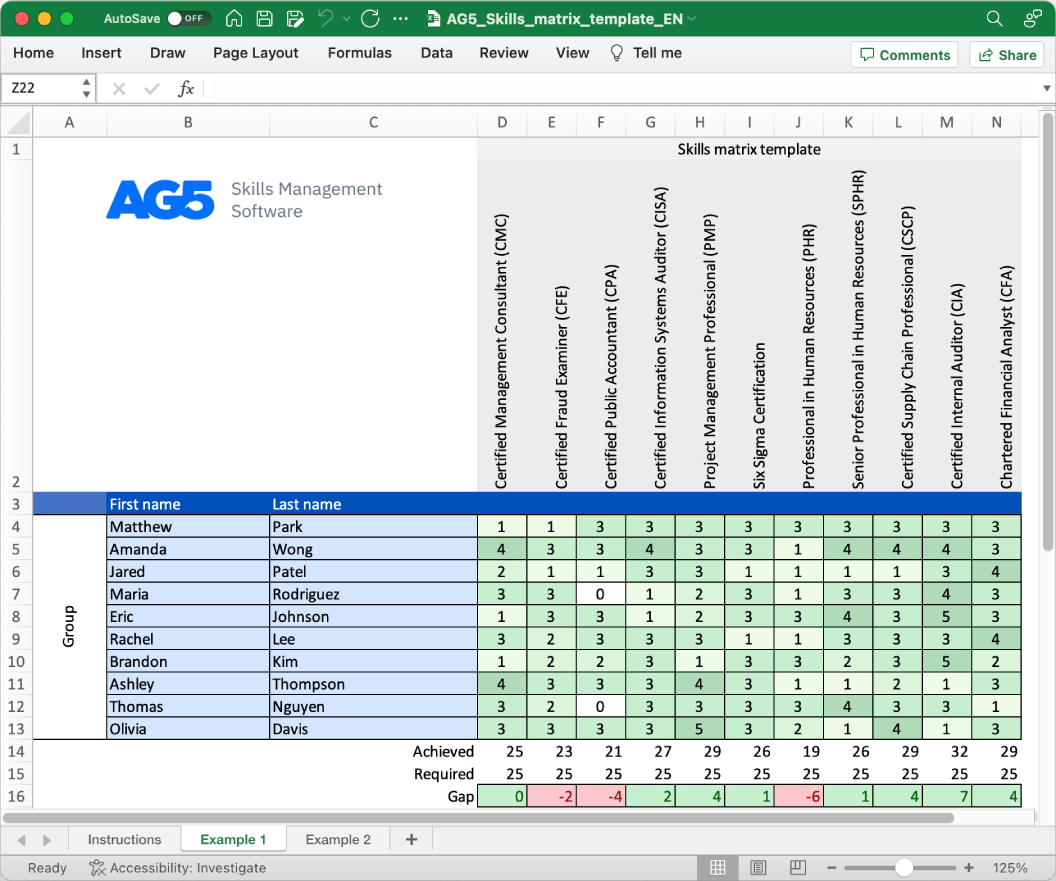 Download your free template here
Overview
With our free product labeling compliance skills matrix template, you will receive a clear overview of the skills that are present in your organization, as well as those that are missing. Using this information, you can develop and implement a plan to ensure that your employees' skills are up to date, comprehensive, compliant, and ready for the future.
Certified Food Safety Manager
Certified Professional in Food Safety
Certified Quality Auditor
Certified Regulatory Compliance Manager
Certified Label Review Specialist
HACCP (Hazard Analysis Critical Control Points) Certification
Certified Packaging Professional
Certified Product Manager
Certified Nutrition Specialist
Regulatory Affairs Certification (RAC)
Certified Food Scientist
Certified Regulatory Affairs Professional
Certified Quality Inspector
Certified Labeling Professional
Global Food Safety Initiative (GFSI) Certification
Certified Compliance and Ethics Professional
Certified Professional in EHS Management
Certified Quality Technician
Certified Labeling Compliance Officer
Certified Food Protection Professional
Related skills
Regulatory Knowledge: Demonstrating a deep understanding of labeling regulations and staying current with evolving standards through a certification such as Certified Regulatory Affairs Professional (RAC).
Label Content Accuracy: Ensuring precision in all label details, including ingredients, nutritional facts, and claims, aligned with regulatory requirements and validated by the Certified Label Review Specialist (CLRS) certification.
Risk Assessment: Proficiently identifying potential labeling risks like allergen declarations and misleading claims, and effectively managing them, supported by the Certified Risk Management Professional (CRMP) certification.
Attention to Detail: Showcasing meticulousness in reviewing label artwork, text, and graphics to uphold compliance standards, a skill emphasized by the Certified Quality Control Inspector (CQCI) certification.
Communication and Collaboration: Excelling in clear communication of labeling mandates across cross-functional teams and stakeholders, pivotal for compliance, reinforced by the Certified Professional in Business Communication (CPBC) credential.
Benefits
Skills management software ensures teams possess the necessary regulatory knowledge and attention to detail for accurate product labeling compliance, streamlining processes and minimizing errors.
Ready to master skills management?
Get a personalized walkthrough of AG5 from one of our product experts in just 15 minutes.
ISO27001 certified Free trial available