Regulatory compliance gap analysis skills matrix template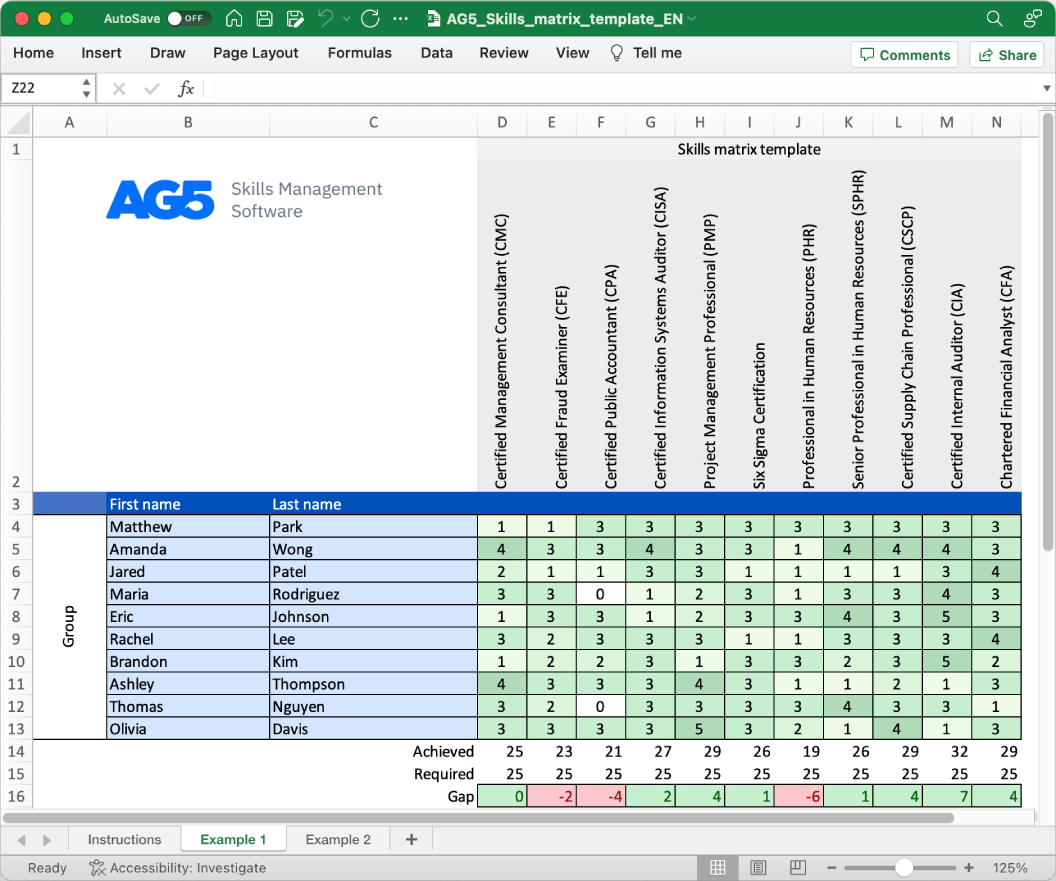 Download your free template here
Overview
With our free supplier risk assessment skills matrix template, you will receive a clear overview of the skills that are present in your organization, as well as those that are missing. Using this information, you can develop and implement a plan to ensure that your employees' skills are up to date, comprehensive, compliant, and ready for the future.
Certified Compliance Gap Analyst (CCGA)
Compliance Gap Analysis Specialist (CGAS)
Certified Regulatory Gap Assessor (CRGA)
Compliance Gap Analysis Data Analysis Certification
Certified Regulatory Compliance Coordinator (CRCC)
Compliance Gap Analysis Risk Assessment Expert
Certified Regulatory Gap Manager (CRGM)
Compliance Gap Analysis Process Auditor (CGAPA)
Certified Compliance Gap Strategist (CCGS)
Compliance Gap Analysis Program Manager (CGAPM)
Certified Regulatory Gap Facilitator (CRGF)
Compliance Gap Analysis Reporting and Documentation Specialist
Certified Regulatory Gap Analyst (CRGA)
Compliance Gap Analysis Strategy Development Practitioner
Certified Compliance Gap Consultant (CCGC)
Compliance Gap Analysis Metrics Analyst
Certified Compliance Management Systems Auditor (CCMSA)
Compliance Gap Analysis Software Implementation Specialist
Certified Compliance Gap Investigator (CCGI)
Compliance Gap Analysis Incident Investigation Analyst
Related skills
Regulatory Knowledge: Demonstrated expertise in regulatory requirements and standards can be validated through the Certified Regulatory Compliance Professional (CRCP) certification.
Gap Analysis Techniques: Proficiency in using various gap analysis techniques for regulatory compliance can be showcased through the Certified Gap Analysis Specialist (CGAS) designation.
Compliance Gap Identification: The ability to identify gaps in compliance with regulations can be evidenced by the Certified Compliance Gap Identifier (CCGI) certification.
Compliance Remediation Strategies: Skill in developing effective strategies to address compliance gaps can be proven through the Certified Compliance Remediation Specialist (CCRS) certification.
Regulatory Reporting and Documentation: Expertise in preparing accurate regulatory reports and documentation can be certified by the Certified Regulatory Documentation Specialist (CRDS) designation.
Benefits
Skills management software aids in conducting gap analyses by involving subject matter experts, ensuring compliance with regulations and standards.