Product development skills matrix template for regulated industries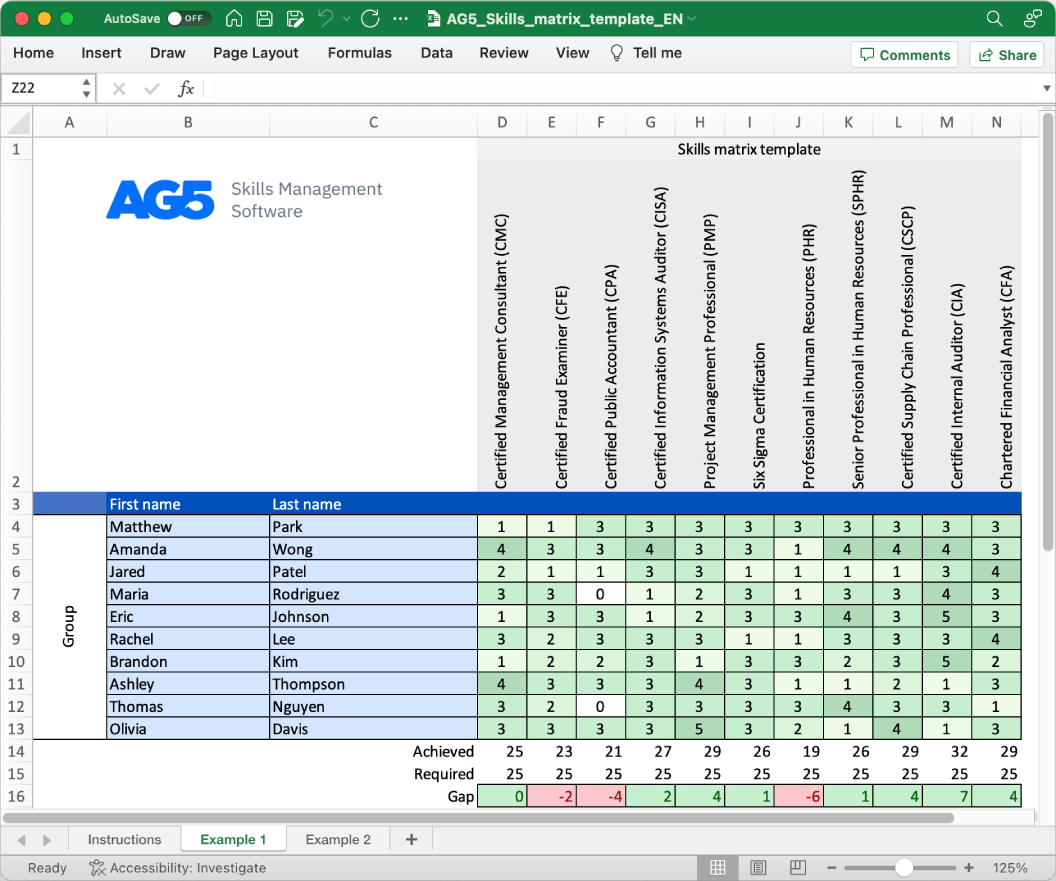 Download your free template here
Overview
With our free product development skills matrix template for regulated industries, you will receive a clear overview of the skills that are present in your organization, as well as those that are missing. Using this information, you can develop and implement a plan to ensure that your employees' skills are up to date, comprehensive, compliant, and ready for the future.
Certified Product Manager (CPM)
Certified Product Marketing Manager (CPMM)
Certified Scrum Product Owner (CSPO)
Certified New Product Development Professional (NPDP)
Certified Professional in Agile Product Management (CPAPM)
Certified Project Management Professional (PMP)
Certified Quality Engineer (CQE)
Certified Supplier Quality Professional (CSQP)
Certified Regulatory Affairs Professional (RAPS)
Certified Quality Auditor (CQA)
Certified Lean Six Sigma Green Belt (CLSSGB)
Certified Lean Six Sigma Black Belt (CLSSBB)
Certified Pharmaceutical GMP Professional (CPGP)
Certified Medical Device GMP Professional (CMDGP)
Certified ISO 9001 Lead Auditor
Certified ISO 13485 Lead Auditor
Certified ISO 14971 Lead Risk Manager
Certified ISO 14001 Lead Auditor
Certified ISO 45001 Lead Auditor
Certified ISO 27001 Lead Auditor
Related skills
Risk Assessment: The skill of assessing and managing risks associated with product development processes and ensuring compliance with regulatory requirements. Certifications like the Certified Risk Professional (CRP) and Certified Professional in Risk Management (CPRM) validate expertise in effectively identifying and mitigating risks throughout the product development lifecycle.
Design Control: The ability to implement design control processes and ensure that product development activities meet regulatory standards and requirements. The certification of Certified Design Control Professional (CDCP) demonstrates proficiency in designing and maintaining effective design control systems to ensure product safety, quality, and regulatory compliance.
Regulatory Compliance: Knowledge and understanding of regulatory requirements and guidelines governing product development in regulated industries. Certifications such as the Regulatory Affairs Certification (RAC) and Certified Compliance Professional (CCP) validate expertise in interpreting and adhering to regulatory standards, ensuring compliance throughout the product development process.
Quality Assurance: Proficiency in implementing quality assurance practices and processes to ensure that products meet the required quality standards and regulatory expectations. Certifications like the Certified Quality Professional (CQP) and Certified Quality Engineer (CQE) demonstrate competence in applying quality management principles and techniques within regulated industries.
Validation and Verification: The skill of planning, executing, and documenting validation and verification activities to ensure that products and processes meet regulatory requirements. Certifications such as the Certified Validation Professional (CVP) and Certified Verification Professional (CVerP) validate expertise in performing validation and verification activities, ensuring compliance and reliability of products in regulated industries.
Benefits
Skills management software is important in product development for regulated industries as it helps efficiently track, assess, and manage the skills and competencies of team members. It ensures the availability of qualified personnel, facilitates resource allocation, and enables compliance with regulatory requirements, leading to effective and compliant product development processes.
Ready to master skills management?
Get a personalized walkthrough of AG5 from one of our product experts in just 15 minutes.
ISO27001 certified Free trial available