Training skills matrix template for regulated industries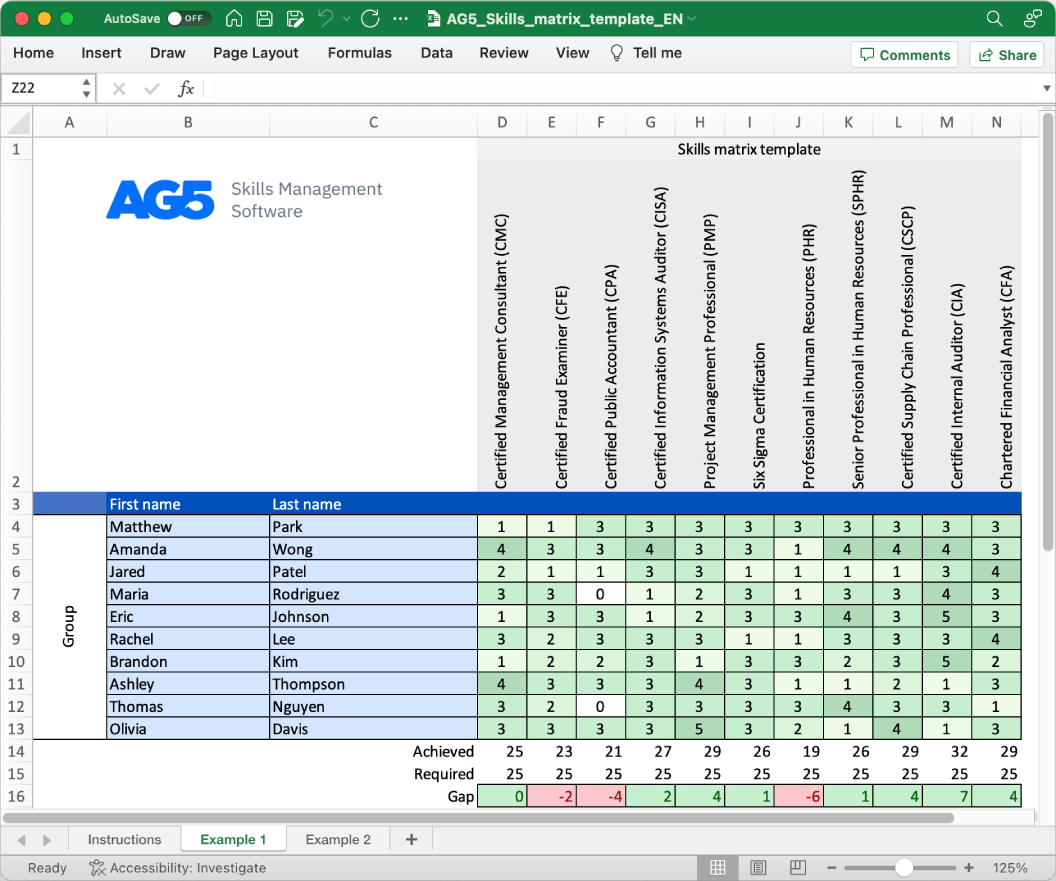 Download your free template here
Overview
With our free training skills matrix template for regulated industries, you will receive a clear overview of the skills that are present in your organization, as well as those that are missing. Using this information, you can develop and implement a plan to ensure that your employees' skills are up to date, comprehensive, compliant, and ready for the future.
Certified Training and Development Professional (CTDP)
Certified Compliance Professional (CCP)
Certified Regulatory Compliance Manager (CRCM)
Certified Training Manager (CTM)
Certified Online Training Professional (COTP)
Certified Instructional Designer (CID)
Certified GMP Training Specialist
Certified Pharmaceutical GMP Professional (CPGP)
Certified Medical Device GMP Professional (CMDGP)
Certified Healthcare Compliance Professional (CHC)
Certified Training Program Manager (CTPM)
Certified eLearning Professional (CELP)
Certified Clinical Training Specialist (CCTS)
Certified Validation Professional (CVP)
Certified Instructional Technologist (CIT)
Certified Training Evaluation Professional (CTEP)
Certified Documentation Specialist (CDS)
Certified Training Delivery Specialist (CTDS)
Certified Regulatory Affairs Professional (CRAP)
Certified Professional in Learning and Performance (CPLP)
Related skills
Training Needs Analysis: The skill of conducting training needs assessments to identify knowledge gaps and training requirements within a regulated industry. Certifications such as the Certified Professional in Training Management (CPTM) offered by Training Industry validate expertise in training needs analysis, instructional design, and learning evaluation.
Training Program Development: Proficiency in designing and developing training programs tailored to the specific needs of a regulated industry. Certifications such as the Certified Professional in Learning and Performance (CPLP) offered by the Association for Talent Development (ATD) demonstrate competence in instructional design, training delivery methods, and evaluation of training effectiveness.
Training Delivery and Facilitation: Ability to effectively deliver training sessions and facilitate learning experiences in a regulated industry setting. Certifications such as the Certified Training Professional (CTP) offered by Langevin Learning Services validate expertise in training delivery techniques, adult learning principles, and classroom facilitation skills.
Training Documentation and Compliance: Skill in developing and maintaining training documentation, including training records, curricula, and compliance with regulatory requirements. Certifications such as the Certified Compliance and Ethics Professional (CCEP) offered by the Society of Corporate Compliance and Ethics (SCCE) demonstrate knowledge of compliance programs, documentation standards, and training documentation management.
Training Evaluation and Continuous Improvement: Competency in evaluating training effectiveness, gathering feedback, and continuously improving training programs in a regulated industry. Certifications such as the Certified Professional in Training Evaluation (CPTETM) offered by the ROI Institute validate expertise in training evaluation models, data analysis, and leveraging evaluation results for continuous improvement.
Benefits
Skills management software is important in training for regulated industries as it allows organizations to track and manage the skills and qualifications of employees, ensuring they receive the appropriate training to meet regulatory requirements and maintain competency in their roles.