Pharmaceutical skills matrix template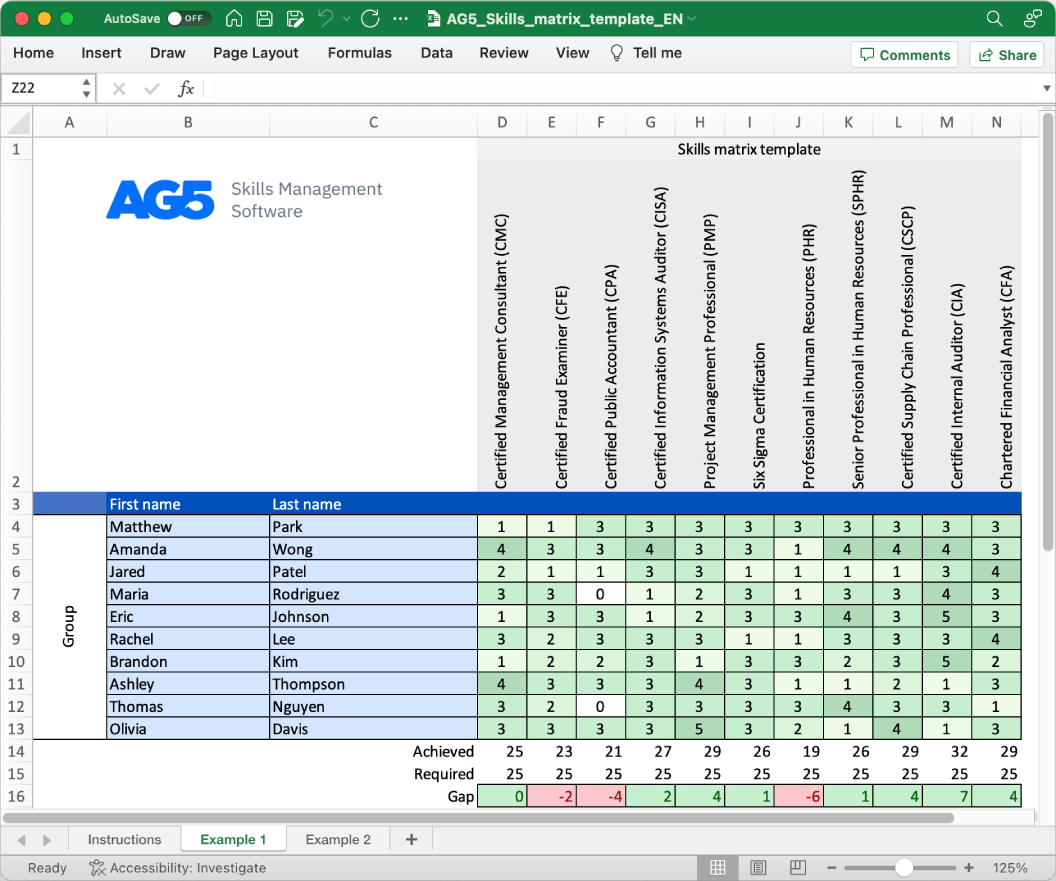 Download your free template here
Overview
With our free pharmaceutical skills matrix template, you will receive a clear overview of the skills that are present in your organization, as well as those that are missing. Using this information, you can develop and implement a plan to ensure that your employees' skills are up to date, comprehensive, compliant, and ready for the future.
Certified Pharmaceutical GMP Professional (CPGP)
Certified Quality Auditor (CQA)
Certified Validation Professional (CVP)
Certified Quality Engineer (CQE)
Certified Six Sigma Black Belt (CSSBB)
Certified Regulatory Affairs Professional (RAC)
Certified Clinical Research Professional (CCRP)
Certified in the Governance of Enterprise IT (CGEIT)
Certified Safety Professional (CSP)
Certified Information Systems Security Professional (CISSP)
Project Management Professional (PMP)
Lean Six Sigma Green Belt (LSSGB)
Certified Hazardous Materials Manager (CHMM)
Certified Professional Environmental Auditor (CPEA)
Certified Professional Ergonomist (CPE)
Certified Medical Writer (CMW)
Certified Quality Technician (CQT)
Certified Calibration Technician (CCT)
Certified Associate in Project Management (CAPM)
Certified Biomedical Auditor (CBA)
Related skills
Pharmaceutical manufacturing and quality control: This involves the knowledge and skills necessary for the production of pharmaceuticals, including understanding of the various processes, equipment, and regulations involved.
Good Manufacturing Practices (GMP): This is a set of guidelines established by regulatory bodies that ensure that pharmaceutical products are consistently produced and controlled to meet quality standards.
Good Laboratory Practices (GLP): This refers to a set of guidelines for conducting non-clinical laboratory studies that help ensure the quality and integrity of data generated in preclinical studies.
Regulatory affairs: This involves knowledge of the laws and regulations that govern the development, manufacturing, and distribution of pharmaceutical products.
Clinical research: This involves the design, conduct, and analysis of clinical trials that evaluate the safety and efficacy of pharmaceutical products.
Benefits
Skills management software can help pharmaceutical organizations identify and track employee skills, streamline training and development, improve productivity, and ensure compliance in a highly regulated industry.