Product complaint investigation skills matrix template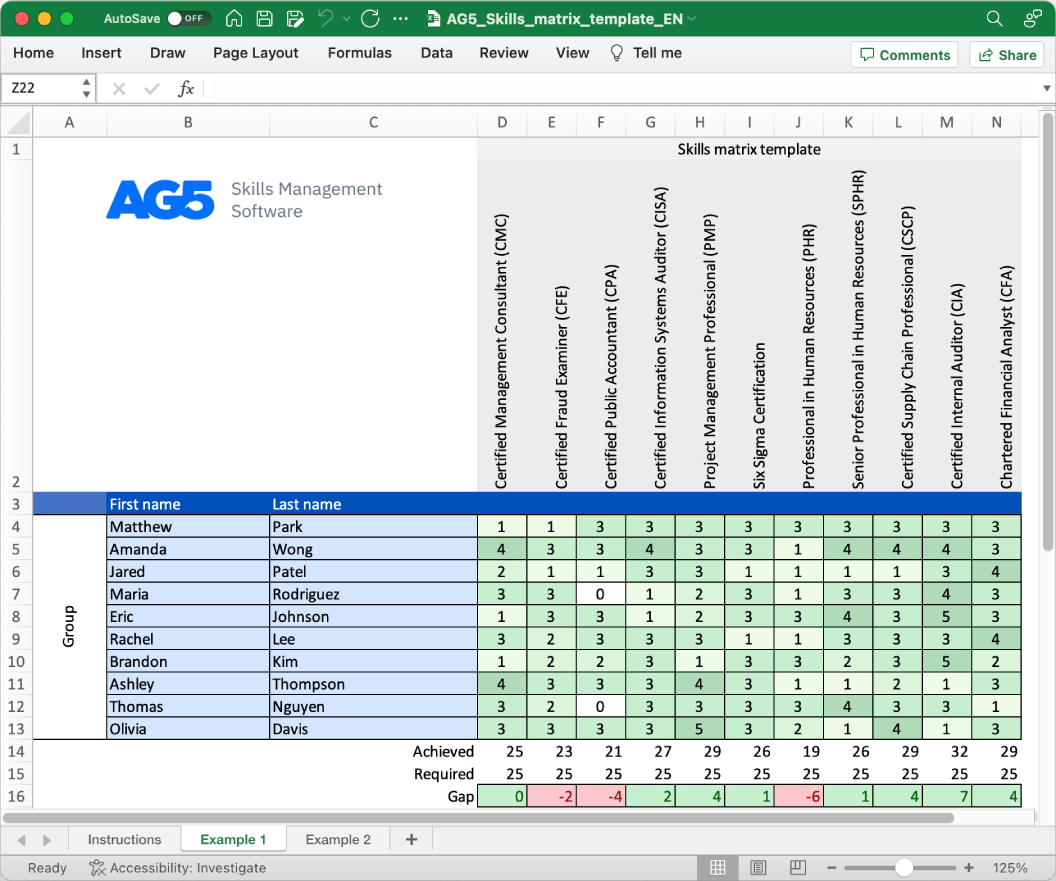 Download your free template here
Overview
With our free product complaint investigation skills matrix template, you will receive a clear overview of the skills that are present in your organization, as well as those that are missing. Using this information, you can develop and implement a plan to ensure that your employees' skills are up to date, comprehensive, compliant, and ready for the future.
Certified Complaints Investigator (CCI)
Certified Product Complaint Specialist (CPCS)
Certified Product Quality Investigator (CPQI)
Certified Complaint Handling Professional (CCHP)
Certified Complaint Management Practitioner (CCMP)
Certified Complaint Analyst (CCA)
Certified Product Incident Investigator (CPII)
Certified Customer Complaint Investigator (CCCI)
Certified Product Quality Analyst (CPQA)
Certified Product Failure Investigator (CPFI)
Certified Complaint Resolution Specialist (CCRS)
Certified Product Issue Investigator (CPII)
Certified Product Safety Investigator (CPSI)
Certified Quality Complaint Investigator (CQCI)
Certified Product Compliance Investigator (CPCI)
Certified Product Nonconformance Investigator (CPNI)
Certified Product Issue Analyst (CPIA)
Certified Complaints Management Professional (CCMP)
Certified Product Investigation Specialist (CPIS)
Certified Product Complaint Process Auditor (CPCPA)
Related skills
Problem-solving and analytical skills: These skills involve systematically identifying and resolving issues by analyzing data, utilizing critical thinking, and applying problem-solving methodologies. Certifications such as Six Sigma Green Belt or Six Sigma Black Belt showcase expertise in data analysis techniques and problem-solving methodologies.
Communication and interpersonal skills: Effectively communicating with customers, actively listening to their concerns, and professionally addressing complaints are essential components of this skill set. Certifications like Customer Service Professional or Certified Customer Experience Professional validate the ability to provide exceptional customer service, handle complaints effectively, and maintain positive customer interactions.
Quality management skills: Understanding quality management principles, including investigating complaints, conducting root cause analysis, and implementing corrective actions, is crucial in product complaint investigation. Certifications like Certified Quality Auditor demonstrate knowledge and expertise in quality management techniques, reinforcing the ability to investigate and address product complaints effectively.
Attention to detail and documentation skills: Being meticulous and thorough in documenting product complaints, including relevant information and evidence, is vital. It helps maintain accurate records and facilitates the investigation process. Certification as a Certified Quality Auditor (CQA) emphasizes the importance of attention to detail in quality management systems and the documentation of findings during audits.
Root cause analysis skills: Proficiency in identifying the underlying causes of product complaints through root cause analysis enables effective problem resolution and preventive measures. Certification as a Certified Quality Engineer (CQE) signifies expertise in various quality engineering tools and methodologies, including root cause analysis techniques, essential for product complaint investigation.
Benefits
Skills management software is important in product complaint investigation to ensure efficient allocation of resources, match investigators' expertise to specific complaints, and track skill development, leading to more effective and accurate investigations.