IT skills matrix template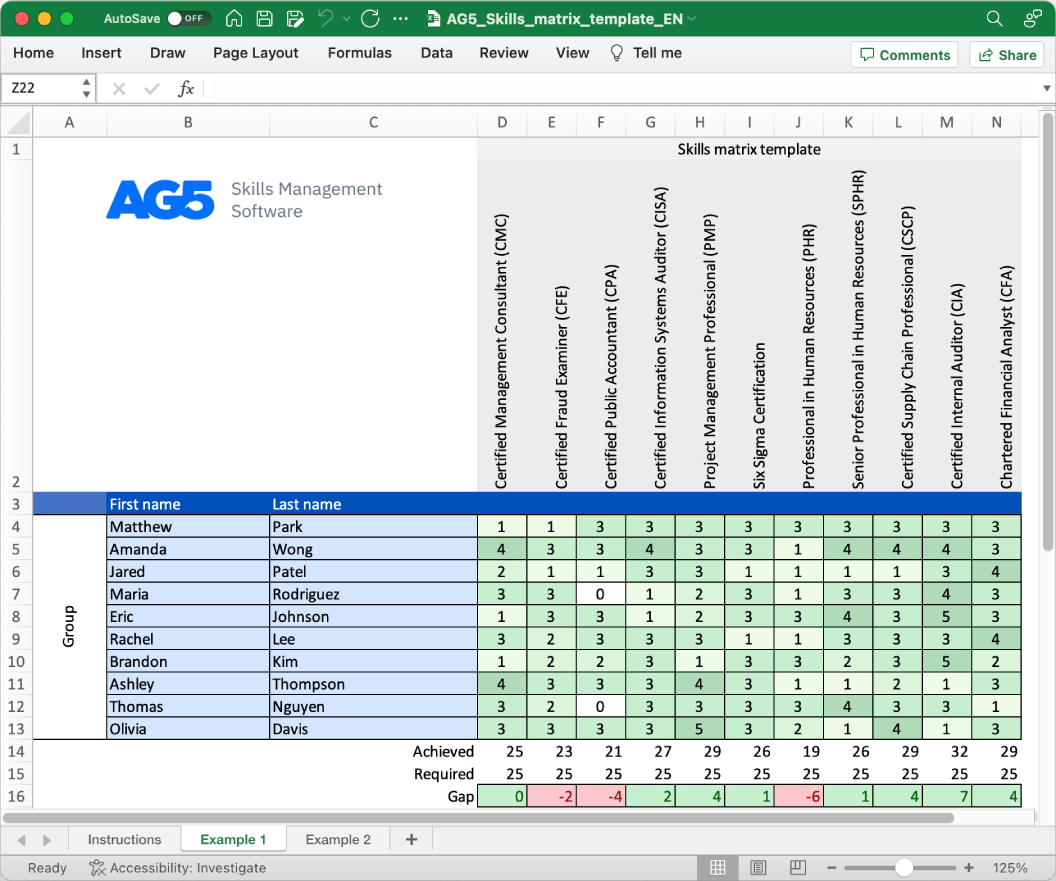 Download your free template here
Overview
With our free IT skills matrix template, you will receive a clear overview of the skills that are present in your organization, as well as those that are missing. Using this information, you can develop and implement a plan to ensure that your employees' skills are up to date, comprehensive, compliant, and ready for the future.
CompTIA Security+
Certified Information Systems Security Professional (CISSP)
Certified Ethical Hacker (CEH)
GIAC Certified Incident Handler (GCIH)
Certified Information Systems Auditor (CISA)
Certified in the Governance of Enterprise IT (CGEIT)
Certified Information Security Manager (CISM)
Certified in Risk and Information Systems Control (CRISC)
Offensive Security Certified Professional (OSCP)
Certified Information Security Professional (CISP)
Related skills
Networking fundamentals: All of the certifications require a good understanding of networking concepts and protocols, such as TCP/IP, DNS, DHCP, and routing.
Risk management: Many of the certifications, including CISA, CISM, and CRISC, focus on identifying and managing risks to information security. This requires skills in risk assessment, risk mitigation, and risk communication.
Penetration testing and vulnerability assessment: Certifications like CEH and OSCP emphasize skills in finding and exploiting vulnerabilities in computer systems and networks. This requires knowledge of different types of vulnerabilities and techniques for identifying and exploiting them.
Security operations and incident response: Certifications like Security+ and GCIH focus on skills in monitoring and detecting security threats, responding to security incidents, and implementing security controls to prevent future incidents.
Compliance and regulatory requirements: Certifications like CISA and CGEIT require knowledge of compliance standards and regulatory requirements for information security, such as PCI DSS, HIPAA, and GDPR.
Governance and management: Certifications like CISM and CGEIT emphasize skills in IT governance, risk management, and managing security programs. This requires knowledge of business and management concepts, such as project management, budgeting, and strategic planning.
Benefits
Skills management software can help track the validity of certifications, expiration dates, and the skills and knowledge gained from achieving each certification. It can also help identify skills gaps and suggest training or development opportunities to fill those gaps.