Equipment maintenance scheduling skills matrix template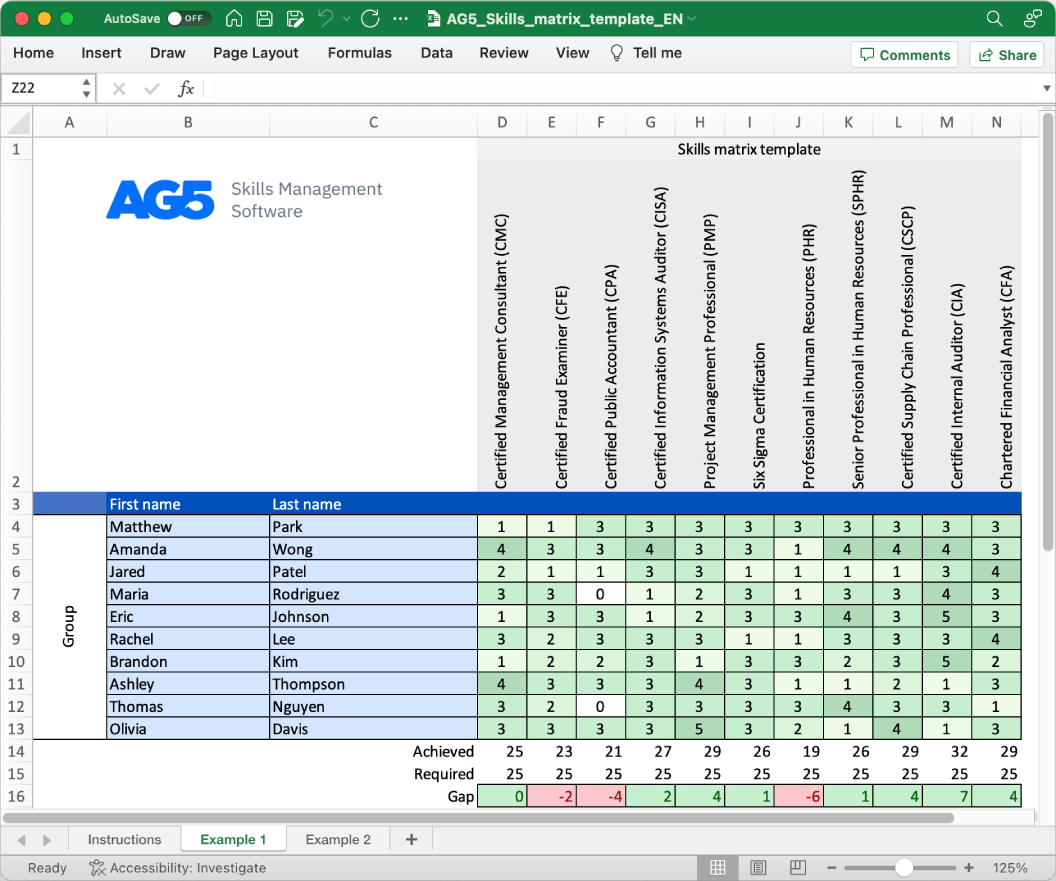 Download your free template here
Overview
With our free equipment maintenance scheduling skills matrix template, you will receive a clear overview of the skills that are present in your organization, as well as those that are missing. Using this information, you can develop and implement a plan to ensure that your employees' skills are up to date, comprehensive, compliant, and ready for the future.
Certified Maintenance Planner (CMP)
Equipment Maintenance Specialist (EMS)
Certified Reliability Maintenance Engineer (CRME)
Maintenance Scheduling and Resource Planning Certification
Certified Maintenance Scheduler (CMS)
Equipment Downtime Analysis Expert
Certified Asset Maintenance Manager (CAMM)
Maintenance Task Optimization Specialist
Certified Maintenance Coordinator (CMC)
Equipment Maintenance Audit Professional
Certified Maintenance and Reliability Professional (CMRP)
Predictive Maintenance Practitioner (PMP)
Certified Maintenance Strategy Analyst (CMSA)
Preventive Maintenance Certification
Certified Maintenance Budget Analyst (CMBA)
Maintenance Program Development Specialist
Certified Maintenance Data Analyst (CMDA)
Equipment Maintenance Tracking and Reporting Certification
Certified Maintenance Technician (CMT)
Maintenance Management System Implementation Expert
Related skills
Maintenance Planning: Proficiency in developing and organizing maintenance schedules can be showcased through the Certified Maintenance Planner (CMP) certification.
Asset Management: Demonstrated expertise in managing and optimizing equipment assets can be validated through the Certified Asset Management Professional (CAMP) designation.
Maintenance Data Analysis: The ability to analyze maintenance data and make data-driven decisions can be evidenced by the Certified Maintenance Data Analyst (CMDA) certification.
Preventive Maintenance Strategies: Skill in implementing effective preventive maintenance strategies can be proven through the Certified Preventive Maintenance Specialist (CPMS) certification.
Maintenance Program Optimization: Expertise in optimizing maintenance programs for increased efficiency can be certified by the Certified Maintenance Program Optimizer (CMPO) designation.
Benefits
Skills management software helps in organizing skilled maintenance teams, enhancing equipment uptime, and improving maintenance efficiency and accuracy.