Equipment troubleshooting skills matrix template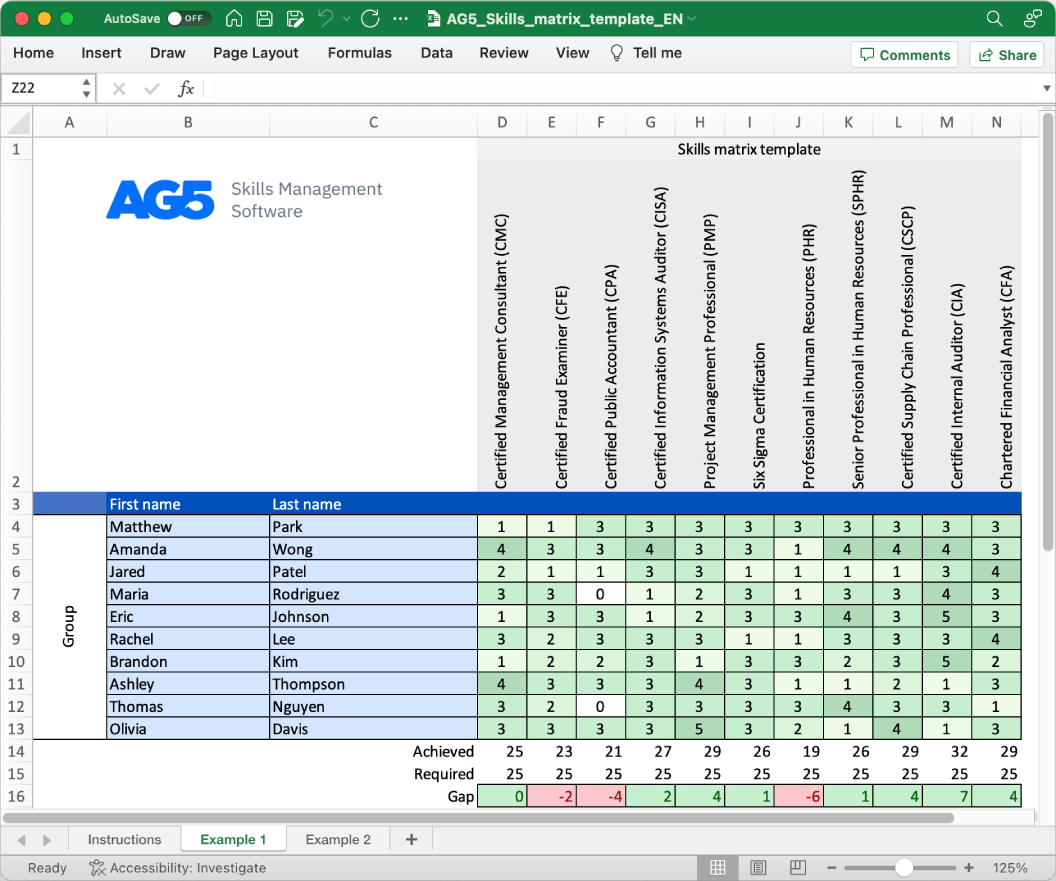 Download your free template here
Overview
With our free equipment troubleshooting skills matrix template, you will receive a clear overview of the skills that are present in your organization, as well as those that are missing. Using this information, you can develop and implement a plan to ensure that your employees' skills are up to date, comprehensive, compliant, and ready for the future.
Certified Equipment Specialist (CES)
Certified Equipment Technician (CET)
Certified Equipment Maintenance Technician (CEMT)
Certified Equipment Repair Specialist (CERS)
Certified Equipment Troubleshooter (CETR)
Certified Equipment Reliability Engineer (CERE)
Certified Equipment Failure Analysis Professional (CEFA)
Certified Equipment Diagnostician (CED)
Certified Equipment Calibration Technician (CECT)
Certified Equipment Inspection Specialist (CEIS)
Certified Equipment Service Technician (CEST)
Certified Equipment Performance Analyst (CEPA)
Certified Equipment Optimization Expert (CEOE)
Certified Equipment Reliability Specialist (CERS)
Certified Equipment Reliability Manager (CERM)
Certified Equipment Reliability Auditor (CERA)
Certified Equipment Reliability Trainer (CERT)
Certified Equipment Troubleshooting Supervisor (CETS)
Certified Equipment Troubleshooting Consultant (CETC)
Certified Equipment Troubleshooting Analyst (CETA)
Related skills
Technical Knowledge: Proficiency in understanding equipment systems, components, and operation is crucial for effective troubleshooting. While there are no specific certifications solely focused on equipment troubleshooting, certifications such as the Certified Maintenance and Reliability Professional (CMRP) offered by the Society for Maintenance & Reliability Professionals (SMRP) encompass topics related to equipment maintenance and troubleshooting.
Problem-Solving Skills: The ability to analyze problems, identify root causes, and develop effective solutions is important in equipment troubleshooting. Certifications such as the Certified Six Sigma Green Belt or Black Belt, offered by organizations like the American Society for Quality (ASQ) or the International Association for Six Sigma Certification (IASSC), demonstrate competence in problem-solving methodologies.
Electrical and Mechanical Knowledge: Familiarity with electrical and mechanical systems is valuable for troubleshooting equipment issues. Certifications such as the Certified Control Systems Technician (CCST) offered by the International Society of Automation (ISA) validate expertise in control systems and troubleshooting electrical and mechanical components.
Diagnostic Tools and Techniques: Proficiency in using diagnostic tools and techniques, such as multimeters, oscilloscopes, or infrared thermography, is important for equipment troubleshooting. While there are no specific certifications for diagnostic tools, training courses or workshops provided by equipment manufacturers or industry associations can provide valuable hands-on experience.
Safety and Compliance: Knowledge of safety protocols and compliance requirements is essential when troubleshooting equipment. Certifications such as the Occupational Safety and Health Administration (OSHA) 30-Hour Training, which covers general industry safety standards, can demonstrate knowledge of safety practices.
Benefits
Skills management software is important in equipment troubleshooting to track and manage the skills of individuals responsible for identifying and resolving equipment issues. It ensures that professionals possess technical knowledge, problem-solving skills, and proficiency in using diagnostic tools for efficient equipment troubleshooting.