Calibration skills matrix template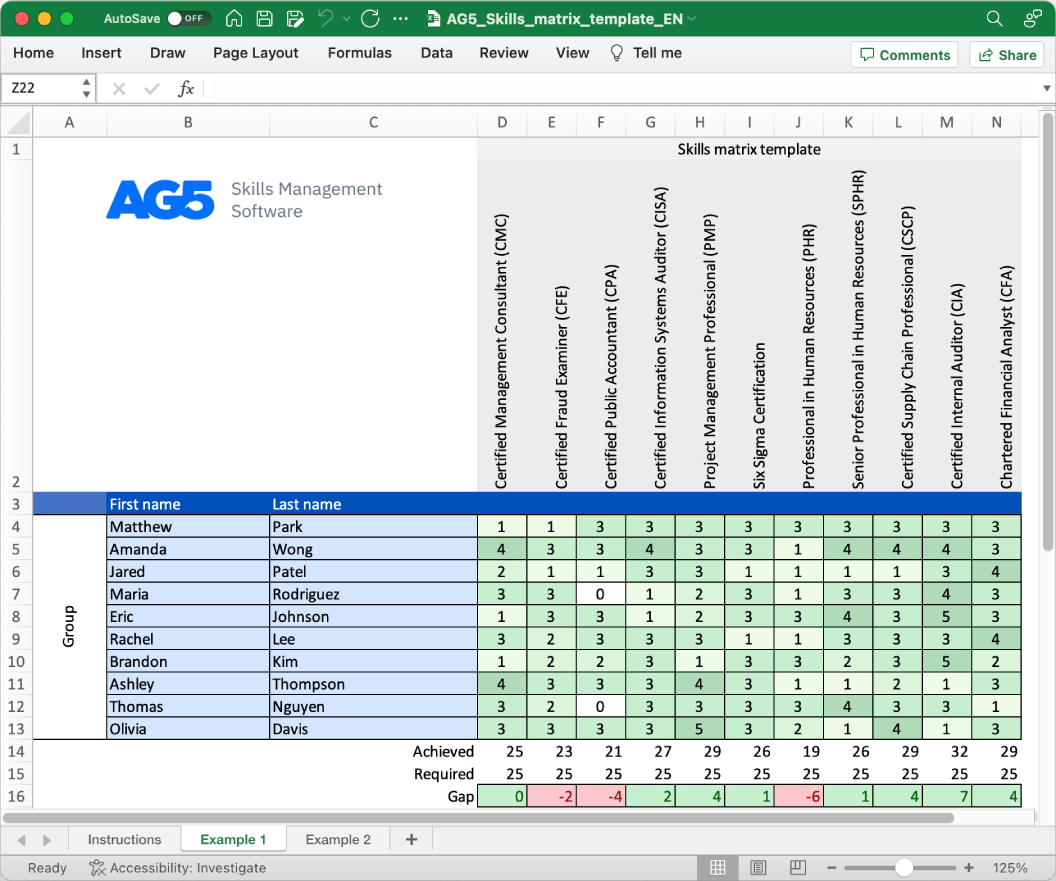 Download your free template here
Overview
With our free calibration skills matrix template, you will receive a clear overview of the skills that are present in your organization, as well as those that are missing. Using this information, you can develop and implement a plan to ensure that your employees' skills in calibration are up to date, comprehensive, compliant, and ready for the future.
Certified Calibration Technician
Certified Calibration Specialist
Certified Calibration Engineer
Certified Metrologist
Certified Measurement and Calibration Technician
ISO/IEC 17025 Lead Assessor Certification
Certified Calibration Auditor
Certified Calibration Laboratory Manager
Certified Calibration Trainer
Certified Calibration Program Manager
Certified Uncertainty Analyst
Certified Calibration Data Analyst
Certified Calibration Software Specialist
Certified Calibration Quality Assurance Specialist
Certified Calibration Process Improvement Specialist
Certified Temperature Calibration Specialist
Certified Electrical Calibration Specialist
Certified Pressure Calibration Specialist
Certified Dimensional Calibration Specialist
Certified Flow Calibration Specialist
Related skills
Calibration Procedures and Techniques: Proficiency in developing and implementing calibration procedures, selecting appropriate calibration standards, and performing accurate measurements. Certifications such as the Certified Calibration Technician (CCT) validate expertise in calibration techniques and practices.
Measurement Instrumentation: Knowledge of various measurement instruments and their principles of operation, including temperature, pressure, flow, and electrical parameters. Certifications like the Certified Instrumentation and Measurement Technician (CIMT) demonstrate competence in measurement instrumentation.
Metrology and Traceability: Understanding of metrological principles, traceability requirements, and calibration traceability chains. Certifications such as the Certified Metrology Professional (CMP) validate knowledge of metrology and traceability in calibration processes.
Calibration Documentation and Compliance: Skills in maintaining calibration records, generating calibration certificates, and ensuring compliance with regulatory requirements and quality standards. Certifications like the Certified Calibration Auditor (CCA) demonstrate expertise in calibration documentation and regulatory compliance.
Calibration Uncertainty Analysis: Proficiency in performing uncertainty analysis for calibration measurements, including the calculation and interpretation of measurement uncertainties. Certifications such as the Certified Calibration Specialist (CCS) validate competency in calibration uncertainty analysis.
Benefits
Skills management software plays a crucial role in calibration by facilitating the tracking and management of skills related to calibration processes. It ensures that personnel with the necessary expertise in calibration techniques, instrument handling, and adherence to calibration standards are appropriately assigned. This ensures accurate and reliable measurements, maintaining the integrity of data and supporting quality control efforts.