Process engineering skills matrix template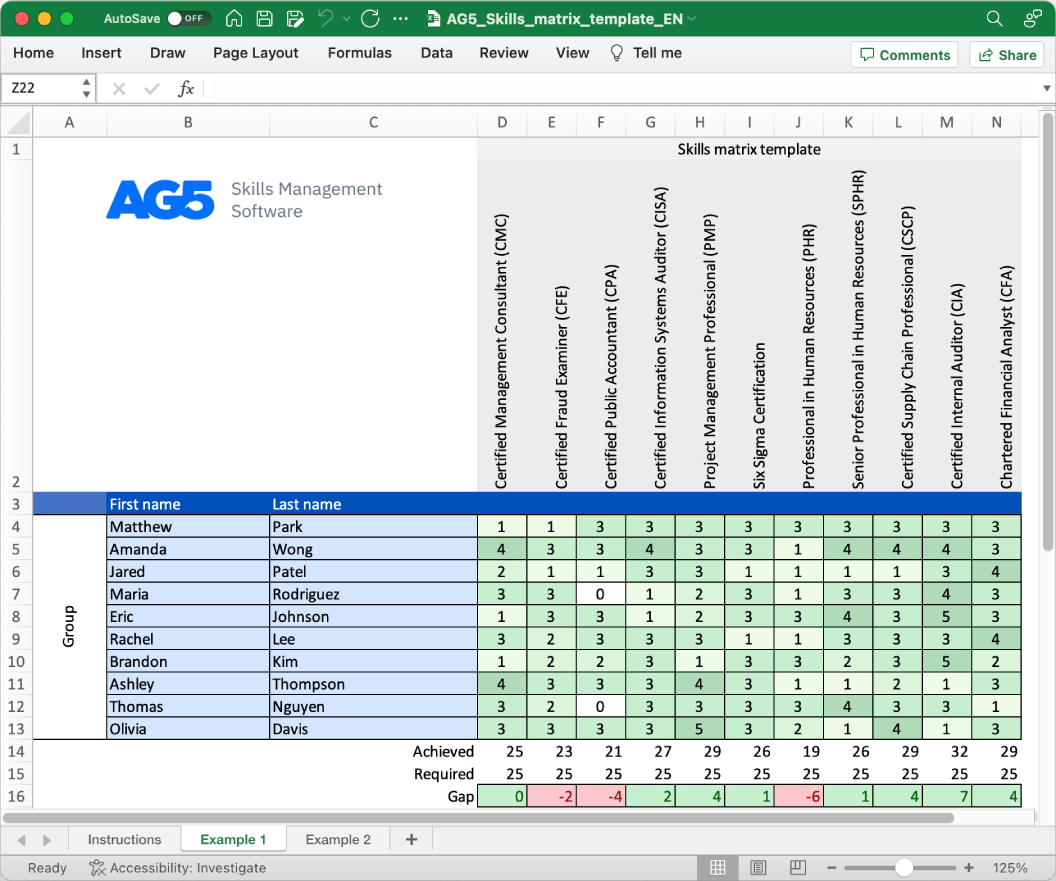 Download your free template here
Overview
With our free process engineering skills matrix template, you will receive a clear overview of the skills that are present in your organization, as well as those that are missing. Using this information, you can develop and implement a plan to ensure that your employees' skills in process engineering are up to date, comprehensive, compliant, and ready for the future.
Certified Process Engineer (CPE)
Six Sigma Green Belt Certification
Certified Process Safety Professional (CCPSC)
Lean Six Sigma Black Belt Certification
Certified Process Improvement Practitioner
ISO 9001 Lead Auditor Certification
Certified Process Design Engineer
Certified Process Control Professional (CPCP)
Certified Process Optimization Specialist
Certified Reliability Engineer (CRE)
Certified Process Simulation Engineer
Certified Process Integration Engineer
Certified Process Validation Professional
Certified Process Mapping Expert
Certified Process Analytics Specialist
Certified Process Modeling and Simulation Specialist
Certified Statistical Process Control (SPC) Practitioner
Certified Process Automation Engineer
Certified Process Safety Management (PSM) Auditor
Certified Process Monitoring and Troubleshooting Professional
Related skills
Process Design and Optimization: Proficiency in designing and optimizing manufacturing processes to achieve efficiency, quality, and safety goals. Certifications such as the Certified Process Design Engineer (CPDE) validate expertise in process engineering principles and practices.
Process Troubleshooting and Problem-solving: Skills in identifying and resolving process-related issues, conducting root cause analysis, and implementing corrective actions. Certifications like the Certified Process Engineer (CPE) demonstrate competence in process troubleshooting and problem-solving techniques.
Process Documentation and Standardization: Knowledge of documentation practices, process mapping, and standard operating procedures (SOPs) to ensure consistency and repeatability in manufacturing processes. Certifications such as the Certified Process Documentation Specialist (CPDS) validate proficiency in process documentation and standardization.
Statistical Process Control (SPC): Proficiency in utilizing statistical techniques and tools to monitor and control process variation, identify trends, and make data-driven process improvements. Certifications like the Certified SPC Professional (SPCP) demonstrate expertise in applying SPC methodologies.
Regulatory Compliance: Understanding of regulatory requirements and standards relevant to process engineering, such as those set by FDA, ISO 9001, or cGMP. Certifications like the Certified Process Compliance Professional (CPCP) validate knowledge of regulatory compliance in process engineering practices.
Benefits
Skills management software is important in process engineering to effectively track and manage the diverse skills and competencies of process engineers. It enables organizations to identify and allocate the right resources for specific projects, monitor skill gaps, plan training programs, and ensure that the necessary expertise is available to optimize processes, improve efficiency, and drive continuous improvement initiatives.