Statistical process control (SPC) skills matrix template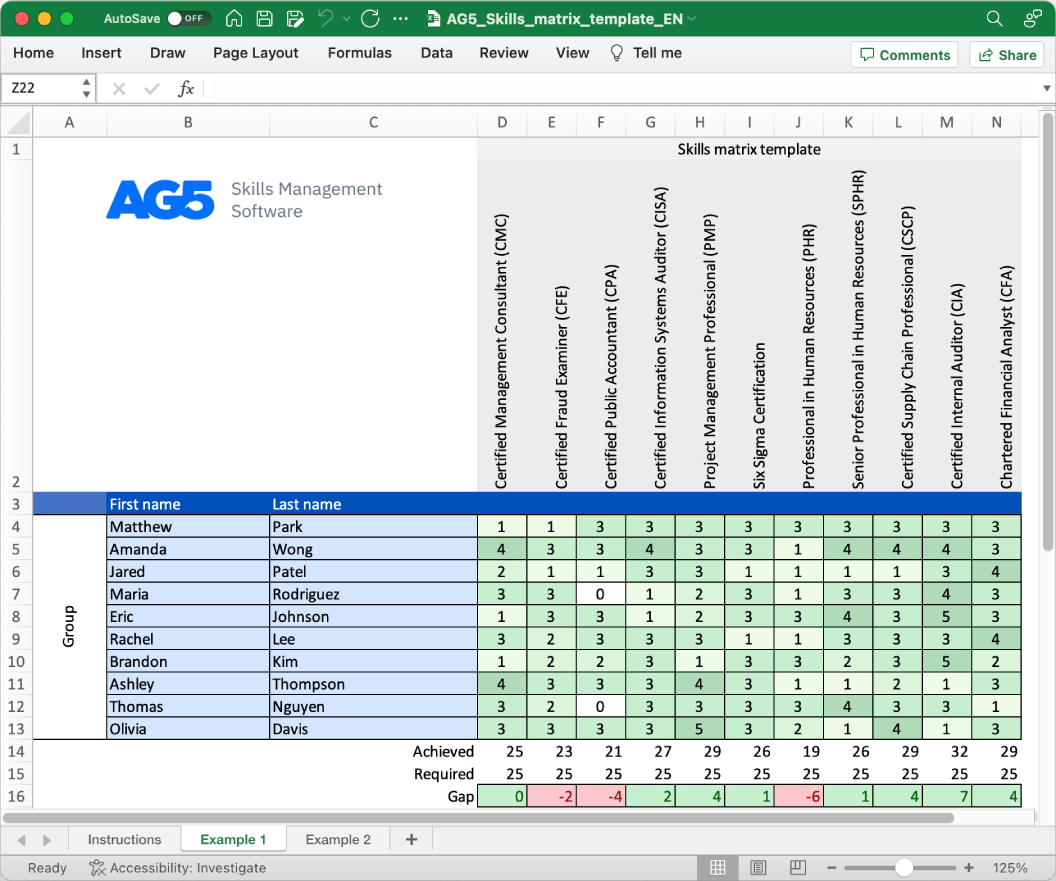 Download your free template here
Overview
With our free SPC skills matrix template, you will receive a clear overview of the skills that are present in your organization, as well as those that are missing. Using this information, you can develop and implement a plan to ensure that your employees' skills are up to date, comprehensive, compliant, and ready for the future.
Certified SPC Practitioner
Certified SPC Specialist
Certified SPC Analyst
Certified SPC Trainer
Certified SPC Auditor
Certified SPC Coordinator
Certified SPC Quality Engineer
Certified SPC Process Improvement Professional
Certified SPC Data Analyst
Certified SPC Black Belt
Certified SPC Green Belt
Certified SPC Champion
Certified SPC Facilitator
Certified SPC Project Manager
Certified SPC Software Specialist
Certified SPC Lean Six Sigma Professional
Certified SPC Quality Control Specialist
Certified SPC Manufacturing Specialist
Certified SPC Measurement Systems Analyst
Certified SPC Reliability Engineer
Related skills
Statistical Analysis: Proficiency in statistical analysis techniques such as hypothesis testing, control charts, process capability analysis, and data visualization. The American Society for Quality (ASQ) offers certifications like Certified Quality Engineer (CQE) and Certified Six Sigma Black Belt (CSSBB) that validate expertise in statistical analysis.
Data Collection and Sampling: Skills in effectively collecting and sampling data from processes, ensuring data accuracy, representativeness, and reliability. Certifications such as ASQ's Certified Quality Technician (CQT) or Certified Manager of Quality/Organizational Excellence (CMQ/OE) demonstrate competence in data collection and sampling for SPC.
Quality Control Tools: Familiarity with quality control tools and techniques like Pareto charts, cause-and-effect diagrams, scatter plots, histograms, and process flowcharts. Certifications like ASQ's Certified Quality Improvement Associate (CQIA) or Certified Six Sigma Green Belt (CSSGB) validate knowledge of quality control tools for SPC.
Process Monitoring and Control: Expertise in monitoring and controlling process variations using control charts, identifying out-of-control situations, and implementing appropriate corrective actions. ASQ's Certified Quality Engineer (CQE) or Certified Six Sigma Black Belt (CSSBB) certifications demonstrate proficiency in process monitoring and control for SPC.
Continuous Improvement: Understanding the principles of continuous improvement and the application of SPC in driving process enhancements and achieving quality goals. Certifications such as ASQ's Certified Manager of Quality/Organizational Excellence (CMQ/OE) or Certified Six Sigma Black Belt (CSSBB) validate skills in using SPC for continuous improvement.
Benefits
Skills management software is important for Statistical Process Control (SPC) as it enables efficient tracking and management of personnel skills and competencies relevant to SPC. It helps identify gaps in knowledge, training requirements, and ensures the right personnel with the necessary statistical analysis skills are assigned to SPC tasks, improving accuracy and effectiveness in quality control processes.