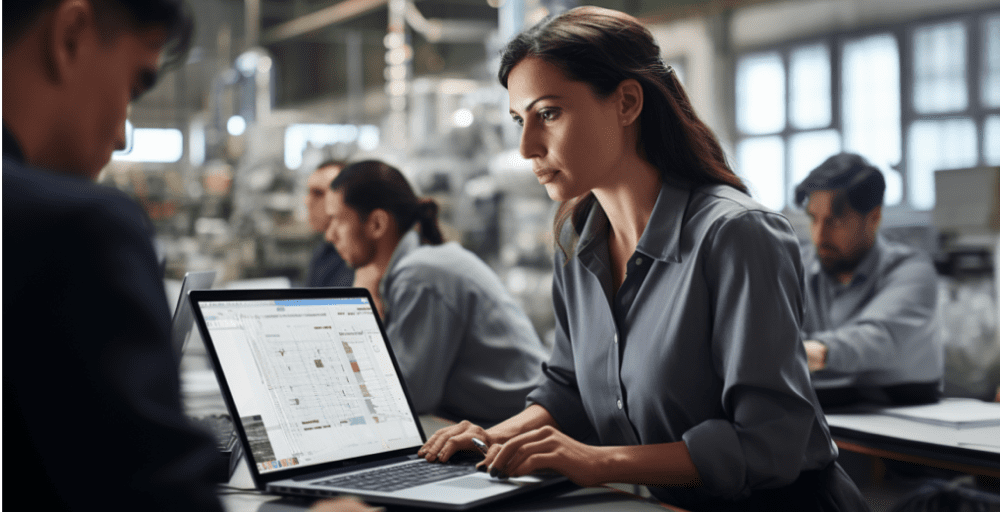 Effective skills management relies on efficiency – and there's nothing efficient about being bogged down by Excel spreadsheets that are complicated, cumbersome, and require time and effort to sort and track.
The right skills management software can help you mitigate this challenge, providing you with comprehensive oversight of the skills, qualifications, and certifications that your employees possess – as well as those that are needed. But once you have decided to use skills management software, you must take action to transition the data that exists in Excel to the platform of your choice. That may seem like a daunting task.
Luckily, we've put together a seven-step guide to help you through the process as quickly and easily as possible. Using it, you'll emerge Excel-free – and ready to master skills management.
Why ditch Excel spreadsheets for skills management software?
Excel spreadsheets are undeniably useful. However, they produce diminishing returns. The more spreadsheets you are using, the more complicated – and resource-intensive – skills management becomes. One mistake may result in hours of time spent correcting.
Skills management software, however, is:
Easily shareable and accessible across the entire organization
Always – and automatically – up to date
Essentially mistake-proof and unbreakable
Centralized and easy to use
With that in mind, let's take the first step into ditching Excel – and moving to skills management software that will help you master skills management.
How to move from Excel spreadsheets to skills management software
1. Assess your current spreadsheet usage and skills management process
Assessing your current spreadsheet usage is a crucial first step towards effective skills management and streamlining data organization. Begin by evaluating the number and types of Excel spreadsheets you currently employ, considering the purpose and complexity of each sheet, as well as identifying any redundant or outdated files.
Assessing your usage will help identify areas for improvement. Some of the questions you should ask yourself include:
How many spreadsheets are you using?
Are there multiple versions of those spreadsheets – and are those versions implemented differently by different groups within your organization?
Who owns these spreadsheets – and are these people on board with a transition to skills management software?
What skills, roles, employees, and requirement data is available for migration?
Is the data clean, complete, and accurate for migration?
What is the current process for skills management in your spreadsheets?
By asking and answering these questions, you can develop a comprehensive understanding of your spreadsheet landscape, then use it to make informed decisions, optimizing your skills management approach for greater efficiency and productivity.
2. Research skills management software
Researching skills management software is essential to find the right solution that aligns with your organization's needs. Start by exploring popular software options designed specifically for skills management and data organization.
Look for features such as:
Data import and export capabilities
Advanced filtering and sorting options
Intuitive interfaces
Easy-to-build skills matrices
Skill tracking
Progress monitoring
Integration capabilities
Automatic notifications for expiring certificates
Workflows and automations
Approvals
These features would ideally work seamlessly to create a centralized location for all your skills management needs. You will use the software to track skills, certifications, qualifications – ensuring that you visualize, identify, and close skills gap, and keep your organization safe, compliant, audit-proof, and ready for the future.
3. Plan your transition
Once you've chosen the skills management software that is right for you, you will need to begin planning your transition. A well-planned transition will minimize disruption and maximize the benefits of skills management software.
Begin by outlining your goals and desired outcomes for the transition. Additionally, you should:
Internally align all master data. This includes qualifications, roles, and requirements
Identify key milestones and establish a timeline for implementation
Internally align when your organization will stop updating spreadsheets and transition to skills management software
Identify business application owners who will be key users of your skills management software
Identify IT application owners who will be the technical admin for technical support
Assess transition's impact on your current workflows
Create a comprehensive training plan to ensure smooth adoption by your team members
Communicate the benefits of the new software and address any concerns or resistance that may arise
Communicate the new process to each user group
4. Set up your software
Follow these instructions to set up your skills management software:
Set up the relevant requirement management capabilities
Configure the software capabilities to align the software with your data policies
Configure additional features to align your other workflows with your skills management software
Configure the right matrices for each user group
Configure the automations for the software's users and other stakeholders
Define the user accounts and rights for each user group
5. Migrate your data
Once your software is ready, it's time to import that data from your spreadsheets – and kiss Excel goodbye once and for all. To do so, you will need to gather all the necessary data. For the smoothest transition possible, you will need:
The employees, roles and additional HR information of those whose skills you want to track
All skills, qualifications, and certifications that you want to track
All achieved skills, qualifications, and certifications with the corresponding dates and levels
You can use the below spreadsheet as an example of how you can initially store this information before your transition to skills management software.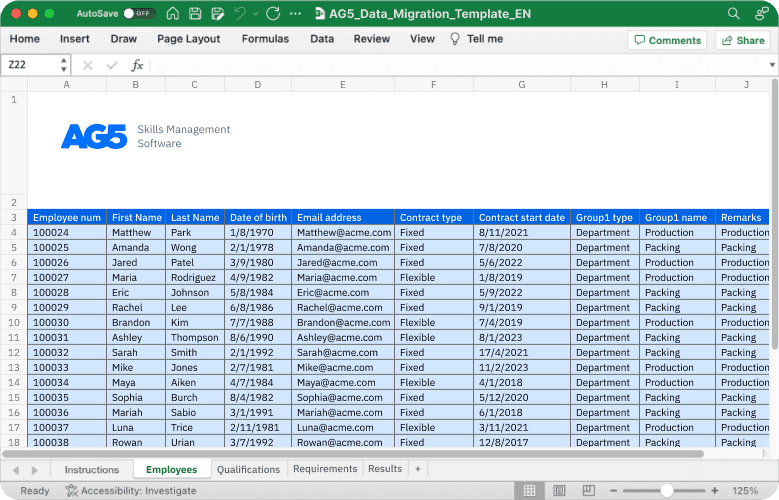 Download Data Migration Template
6. Train your team
Attend or conduct training sessions or provide resources to educate your team members about your organization's new skills management software. These sessions or resources should highlight the benefits and functionalities of the software, as well as address any concerns or questions your employees may have to ensure that everyone is on board and ready to begin using it.
More importantly, training sessions provide all users and stakeholders with a clear understanding of how they should proceed with their skills management processes – and how those will differ from spreadsheet skills management. Training is key to make sure all employees have the relevant knowledge to smoothly proceed with skills management software.
7. Monitor progress and adjust
Mastering skills management hinges on continuous improvement of both employees and your skills management process itself. This means you should:
Regularly evaluate the effectiveness of your new skills management software and processes
Seek feedback from internal key users, admins, and daily users, then make the necessary adjustments to ensure it meets your evolving needs
Proper self-evaluation allows you to assess your current situation, as well as where you would like to be in the future. However, this requires a strategic, structured approach that works to set you up for long-term skills management success.
For example, our customers use the AG5 Skills Maturity Model – a five-level framework that guides organizations in assessing and improving their skills management processes. It offers a clear progression path from manual processes and inefficiencies to strategic optimization of skills management throughout the entire organization.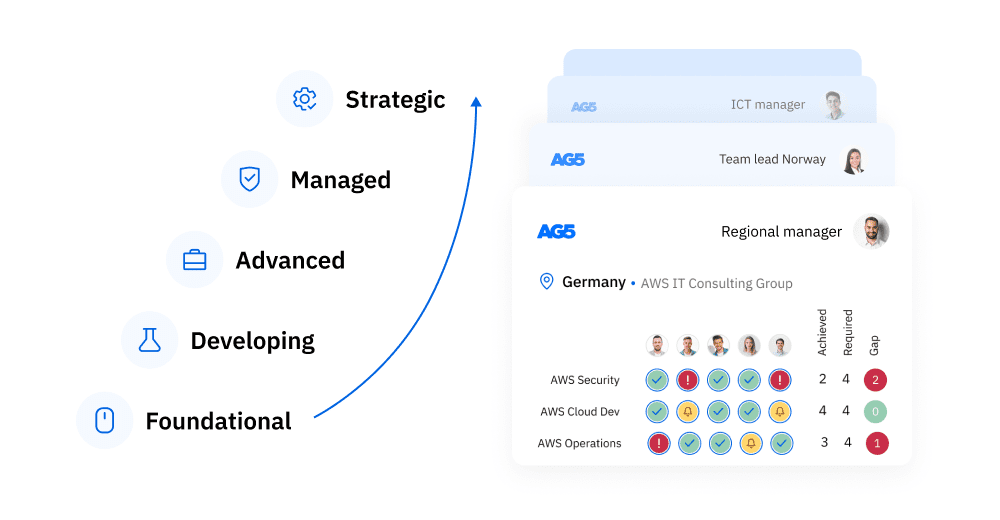 If you're interested in learning more about the AG5 Skills Maturity Model, you can read this article – or download the model to get started immediately.
Download AG5 Skills Maturity Model
Why choose AG5's skills management software?
AG5's skills management software enables you to visualize and close skills gaps across your organization – no need for complicated Excel spreadsheets. You'll use intuitive skills matrices that bring together skills data and job requirements – and are always up to date.
You'll work efficiently, productively, and stay compliant and audit-ready – with a highly qualified workforce that is flexible, agile, and ready for the future.
Ready to learn more? Book a free, live, 15-minute demo today to see how AG5 can help you and your organization master skills management.
Ready to master skills management?
Get a personalized walkthrough of AG5 from one of our product experts in just 15 minutes.

ISO27001 certified

Free trial available
A note on sources
At AG5, we are committed to providing you with high-quality content that is steps above AI-generated lists. As such, we do our best to thoroughly source our articles and guides, ensuring that the information we present to you is for people, by people. Sometimes, however, our content is more product-focused, relying more on our in-house expertise in skills management than external sources. In these cases, there may not be an in-depth source list. However, rest assured that all content goes through an extensive review process before its release.
---
---