Service desk skills matrix template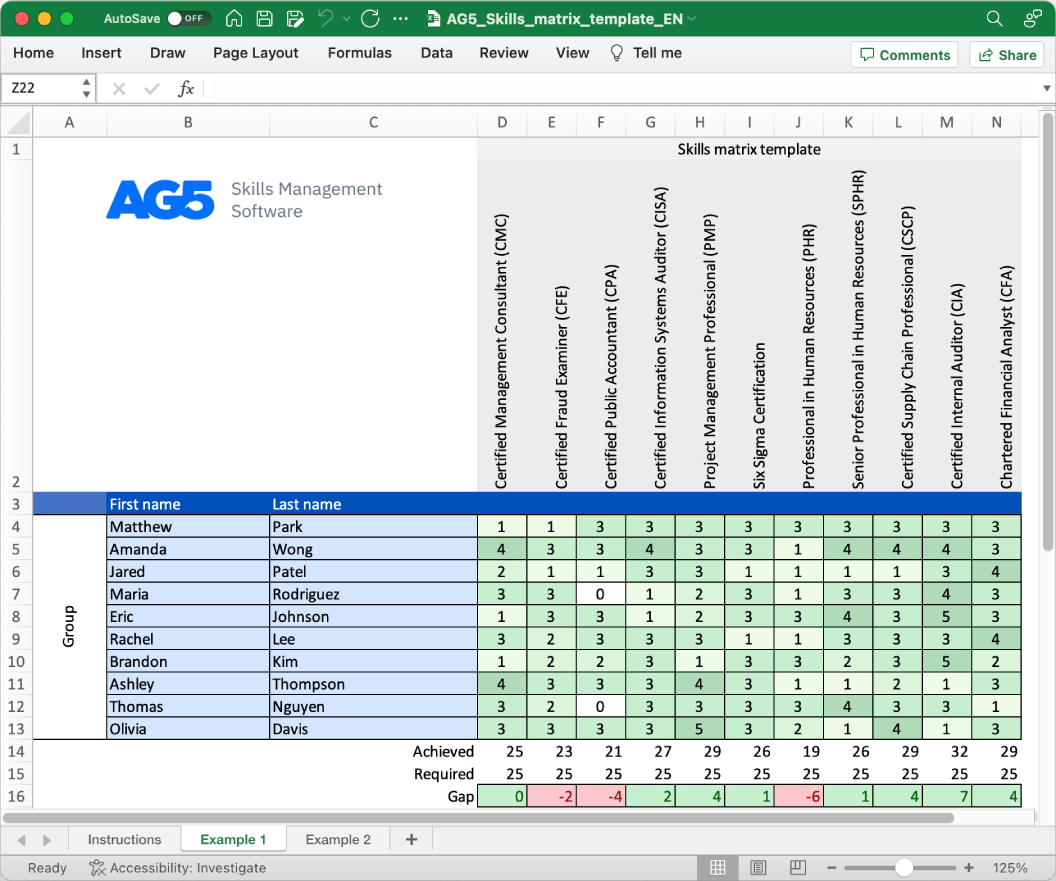 Download your free template here
Overview
With our free service desk skills matrix template, you will receive a clear overview of the skills that are present in your organization, as well as those that are missing. Using this information, you can develop and implement a plan to ensure that your employees' skills are up to date, comprehensive, compliant, and ready for the future.
HDI Support Center Analyst
HDI Support Center Team Lead
ITIL Foundation
CompTIA A+
CompTIA Network+
CompTIA Security+
Microsoft Certified: Azure Fundamentals
Microsoft Certified: Azure Administrator Associate
Cisco Certified Network Associate (CCNA)
Certified Wireless Network Administrator (CWNA)
VMware Certified Professional (VCP)
Red Hat Certified System Administrator (RHCSA)
Apple Certified Support Professional (ACSP)
Zendesk Certified Support Admin
Freshdesk Certified Product Expert
Zendesk Certified Admin
Salesforce Certified Service Cloud Consultant
ServiceNow Certified System Administrator
BMC Certified Associate: BMC Helix ITSM
Related skills
Technical Support: Providing technical support to end-users is a core responsibility for service desk professionals. Certifications such as the CompTIA A+ or the HDI Support Center Analyst can demonstrate proficiency in technical support.
Customer Service: Delivering excellent customer service is key to providing a positive experience for end-users. Certifications such as the HDI Customer Service Representative or the ITIL Foundation can demonstrate proficiency in customer service.
Incident Management: Managing and resolving incidents in a timely and effective manner is critical for maintaining the productivity of end-users. Certifications such as the ITIL Incident Management or the HDI Problem Management can demonstrate proficiency in incident management.
Service Level Management: Ensuring that services are delivered according to agreed-upon service levels is a key responsibility of service desk professionals. Certifications such as the ITIL Service Level Management or the HDI Service Level Agreement can demonstrate proficiency in service level management.
Knowledge Management: Building and maintaining a knowledge base to help end-users solve their own problems is an important function of service desk professionals. Certifications such as the HDI Knowledge-Centered Support or the ITIL Knowledge Management can demonstrate proficiency in knowledge management.
Benefits
Skills management software can help service desk teams identify skill gaps and develop targeted training programs to address those gaps, ultimately improving customer satisfaction and reducing downtime.