Regulatory gap analysis skills matrix template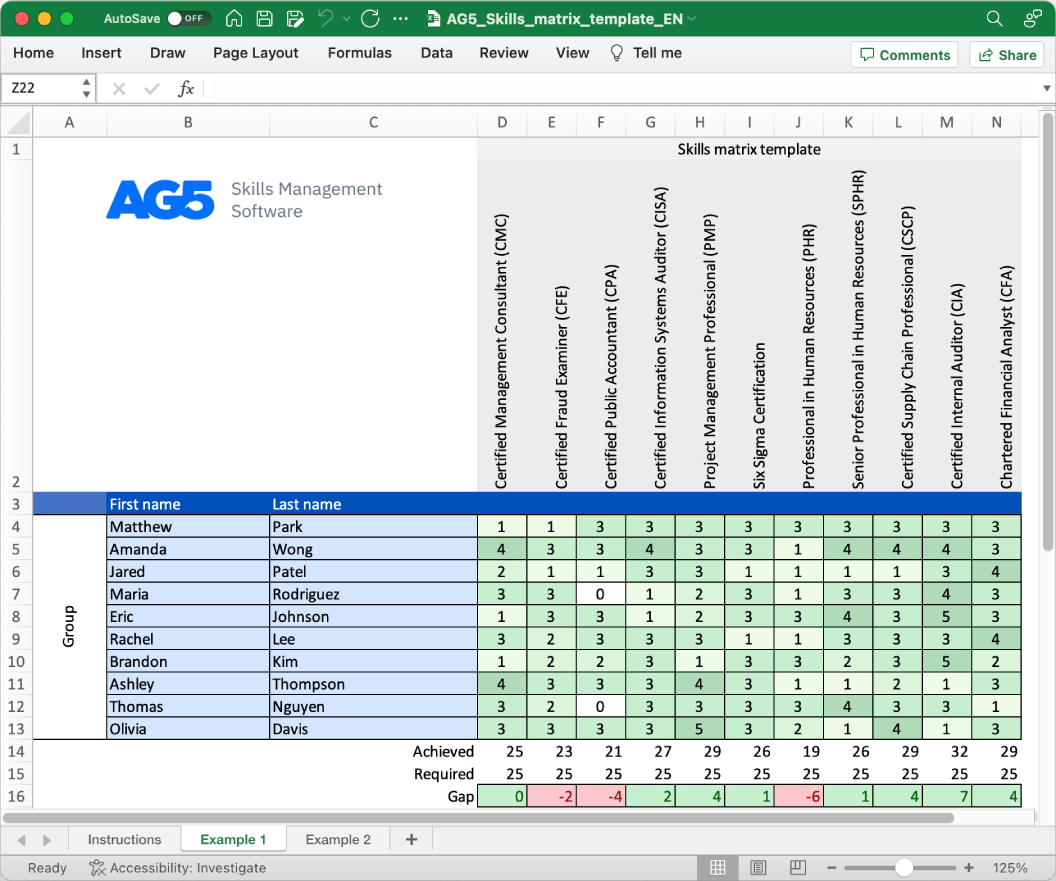 Download your free template here
Overview
With our free regulatory gap analysis skills matrix template, you will receive a clear overview of the skills that are present in your organization, as well as those that are missing. Using this information, you can develop and implement a plan to ensure that your employees' skills are up to date, comprehensive, compliant, and ready for the future.
Certified Regulatory Gap Analyst (CRGA)
Certified Gap Analysis Specialist (CGAS)
Certified Regulatory Compliance Officer (CRCO)
Certified Gap Analysis Consultant (CGAC)
Certified Regulatory Gap Assessment Practitioner (CRGAP)
Certified Regulatory Gap Analysis Manager (CRGAM)
Certified Gap Analysis Coordinator (CGAC)
Certified Regulatory Gap Auditor (CRGAA)
Certified Gap Analysis Lead (CGAL)
Certified Regulatory Gap Analyst (CRGA)
Certified Gap Analysis Trainer (CGAT)
Certified Regulatory Gap Assessment Expert (CRGAE)
Certified Gap Analysis Practitioner (CGAP)
Certified Regulatory Gap Assessment Team Leader (CRGATL)
Certified Regulatory Gap Analysis Specialist (CRGAS)
Certified Gap Analysis Compliance Officer (CGACO)
Certified Regulatory Gap Analyst (CRGA)
Certified Gap Analysis Project Manager (CGAPM)
Certified Regulatory Gap Assessor (CRGA)
Certified Gap Analysis Reviewer (CGAR)
Related skills
Regulatory Compliance Knowledge: This skill involves a deep understanding of relevant regulations, standards, and guidelines in the specific industry or region. Proficiency in regulatory compliance knowledge can be demonstrated through certifications such as the Certified Regulatory Compliance Manager (CRCM) certification offered by the Compliance Certification Board (CCB), which validates expertise in regulatory compliance principles and practices.
Gap Identification and Assessment: The ability to identify and assess gaps between current practices or systems and regulatory requirements. The Certified Quality Auditor (CQA) certification from the American Society for Quality (ASQ) demonstrates expertise in auditing quality management systems, including the identification and assessment of compliance gaps.
Risk Assessment: Proficiency in conducting risk assessments to identify and evaluate potential risks associated with regulatory non-compliance and prioritizing remediation actions. The Certified Risk Management Professional (CRMP) certification offered by the Risk and Insurance Management Society (RIMS) validates expertise in risk assessment and management.
Corrective and Preventive Actions (CAPA): The skill to develop and implement effective CAPA plans to address identified regulatory gaps and prevent future non-compliance. The Certified Corrective Action Professional (CCAP) certification, provided by the International Society of Six Sigma Professionals (ISSSP), validates expertise in corrective action methodologies and problem-solving techniques.
Regulatory Strategy Development: The ability to develop comprehensive strategies and plans to close regulatory gaps, ensuring compliance with applicable regulations. The Regulatory Affairs Certification (RAC) provided by the Regulatory Affairs Professionals Society (RAPS) demonstrates expertise in regulatory affairs, including regulatory strategy development and implementation.
Benefits
Skills management software is important in regulatory gap analysis to assign individuals skilled in regulatory compliance, gap identification and assessment, risk assessment, corrective and preventive actions (CAPA), and regulatory strategy development, ensuring compliance with regulatory requirements.
Ready to master skills management?
Get a personalized walkthrough of AG5 from one of our product experts in just 15 minutes.
ISO27001 certified Free trial available