Business impact analysis skills matrix template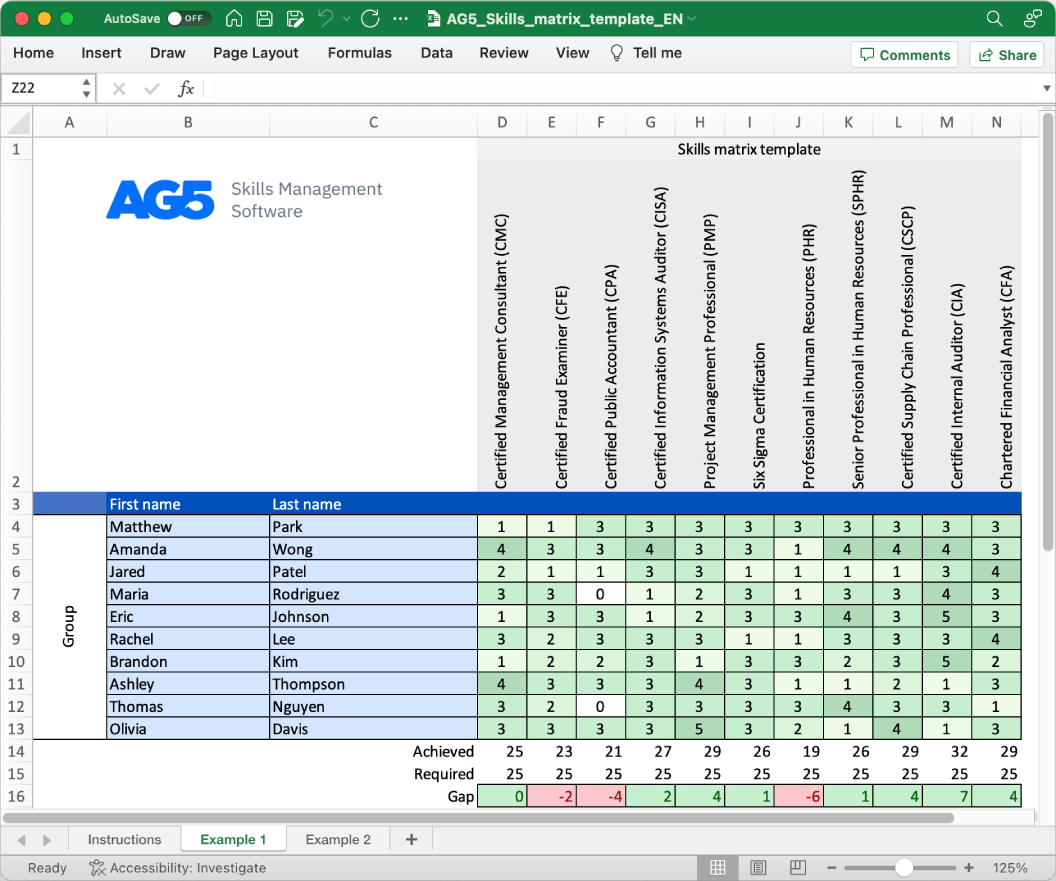 Download your free template here
Overview
With our free business impact analysis skills matrix template, you will receive a clear overview of the skills that are present in your organization, as well as those that are missing. Using this information, you can develop and implement a plan to ensure that your employees' skills are up to date, comprehensive, compliant, and ready for the future.
Certified Business Continuity Professional (CBCP)
Certified Business Impact Analysis Professional (CBIAP)
Certified Disaster Recovery Planner (CDRP)
Certified Risk Management Professional (CRMP)
Certified Business Resilience Manager (CBRM)
Certified Business Process Analyst (CBPA)
Certified Business Analysis Professional (CBAP)
Certified Business Continuity Strategist (CBCS)
Certified Continuity Manager (CCM)
Certified Resilience Auditor (CRA)
Certified Risk and Business Continuity Manager (CRBCM)
Certified Business Impact Analyst (CBIA)
Certified Business Continuity Lead Auditor (CBCLA)
Certified Business Resilience Practitioner (CBRP)
Certified Business Impact Assessment Specialist (CBIAS)
Certified Business Resilience Planner (CBRP)
Certified Business Continuity and Recovery Professional (CBCRP)
Certified Business Impact Evaluator (CBIE)
Certified Disaster Recovery Engineer (CDRE)
Certified Business Resilience Strategist (CBRS)
Related skills
Risk Assessment and Mitigation: Proficiently identifying potential risks and vulnerabilities to business operations and devising mitigation strategies, skills recognized by the Certified Business Risk Analyst (CBRA) certification.
Impact Measurement: Skillfully quantifying and assessing the potential consequences of disruptions to business processes, a capability demonstrated through training and the Certified Impact Measurement Specialist (CIMS) certification.
Critical Process Analysis: Expertly analyzing critical business processes to understand their dependencies and vulnerabilities, a proficiency confirmed by the Certified Critical Process Analyst (CCPA) certification.
Business Continuity Planning: Developing comprehensive business continuity plans that encompass various scenarios and ensure operational resilience, an ability endorsed by the Certified Business Continuity Planner (CBCP) certification.
Stakeholder Collaboration: Collaborating effectively with stakeholders across the organization to gather insights and input for accurate business impact analysis, qualities evident through the Certified Stakeholder Collaboration Specialist (CSCS) certification.
Benefits
Skills management software enhances analytical and risk assessment capabilities, optimizing business continuity planning and minimizing disruptions.