Quality by design (QbD) skills matrix template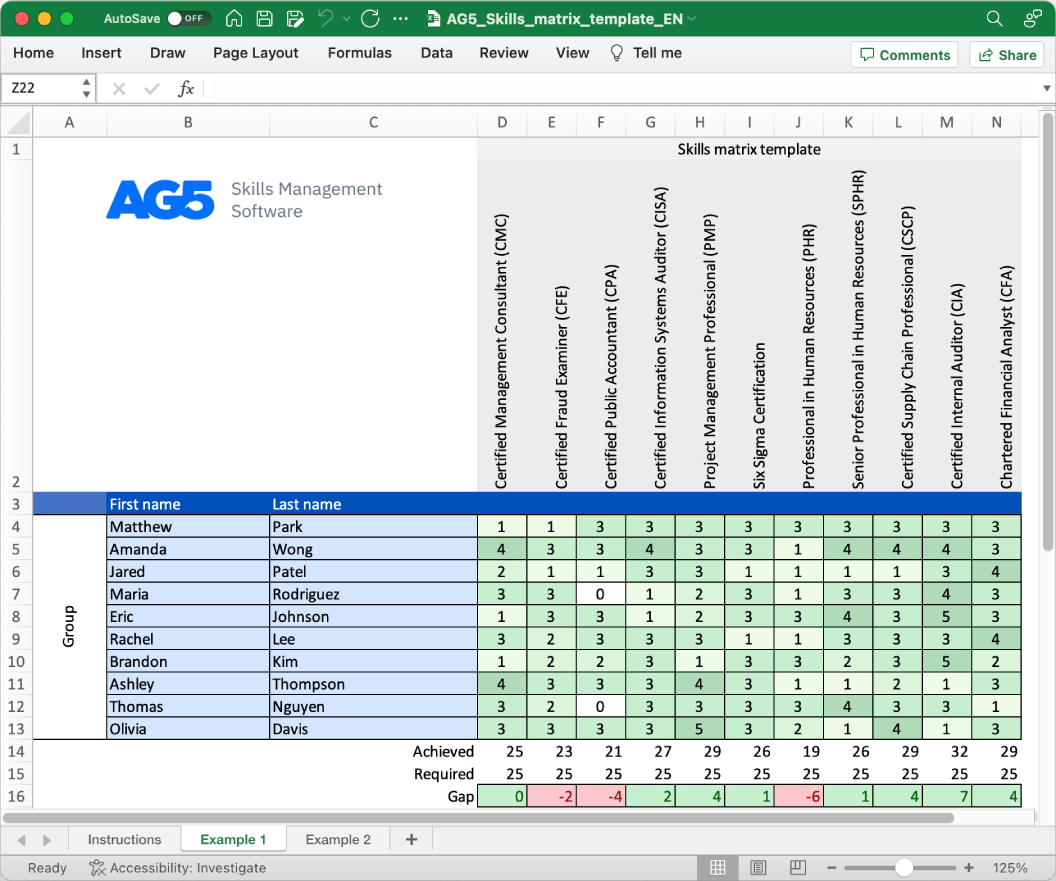 Download your free template here
Overview
With our free QbD skills matrix template, you will receive a clear overview of the skills that are present in your organization, as well as those that are missing. Using this information, you can develop and implement a plan to ensure that your employees' skills are up to date, comprehensive, compliant, and ready for the future.
Certified Quality by Design Professional (CQbDP)
Certified Pharmaceutical Quality by Design Specialist (CPQDS)
Certified Quality by Design Practitioner (CQbDP)
Certified QbD Lead (CQbDL)
Certified QbD Facilitator (CQbDF)
Certified QbD Specialist (CQbDS)
Certified QbD Auditor (CQbDA)
Certified QbD Consultant (CQbDC)
Certified QbD Trainer (CQbDT)
Certified QbD Expert (CQbDE)
Certified QbD Process Engineer (CQbDPE)
Certified QbD Project Manager (CQbDPM)
Certified QbD Team Leader (CQbDTL)
Certified QbD Implementation Specialist (CQbDIS)
Certified QbD Risk Analyst (CQbDRA)
Certified QbD Documentation Specialist (CQbDDS)
Certified QbD Validation Engineer (CQbDVE)
Certified QbD Product Development Professional (CQbDPDP)
Certified QbD Regulatory Affairs Specialist (CQbDRAS)
Certified QbD Performance Metrics Analyst (CQbDPMA)
Related skills
Process Validation: The skill of validating manufacturing processes to ensure consistent quality and compliance with regulatory requirements. Certifications like the Certified Validation Professional (CVP) offered by the International Society for Pharmaceutical Engineering (ISPE) validate expertise in planning, executing, and documenting process validation activities.
Statistical Analysis and Experimental Design: The skill of utilizing statistical methods and experimental design techniques to optimize processes and improve product quality. Certifications such as the Certified Quality Engineer (CQE) offered by the American Society for Quality (ASQ) demonstrate proficiency in statistical analysis, experimental design, and their application in process improvement.
Risk Assessment and Management: The skill of identifying, assessing, and managing risks throughout the product development and manufacturing processes. Certifications like the Certified Professional in Risk Management Assurance (CRMA) offered by the Institute of Internal Auditors (IIA) validate expertise in risk assessment methodologies, risk mitigation strategies, and regulatory compliance.
Critical Thinking and Problem Solving: The skill of applying logical and analytical thinking to identify and resolve complex quality-related issues. Certifications such as the Certified Six Sigma Black Belt (CSSBB) offered by ASQ validate proficiency in problem-solving methodologies, statistical analysis, and process improvement techniques.
Regulatory Compliance: The skill of understanding and complying with regulatory requirements in the industry. While there is no specific certification solely dedicated to regulatory compliance for QbD, certifications such as the Regulatory Affairs Certification (RAC) offered by the Regulatory Affairs Professionals Society (RAPS) demonstrate knowledge of regulatory frameworks, guidelines, and submission processes.
Benefits
Skills management software is important in QbD because it enables organizations to identify and assign personnel with the necessary skills and expertise required for implementing and maintaining quality-driven design processes, ensuring effective execution of QbD principles.
Ready to master skills management?
Get a personalized walkthrough of AG5 from one of our product experts in just 15 minutes.
ISO27001 certified Free trial available