Chemical safety skills matrix template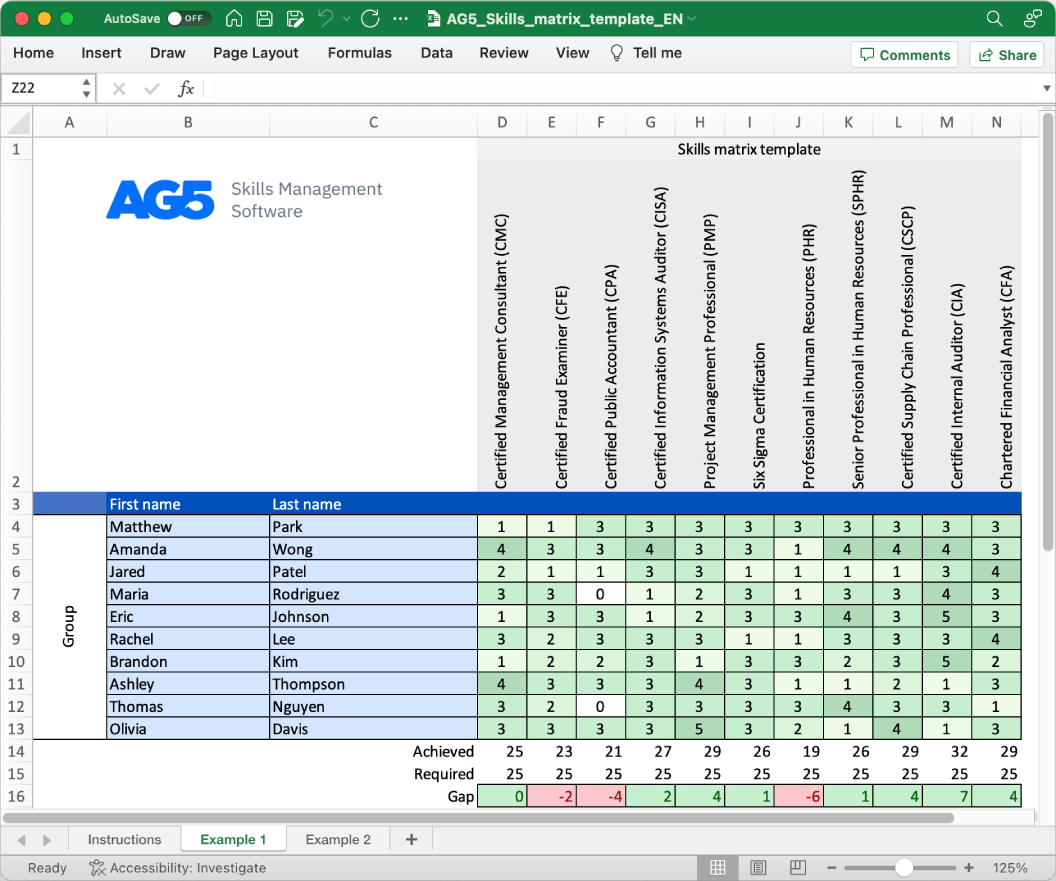 Download your free template here
Overview
With our free chemical safety skills matrix template, you will receive a clear overview of the skills that are present in your organization, as well as those that are missing. Using this information, you can develop and implement a plan to ensure that your employees' skills in chemical safety are up to date, comprehensive, compliant, and ready for the future.
Certified Chemical Safety Specialist
Certified Hazardous Materials Manager
Certified Chemical Hygiene Officer
Certified Industrial Hygienist
Certified Chemical Safety Auditor
Certified Chemical Safety Trainer
Certified Chemical Safety Consultant
Certified Chemical Safety Engineer
Certified Chemical Safety Coordinator
Certified Chemical Safety Analyst
Certified Chemical Storage and Handling Specialist
Certified Chemical Spill Response Specialist
Certified Chemical Safety Compliance Officer
Certified Chemical Risk Assessor
Certified Chemical Safety Data Analyst
Certified Chemical Safety Inspector
Certified Chemical Safety Program Manager
Certified Chemical Exposure Assessment Specialist
Certified Chemical Safety Emergency Planner
Certified Chemical Safety Educator
Related skills
Hazardous Chemicals Handling: Proficiency in handling hazardous chemicals safely, including proper storage, labeling, and disposal practices. Certifications such as the Hazardous Materials Handler Certification (HMHC) demonstrate competence in the safe handling of hazardous chemicals.
Chemical Risk Assessment: Skills in assessing chemical hazards and evaluating their potential risks to human health and the environment. Certifications like the Certified Chemical Risk Assessor (CCRA) validate expertise in conducting chemical risk assessments.
Personal Protective Equipment (PPE) Selection and Use: Knowledge of selecting and using appropriate personal protective equipment (PPE) for chemical handling, including understanding different types of PPE and their limitations. Certifications such as the PPE Specialist Certification (PPESC) demonstrate proficiency in PPE selection and use.
Chemical Spill Response: Understanding of proper procedures for responding to chemical spills, including containment, clean-up, and decontamination. Certifications like the Chemical Spill Response Certification (CSRC) validate competence in managing chemical spill incidents.
Chemical Safety Regulations and Compliance: Familiarity with relevant chemical safety regulations and standards, such as OSHA Hazard Communication Standard (HCS), REACH, or GHS. Certifications like the Certified Chemical Safety Professional (CCSP) demonstrate knowledge of chemical safety regulations and compliance requirements.
Benefits
Skills management software is essential in chemical safety to effectively track and manage the specialized skills and qualifications required for handling hazardous chemicals. It ensures that personnel with expertise in chemical risk assessment, proper handling techniques, and safety protocols are properly assigned. This supports compliance with safety regulations, minimizes the risk of accidents, and protects the health and well-being of employees.
Ready to master skills management?
Get a personalized walkthrough of AG5 from one of our product experts in just 15 minutes.
ISO27001 certified Free trial available