Cleanroom skills matrix template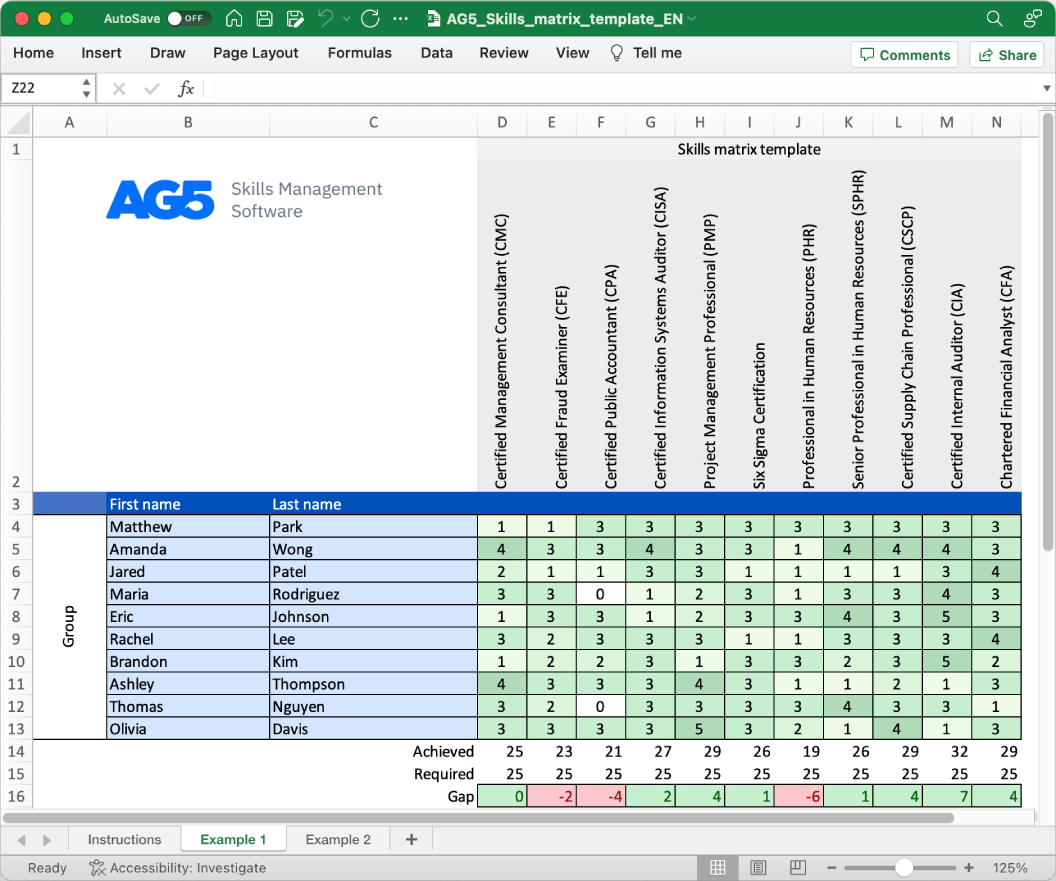 Download your free template here
Overview
With our free cleanroom skills matrix template, you will gain a comprehensive overview of the skills present within your organization and identify any skill gaps that may exist. Using this information, you can develop and implement a strategic plan to ensure that your employees' skills in cleanroom practices are up to date, comprehensive, compliant, and ready for the future.
Certified Cleanroom Professional (CCP)
Certified Cleanroom Operator
Certified Cleanroom Supervisor
Certified Cleanroom Technician
Certified Cleanroom Auditor
Certified Cleanroom Validation Specialist
Certified Cleanroom Design Expert
Certified Cleanroom Consultant
Certified Cleanroom Cleaning Specialist
Certified Cleanroom Training Instructor
Certified Cleanroom Project Manager
Certified Cleanroom Quality Control Analyst
Certified Cleanroom Compliance Officer
Certified Cleanroom Microbiologist
Certified Cleanroom Sterilization Specialist
Certified Cleanroom Airflow Specialist
Certified Cleanroom Facility Manager
Certified Cleanroom Equipment Specialist
Certified Cleanroom Contamination Control Specialist
Certified Cleanroom Environmental Monitoring Specialist
Related skills
Cleanroom Principles and Classifications: Understanding of cleanroom principles, classifications, and the associated requirements for contamination control. Certifications such as the Certified Cleanroom Specialist (CCS) validate knowledge of cleanroom principles and classifications.
Cleanroom Practices and Procedures: Proficiency in implementing cleanroom practices and procedures, including gowning, aseptic techniques, and cleanroom behavior. Certifications like the Certified Cleanroom Operator (CCO) demonstrate competence in cleanroom practices.
Cleanroom Monitoring and Control: Skills in monitoring and controlling critical parameters in cleanroom environments, such as particle count, temperature, humidity, and airflow. Certifications such as the Certified Cleanroom Monitoring Professional (CCMP) validate expertise in cleanroom monitoring and control techniques.
Contamination Prevention and Remediation: Knowledge of contamination prevention strategies and techniques, as well as the ability to identify and remediate contamination events effectively. Certifications like the Certified Contamination Control Professional (CCCP) demonstrate competency in contamination prevention and remediation in cleanroom environments.
Regulatory Compliance: Understanding of regulatory requirements and standards relevant to cleanroom operations, such as ISO 14644, FDA guidelines, or EU GMP Annex 1. Certifications like the Certified Cleanroom Compliance Professional (CCCP) validate knowledge of regulatory compliance in cleanroom practices.
Benefits
Skills management software is crucial in cleanroom operations as it facilitates the tracking and management of skills related to cleanroom protocols, procedures, and contamination control. It ensures that personnel with the necessary expertise in cleanroom practices, aseptic techniques, and gowning procedures are properly assigned. This supports the maintenance of sterile and controlled environments, crucial for industries such as pharmaceuticals and microelectronics.