ISO 17025 skills matrix template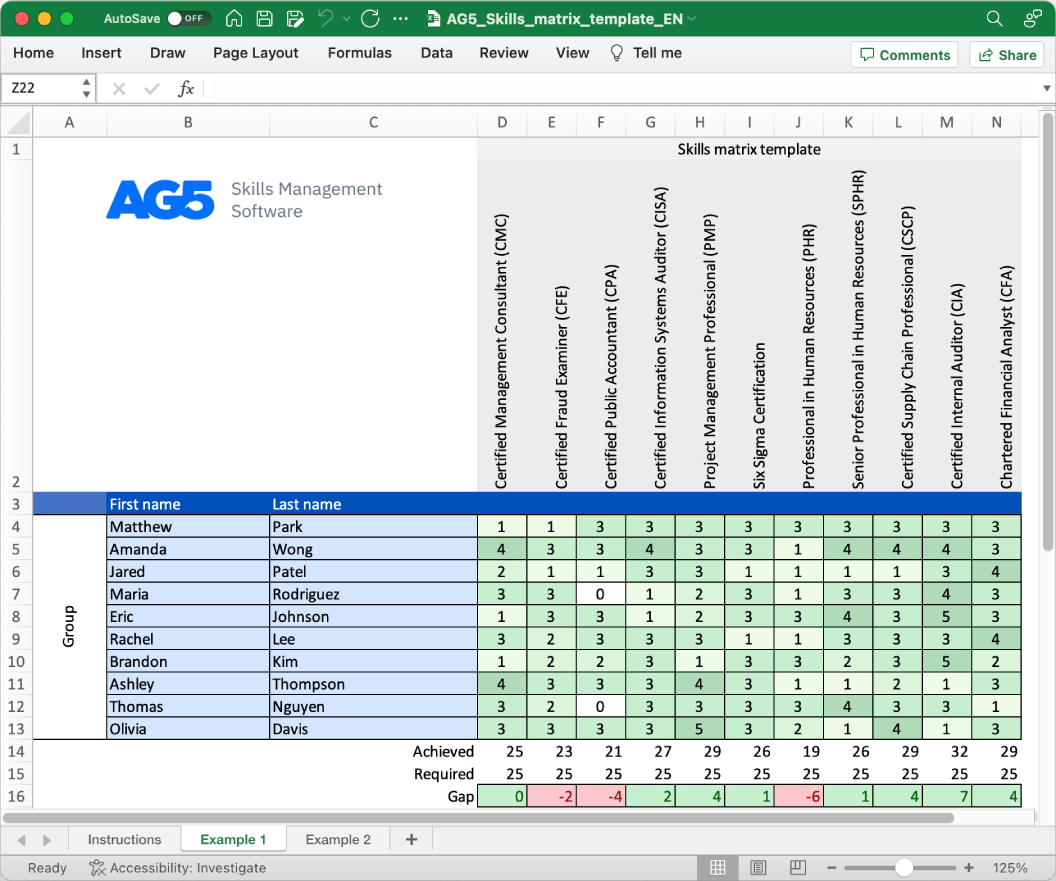 Download your free template here
Overview
With our free ISO 17025 skills matrix template, you will receive a clear overview of the skills that are present in your organization, as well as those that are missing. Using this information, you can develop and implement a plan to ensure that your employees' skills are up to date, comprehensive, compliant, and ready for the future.
Certified ISO 17025 Lead Auditor
Certified ISO 17025 Internal Auditor
Certified ISO 17025 Quality Manager
Certified ISO 17025 Quality Professional
Certified ISO 17025 Quality Consultant
Certified ISO 17025 Laboratory Assessor
Certified ISO 17025 Accreditation Specialist
Certified ISO 17025 Document Control Specialist
Certified ISO 17025 Measurement Uncertainty Analyst
Certified ISO 17025 Method Validation Specialist
Certified ISO 17025 Equipment Calibration Specialist
Certified ISO 17025 Sample Preparation Expert
Certified ISO 17025 Proficiency Testing Coordinator
Certified ISO 17025 Laboratory Information Management System (LIMS) Administrator
Certified ISO 17025 Data Integrity Specialist
Certified ISO 17025 Metrology Specialist
Certified ISO 17025 Forensic Laboratory Auditor
Certified ISO 17025 Laboratory Quality Control Manager
Certified ISO 17025 Analytical Method Development Expert
Related skills
ISO 17025 Standards: In-depth understanding of the ISO 17025 accreditation standard for testing and calibration laboratories, including its requirements and the accreditation process. Certifications such as the ISO/IEC 17025 Lead Assessor or the ASQ Certified Calibration Technician (CCT) demonstrate expertise in ISO 17025.
Laboratory Quality Management: Skills in implementing and managing a laboratory quality management system, including documentation control, proficiency testing, measurement traceability, and internal audits. Certifications like the ISO/IEC 17025 Internal Auditor or the ASQ Certified Quality Auditor (CQA) validate knowledge of laboratory quality management within ISO 17025.
Measurement Uncertainty: Proficiency in assessing and calculating measurement uncertainty to ensure reliable and accurate test results. Certifications such as the ASQ Certified Calibration Technician (CCT) or the ISO/IEC 17025 Lead Assessor demonstrate skills in measurement uncertainty within the context of ISO 17025.
Method Validation: Knowledge and application of method validation techniques to ensure the suitability, reliability, and accuracy of laboratory test methods. Certifications like the ISO/IEC 17025 Lead Assessor or the ASQ Certified Quality Engineer (CQE) validate proficiency in method validation for ISO 17025.
Proficiency Testing and Interlaboratory Comparisons: Competence in participating in proficiency testing programs and interlaboratory comparisons to assess the laboratory's performance and ensure the comparability of results. Certifications like the ISO/IEC 17025 Lead Assessor or the ASQ Certified Quality Technician (CQT) demonstrate skills in proficiency testing and interlaboratory comparisons for ISO 17025 compliance.
Benefits
In the context of ISO standards such as ISO 9001, ISO 13485, ISO 17025, ISO 14971, and ISO 45001, skills management software helps organizations track and manage personnel certifications, training records, and competencies required for compliance with these standards. It ensures that individuals with ISO-specific qualifications, such as internal auditors or lead auditors, are available to conduct audits and maintain compliance with the respective ISO standards.