Maintenance skills matrix template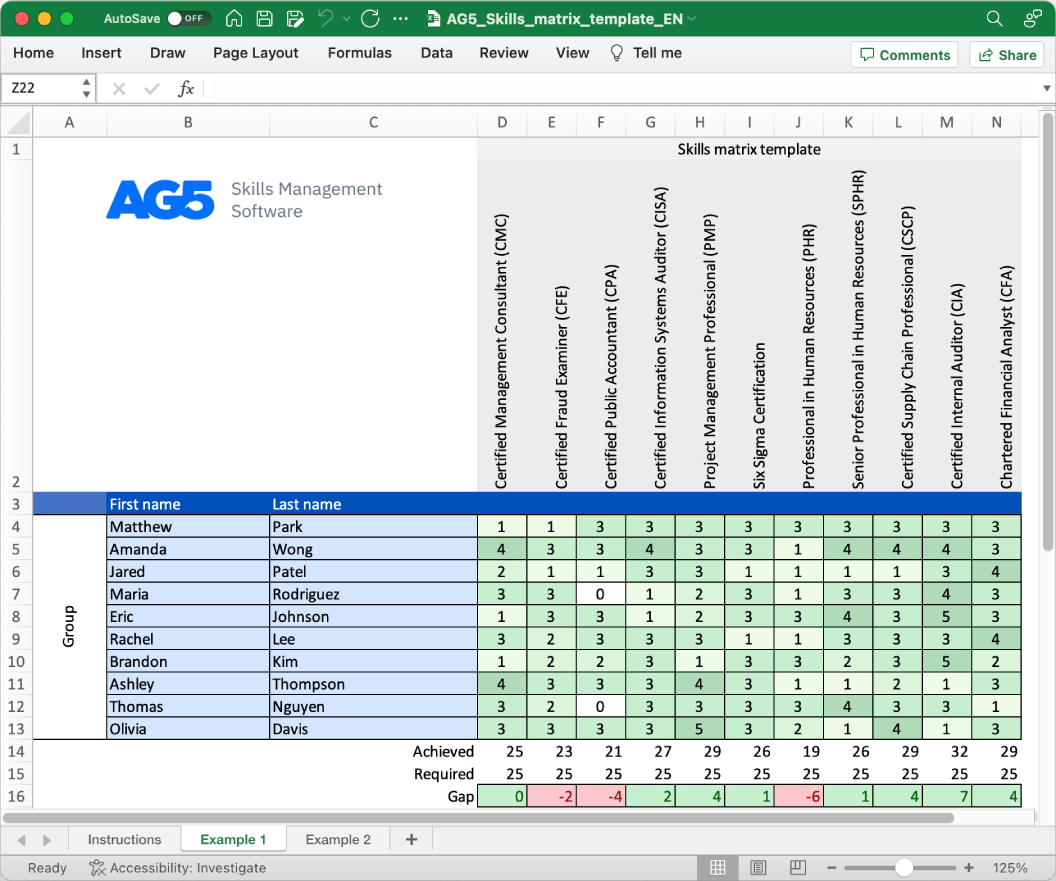 Download your free template here
Overview
With our free maintenance skills matrix template, you will gain a comprehensive overview of the skills present within your organization and identify any skill gaps that may exist. Using this information, you can develop and implement a strategic plan to ensure that your employees' maintenance skills are up to date, comprehensive, compliant, and ready for the future.
Certified Maintenance and Reliability Professional (CMRP)
Certified Maintenance Manager (CMM)
Certified Maintenance Technician (CMT)
Certified Reliability Leader (CRL)
Certified Maintenance Planning and Scheduling Professional
Certified Lubrication Specialist
Certified Maintenance Supervisor
Certified Maintenance and Reliability Auditor
Certified Predictive Maintenance Technician
Certified Maintenance Engineer
Certified Maintenance and Asset Management Professional
Certified Maintenance and Reliability Trainer
Certified Maintenance and Reliability Consultant
Certified Maintenance and Reliability Analyst
Certified Maintenance and Reliability Coordinator
Certified Maintenance and Reliability Strategist
Certified Maintenance and Reliability Data Analyst
Certified Maintenance and Reliability Planner
Certified Maintenance and Reliability Technician
Related skills
Preventive Maintenance: Proficiency in developing and implementing preventive maintenance schedules, performing routine inspections, and conducting equipment maintenance activities. Certifications such as the Certified Maintenance and Reliability Technician (CMRT) validate expertise in preventive maintenance practices.
Troubleshooting and Repair: Skills in diagnosing and resolving equipment malfunctions, conducting root cause analysis, and performing effective repairs. Certifications like the Certified Maintenance Professional (CMP) demonstrate competence in equipment troubleshooting and repair techniques.
Equipment Maintenance Documentation: Knowledge of maintenance documentation practices, including work orders, maintenance logs, and equipment history records. Certifications such as the Certified Maintenance Documentation Specialist (CMDS) validate proficiency in equipment maintenance documentation.
Safety and Compliance: Understanding of safety protocols, regulations, and compliance requirements related to equipment maintenance activities. Certifications like the Certified Maintenance Safety Professional (CMSP) demonstrate knowledge of safety practices in maintenance operations.
Predictive Maintenance Technologies: Familiarity with predictive maintenance technologies, such as vibration analysis, thermography, and oil analysis, to monitor equipment health and detect potential failures. Certifications like the Certified Predictive Maintenance Professional (CPMP) validate proficiency in predictive maintenance techniques.
Benefits
In maintenance, skills management software is vital for effectively managing the diverse skills and qualifications of maintenance personnel. It enables organizations to identify and allocate the right resources with expertise in equipment maintenance, troubleshooting, and preventive maintenance tasks. This ensures optimal equipment performance, minimizes downtime, and extends the lifespan of critical assets.
Ready to master skills management?
Get a personalized walkthrough of AG5 from one of our product experts in just 15 minutes.
ISO27001 certified Free trial available