Clean-in-place (CIP) system skills matrix template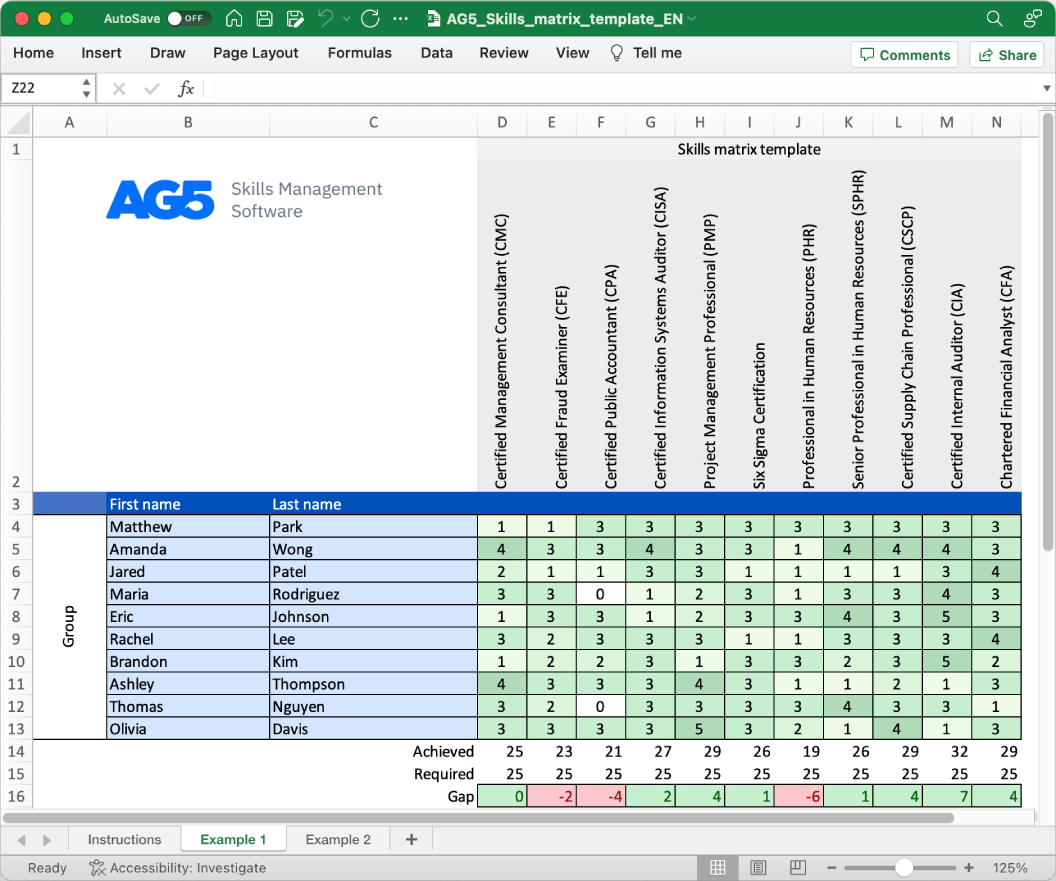 Download your free template here
Overview
With our free CIP system skills matrix template, you will receive a clear overview of the skills that are present in your organization, as well as those that are missing. Using this information, you can develop and implement a plan to ensure that your employees' skills are up to date, comprehensive, compliant, and ready for the future.
Certified CIP System Operator (CCSO)
Certified CIP System Technician (CCST)
Certified CIP System Specialist (CCSS)
Certified CIP System Engineer (CCSE)
Certified CIP System Supervisor (CCSP)
Certified CIP System Auditor (CCSA)
Certified CIP System Designer (CCSD)
Certified CIP System Consultant (CCSC)
Certified CIP System Trainer (CCST)
Certified CIP System Validation Specialist (CCSVS)
Certified CIP System Maintenance Technician (CCSMT)
Certified CIP System Controls Engineer (CCSCE)
Certified CIP System Project Manager (CCSPM)
Certified CIP System Optimization Specialist (CCSOS)
Certified CIP System Process Engineer (CCSPE)
Certified CIP System Troubleshooting Expert (CCSTE)
Certified CIP System Validation Engineer (CCSVE)
Certified CIP System Compliance Officer (CCSCO)
Certified CIP System Design Engineer (CCSDE)
Certified CIP System Performance Analyst (CCSPA)
Related skills
CIP System Design and Implementation: This skill involves designing and implementing efficient and compliant CIP systems that ensure proper cleaning and sanitization of equipment. Proficiency in this area can be demonstrated through the Certified Pharmaceutical GMP Professional (CPGP) certification from the International Society for Pharmaceutical Engineering (ISPE), which validates expertise in GMP principles, including CIP system design and implementation.
Chemical Compatibility and Selection: The ability to select appropriate cleaning agents and sanitizers based on equipment materials and their effectiveness in removing contaminants. Demonstrating proficiency in chemical compatibility and selection can be evidenced by achieving the Certified Cleaning Validation Specialist (CCVS) certification from the Institute of Validation Technology (IVT), which validates expertise in cleaning validation processes, including chemical compatibility assessment.
CIP System Monitoring and Control: Proficiency in monitoring and controlling CIP systems to ensure proper operation, including parameters like temperature, flow rate, and concentration of cleaning agents. The Certified Automation Professional (CAP) certification, provided by the International Society of Automation (ISA), demonstrates expertise in automation and control systems, including monitoring and control of industrial processes like CIP systems.
CIP System Validation: This skill involves developing and executing validation protocols to ensure that the CIP system consistently performs as intended. Demonstrating proficiency in CIP system validation can be highlighted by obtaining the Certified Validation Professional (CVP) certification from the Society of Validation Professionals (SVP), which validates expertise in validation methodologies, including CIP systems.
Regulatory Compliance: Proficiency in understanding and applying regulatory requirements related to CIP systems, such as FDA regulations and GMP guidelines. The Certified Regulatory Compliance Manager (CRCM) certification, offered by the Compliance Certification Board (CCB), demonstrates expertise in regulatory compliance, including adherence to standards in the pharmaceutical and manufacturing industries.
Benefits
Skills management software is important in CIP systems to efficiently assign qualified personnel, track their expertise in CIP system design, chemical compatibility, monitoring and control, CIP system validation, and regulatory compliance, ensuring effective and reliable cleaning processes.
Ready to master skills management?
Get a personalized walkthrough of AG5 from one of our product experts in just 15 minutes.
ISO27001 certified Free trial available