Document control skills matrix template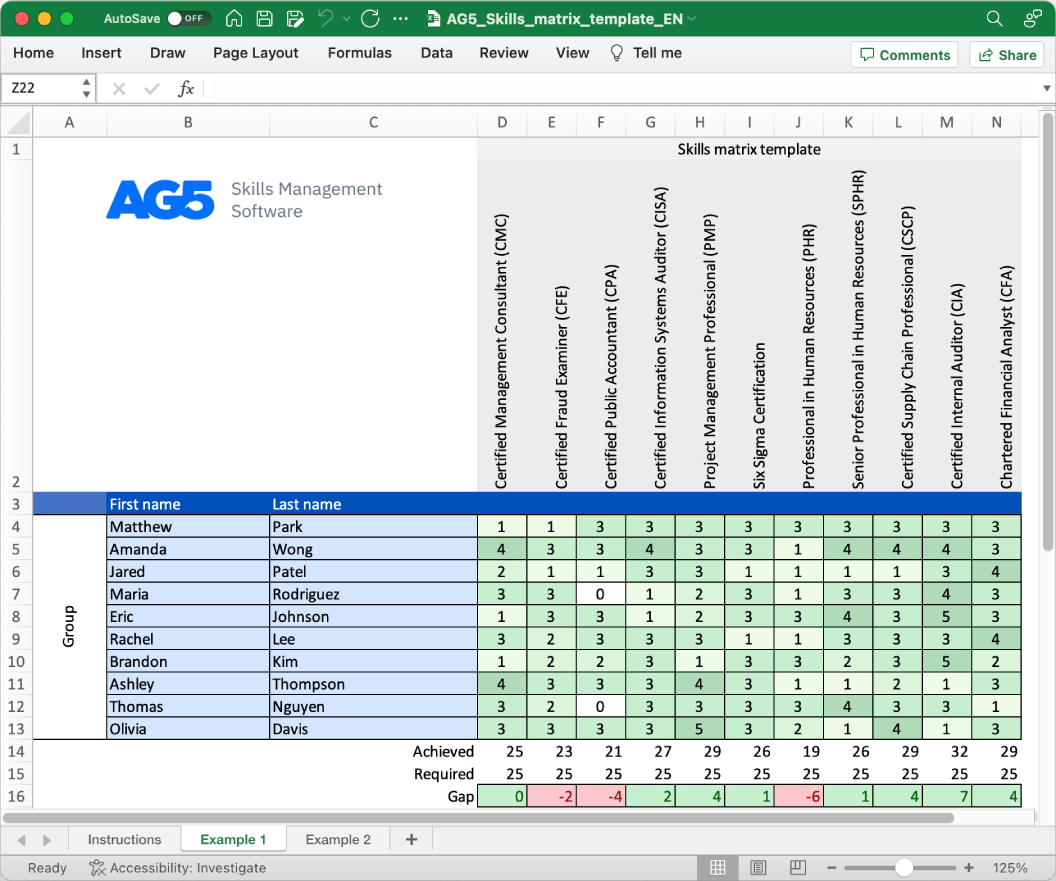 Download your free template here
Overview
WIth our free document control skills matrix template, you will receive a clear overview of the skills that are present in your organization, as well as those that are missing. Using this information, you can develop and implement a plan to ensure that your employees' skills are up to date, comprehensive, compliant, and ready for the future.
Certified Document Controller (CDC)
Certified Records Manager (CRM)
Certified Information Professional (CIP)
Certified Document Imaging Architect (CDIA+)
Certified Document Imaging Specialist (CDIS)
Certified Electronic Document Professional (CEDP)
Certified Records Analyst (CRA)
Certified Records Technician (CRT)
Electronic Records Management Specialist (ERMS)
Certified Information Governance Professional (IGP)
Certified Document Imaging Architect Specialist (CDIA+ Specialist)
Microsoft Certified: Azure AI Engineer Associate
Microsoft Certified: Power Platform App Maker Associate
Microsoft Certified: Data Analyst Associate
ISO 15489 Records Management Certification
AIIM Certified Information Professional (CIP)
AIIM Certified Information Governance Practitioner (IGP)
ARMA Certified Records Manager (CRM)
Project Management Professional (PMP)
Lean Six Sigma Green Belt
Related skills
Document Control Procedures: Proficiency in establishing and implementing document control processes, including document numbering, version control, and document lifecycle management. Certifications such as the Certified Document Controller (CDC) offered by the Association for Information and Image Management (AIIM) validate expertise in document control best practices and standards.
Document Change Management: Skill in managing document changes, including change requests, impact assessments, and revision control. Certifications such as the Certified Change Management Professional (CCMP) offered by the Change Management Institute (CMI) demonstrate proficiency in change management principles, practices, and methodologies.
Document Review and Approval: Ability to review and approve documents for accuracy, completeness, and compliance with standards and regulations. While there is no specific certification solely dedicated to document review and approval, certifications such as the Certified Quality Auditor (CQA) offered by ASQ validate proficiency in auditing techniques, compliance assessment, and document control practices.
Document Retrieval and Distribution: Competency in organizing and facilitating document retrieval and distribution processes, ensuring timely access to authorized personnel. Certifications such as the Certified Records Manager (CRM) offered by the Institute of Certified Records Managers (ICRM) demonstrate expertise in records management principles, information retrieval systems, and distribution strategies.
Document Archiving and Retention: Knowledge of archiving and retention practices to ensure the proper storage, retrieval, and disposal of documents in accordance with regulatory requirements. Certifications such as the Certified Records Analyst (CRA) offered by ARMA International validate proficiency in records retention schedules, archival methods, and legal compliance for document retention.
Benefits
Skills management software is important in document control as it enables organizations to track and manage the skills and qualifications of personnel involved in document management, ensuring the right individuals are assigned to handle and control critical documents, promoting accuracy, compliance, and efficiency.
Ready to master skills management?
Get a personalized walkthrough of AG5 from one of our product experts in just 15 minutes.
ISO27001 certified Free trial available