Data privacy compliance skills matrix template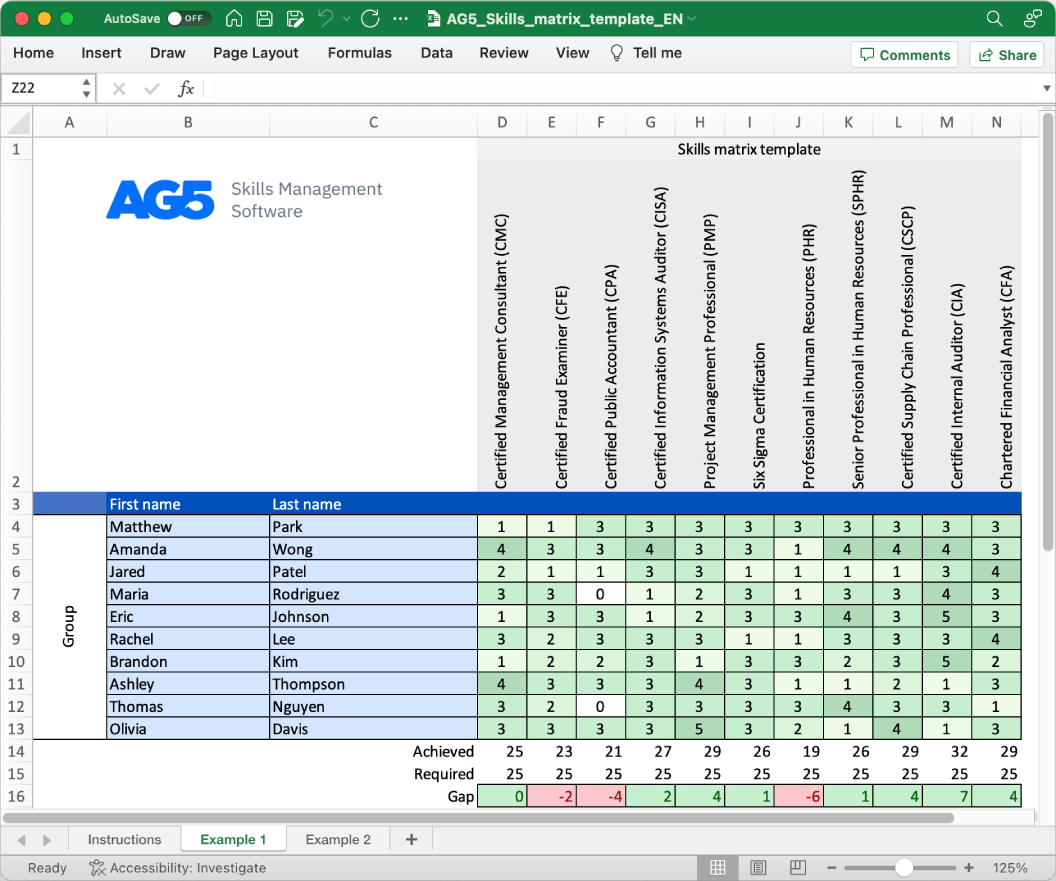 Download your free template here
Overview
With our free data privacy compliance skills matrix template, you will receive a clear overview of the skills that are present in your organization, as well as those that are missing. Using this information, you can develop and implement a plan to ensure that your employees' skills are up to date, comprehensive, compliant, and ready for the future.
Certified Information Privacy Professional (CIPP)
Certified Data Protection Officer (CDPO)
Certified Information Privacy Manager (CIPM)
Certified EU General Data Protection Regulation Practitioner (GDPR-P)
Certified Privacy Professional (CPP)
Certified Data Privacy Specialist (CDPS)
Certified Privacy Manager (CPM)
Certified Privacy Compliance Officer (CPCO)
Certified Privacy Technologist (CPT)
Certified Privacy and Data Protection Practitioner (CPDP)
Certified Data Privacy Expert (CDPE)
Certified Privacy Governance Manager (CPGM)
Certified Data Protection Specialist (CDPS)
Certified Data Privacy Professional (CDPP)
Certified Privacy Solutions Architect (CPSA)
Certified Privacy Risk Officer (CPRO)
Certified Privacy Auditor (CPA)
Certified Information Privacy Specialist (CIPS)
Certified Data Protection Consultant (CDPC)
Certified Privacy Law Specialist (CPLS)
Related skills
Data Protection Regulations: Demonstrating a comprehensive understanding of data protection regulations and laws, a proficiency acknowledged by the Certified Data Protection Regulation Specialist (CDPRS) certification.
Privacy Impact Assessment: Skillfully conducting privacy impact assessments to identify and mitigate risks associated with data processing, a capability validated through the Certified Privacy Impact Assessment Professional (CPIAP) certification.
Data Breach Management: Expertly managing data breaches, including notification procedures and resolution, an ability evidenced by the Certified Data Breach Manager (CDBM) certification.
Privacy by Design: Integrating privacy considerations into the design and development of systems and processes, a competency highlighted by the Certified Privacy by Design Specialist (CPDS) certification.
Legal and Ethical Compliance: Ensuring data processing activities align with legal and ethical standards, qualities affirmed by the Certified Data Privacy Compliance Officer (CDPCO) certification.
Benefits
Skills management software ensures comprehension of data protection regulations, facilitating compliance and safeguarding sensitive information.