Data scientist skills matrix template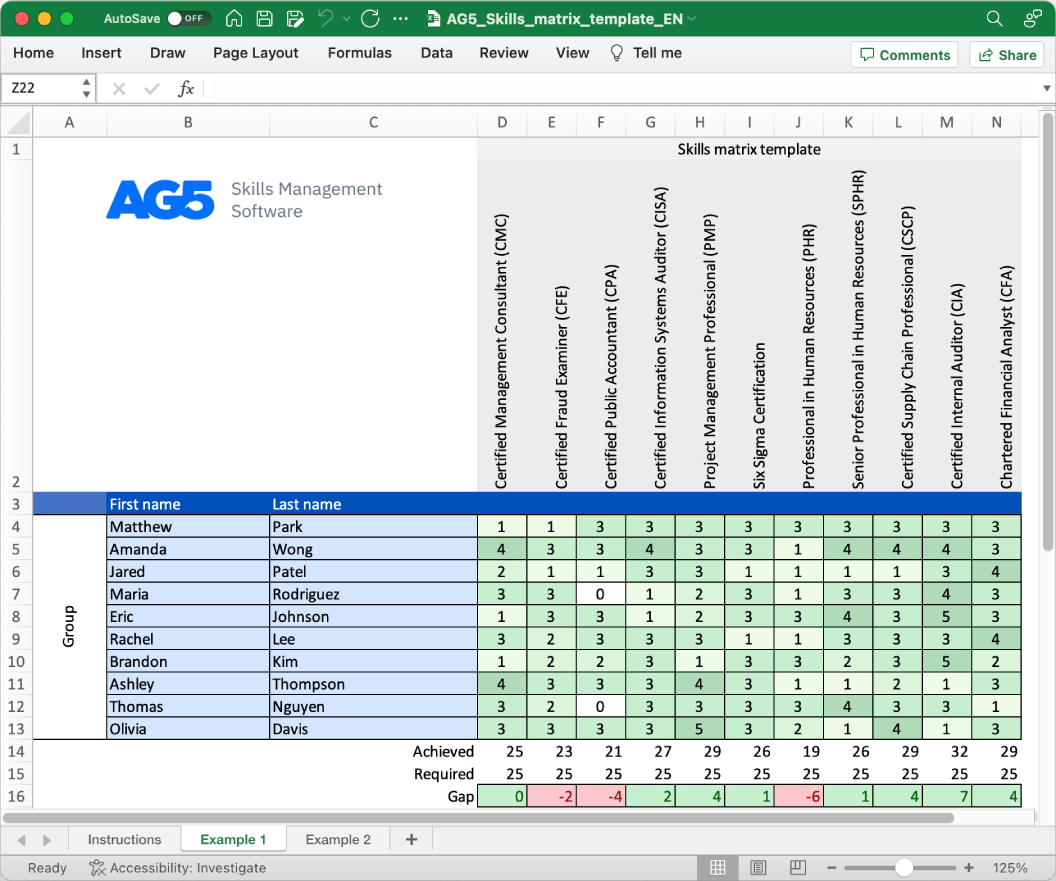 Download your free template here
Overview
With our free data scientist skills matrix template, you will receive a clear overview of the skills that are present in your organization, as well as those that are missing. Using this information, you can develop and implement a plan to ensure that your employees' skills are up to date, comprehensive, compliant, and ready for the future.
AWS Certified Big Data - Specialty
Microsoft Certified: Azure Data Scientist Associate
Google Cloud Certified - Professional Data Engineer
SAS Certified Data Scientist
IBM Data Science Professional Certification
Cloudera Certified Data Scientist
Databricks Certified Associate Developer for Apache Spark
EMC Data Science Associate (EMCDSA)
Certified Analytics Professional (CAP)
Data Science Council of America (DASCA) Senior Data Scientist (SDS)
Oracle Business Intelligence Foundation Suite 11 Certified Implementation Specialist
Teradata 14 Certified Data Scientist
Tableau Desktop Specialist
IBM Certified Data Engineer - Big Data
Alteryx Designer Core Certification
AWS Certified Machine Learning - Specialty
SAS Certified Advanced Analytics Professional
Microsoft Certified: Azure AI Engineer Associate
HDP Certified Apache Spark Developer
Certified Data Scientist
Related skills
Career Development: Helping employees develop their careers within organizations is an important focus for skills gap analysis. Certifications such as the Certified Career Development Professional (CCDP) or the Career Development Facilitator (CDF) can demonstrate proficiency in career development.
Succession Planning: Identifying and developing future leaders within organizations is critical for long-term success. Certifications such as the Certified Professional in Succession Planning (CPSP) or the Succession Planning Certificate can demonstrate proficiency in succession planning.
Talent Management: Attracting, retaining, and developing talent is a key focus for many organizations. Certifications such as the Talent Management Practitioner (TMP) or the Certified Talent Management Professional (CTMP) can demonstrate proficiency in talent management.
Performance Management: Developing effective performance management systems is important for identifying and addressing skills gaps. Certifications such as the Certified Performance Management Professional (CPMP) or the Certified Performance Technologist (CPT) can demonstrate proficiency in performance management.
Employee Engagement: Engaging and motivating employees is critical for maintaining a productive workforce. Certifications such as the Employee Engagement Practitioner (EEP) or the Certified Employee Engagement Specialist (CEES) can demonstrate proficiency in employee engagement.
Benefits
Skills management software can help HR teams identify skill gaps and develop targeted training programs to address those gaps, ultimately improving employee performance and retention.