Cybersecurity incident response skills matrix template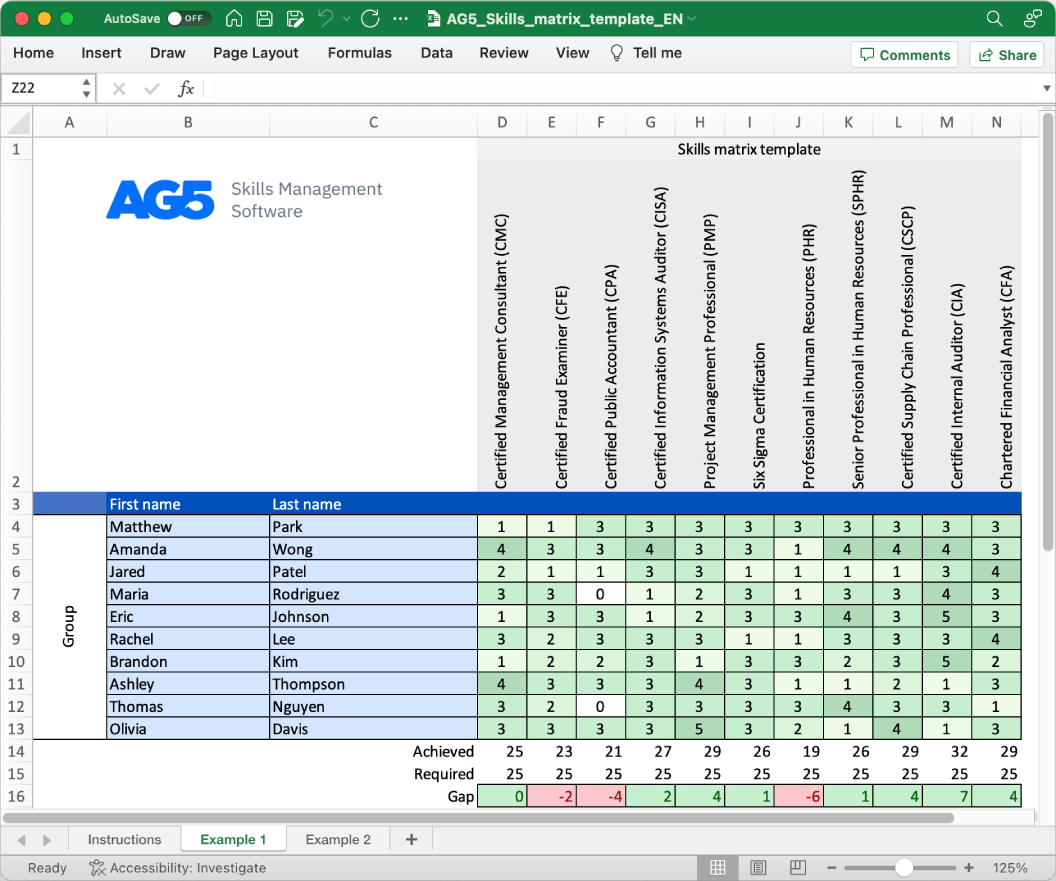 Download your free template here
Overview
With our free cybersecurity incident response skills matrix template, you will receive a clear overview of the skills that are present in your organization, as well as those that are missing. Using this information, you can develop and implement a plan to ensure that your employees' skills are up to date, comprehensive, compliant, and ready for the future.
Certified Incident Handler (GCIH)
Certified Information Systems Security Professional (CISSP)
Certified Cyber Forensics Professional (CCFP)
Certified Incident Response Team Manager (CIRT)
Certified Cybersecurity Analyst (CSA)
Certified Incident Response Specialist (CIRS)
Certified Digital Forensics Examiner (CDFE)
Certified Cybersecurity Incident Responder (CCIR)
Certified Cyber Threat Intelligence Professional (CCTIP)
Certified Incident Manager (CIM)
Certified Security Incident Responder (CSIR)
Certified Cyber Forensics Investigator (CCFI)
Certified Cyber Incident Responder (CCIR)
Certified Cybersecurity Incident Coordinator (CCIC)
Certified Computer Security Incident Handler (CCSIH)
Certified Cyber Incident Analyst (CCIA)
Certified Incident Response Planner (CIRP)
Certified Cyber Incident Manager (CCIM)
Certified Digital Forensic Investigator (CDFI)
Certified Cyber Incident Recovery Specialist (CCIRS)
Related skills
Incident Detection and Analysis: Proficiently identifying and analyzing cybersecurity incidents, a skill validated by the Certified Incident Detection Analyst (CIDA) certification.
Incident Containment and Eradication: Skillfully containing and eradicating cybersecurity threats to prevent further damage, abilities attested by the Certified Incident Containment Specialist (CICS) certification.
Forensic Investigation: Expertly conducting digital forensics investigations to determine the scope and impact of cybersecurity incidents, a capability demonstrated through the Certified Cyber Forensics Investigator (CCFI) certification.
Communication and Coordination: Excelling in clear and efficient communication and coordination among teams during cybersecurity incidents, qualities recognized by the Certified Incident Communication Coordinator (CICC) certification.
Incident Response Planning: Developing and implementing effective incident response plans, showcasing expertise confirmed by the Certified Incident Response Planner (CIRP) certification.
Benefits
Skills management software sharpens incident detection, mitigation, and teamwork, bolstering cyber resilience and reducing security breaches' impact.