Clinical trial coordination skills matrix template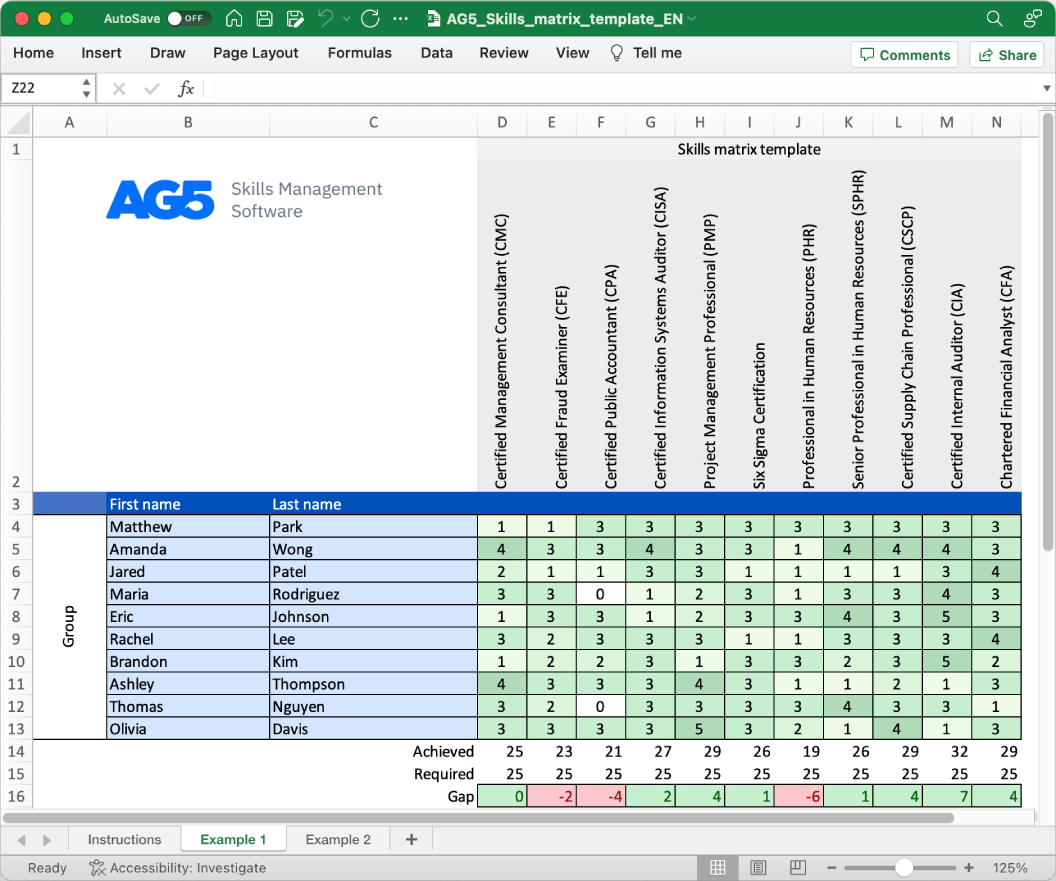 Download your free template here
Overview
With our free clinical trial coordination skills matrix template, you will receive a clear overview of the skills that are present in your organization, as well as those that are missing. Using this information, you can develop and implement a plan to ensure that your employees' skills are up to date, comprehensive, compliant, and ready for the future.
Certified Clinical Research Professional (CCRP)
Certified Clinical Research Coordinator (CCRC)
Certified Clinical Project Manager (CCPM)
Certified Clinical Data Manager (CCDM)
Certified Clinical Trials Administrator (CCTA)
Certified Clinical Research Associate (CCRA)
Certified Clinical Research Investigator (CCRI)
Certified Clinical Research Professional (CCRP)
Certified Clinical Trials Project Manager (CCTPM)
Certified Clinical Trials Auditor (CCTA)
Related skills
Regulatory Compliance: A strong understanding of the regulations and guidelines governing clinical trials in the relevant jurisdiction (such as Good Clinical Practice – GCP) is essential. This skill ensures that the trial is conducted according to the highest ethical and safety standards.
Project Management: Proficiency in project management techniques to plan, execute, and monitor the various stages of a clinical trial. This skill involves setting timelines, allocating resources, managing budgets, and coordinating activities across multiple teams.
Data Management: Skill in managing and overseeing the collection, storage, and analysis of clinical trial data. This includes ensuring data accuracy, integrity, and confidentiality, as well as understanding data management systems and electronic data capture (EDC) tools.
Communication and Collaboration: Effective communication skills to liaise with investigators, study site personnel, regulatory authorities, ethics committees, and other stakeholders. Coordinators need to provide clear instructions, share updates, and address any issues that may arise during the trial.
Patient Recruitment and Retention: The ability to develop and implement strategies for recruiting eligible participants into the trial and keeping them engaged throughout the study. This skill involves understanding patient motivations, addressing concerns, and maintaining open lines of communication.
Benefits
Proficient personnel allocation through skills management software streamlines clinical trial coordination, optimizing recruitment, data collection, and protocol adherence.
Ready to master skills management?
Get a personalized walkthrough of AG5 from one of our product experts in just 15 minutes.
ISO27001 certified Free trial available