Agriculture skills matrix template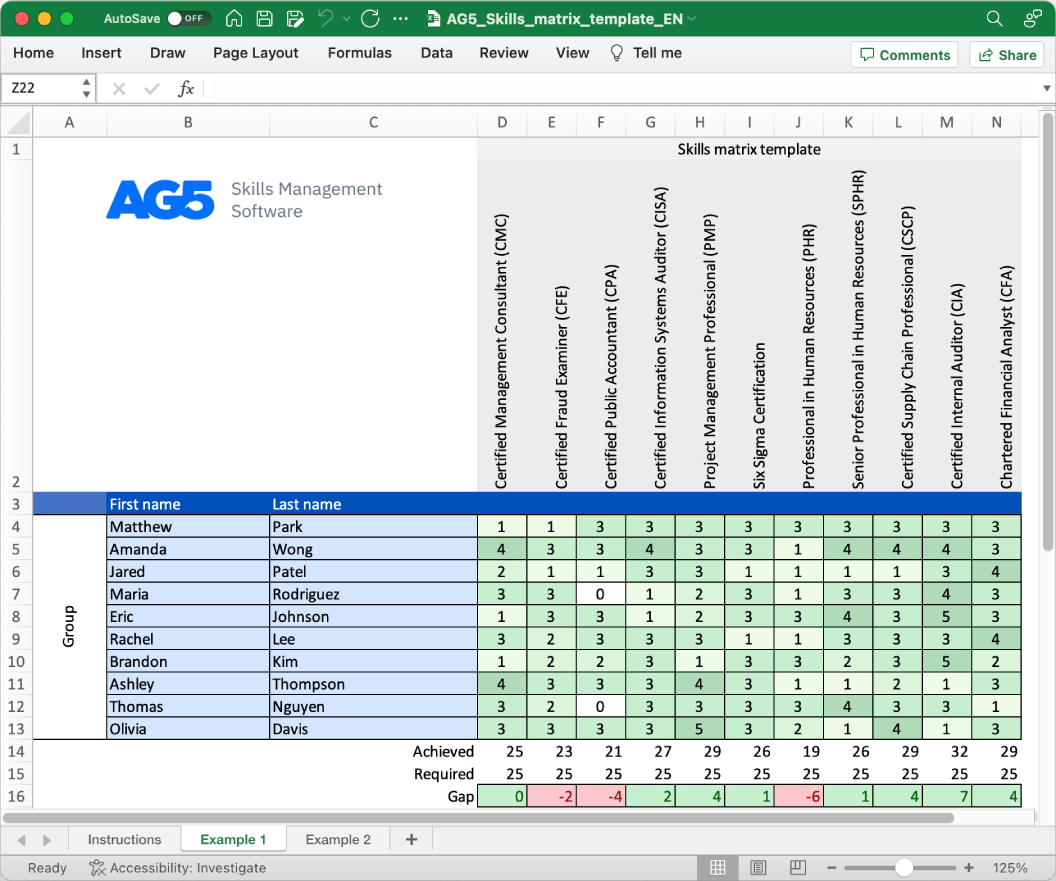 Download your free template here
Overview
With our free agricultural industry skills matrix template, you will receive a clear overview of the skills that are present in your organization, as well as those that are missing. Using this information, you can develop and implement a plan to ensure that your employees' skills are up to date, comprehensive, compliant, and ready for the future.
Certified Crop Advisor (CCA)
Certified Agricultural Pesticide Applicator
Certified Professional Agronomist (CPAg)
Certified Crop Science Consultant (CCSC)
Certified Livestock Manager (CLM)
Certified Professional Soil Scientist (CPSS)
Certified Professional Horticulturist (CPH)
Certified Irrigation Designer (CID)
Certified Irrigation Contractor (CIC)
Certified Irrigation Auditor (CIA)
Certified Nutrient Management Planner (CNMP)
Certified Precision Ag Professional (CPAP)
Certified Natural Resource Professional (CNRP)
Certified Organic Producer
Certified Food Safety Manager (CFSM)
Hazard Analysis and Critical Control Points (HACCP) Certification
Global GAP Certification
Fair Trade Certification
Rainforest Alliance Certification
Non-GMO Project Verified Certification
Related skills
Agricultural sciences and technology: This involves the knowledge and skills necessary for agricultural production and management, including understanding of the various processes, equipment, and regulations involved. Certifications such as Certified Crop Advisor (CCA) and Certified Professional Agronomist (CPAg) are valuable here.
Sustainability and environmental stewardship: This refers to the ability to produce crops and raise livestock in a way that protects and enhances the environment and natural resources, with certifications such as a Sustainable Agriculture Certification and Certified Agricultural Environmental Specialist (CAES) proving expertise in the area.
Business and financial management: This involves the ability to manage and operate agricultural businesses effectively, including planning, budgeting, and marketing. Important certifications in this area are an Agricultural Business Management Certification and a Certified Farm Manager (CFM) certification.
Animal husbandry and welfare: This involves knowledge of animal behavior and care, as well as the management and breeding of livestock, with Certified Livestock Manager (CLM) and Certified Professional Animal Scientist (CPAS) being highly valuable.
Communication and collaboration: This involves the ability to work with others effectively and communicate information about agricultural practices and products to a variety of audiences. Certifications such as an Agricultural Communication Certification and Certified Professional in Learning and Performance (CPLP) show mastery of these skills.
Benefits
Skills management software is vital for the agricultural industry because it can help organizations to optimize employee performance, improve productivity, ensure compliance with strict industry regulationms, and stay competitive in a rapidly changing market.
Use AG5 to identify skill gaps
Say goodbye to Excel matrices. Start using AG5's plug and play skill matrix software.
ISO27001 certified Free trial available